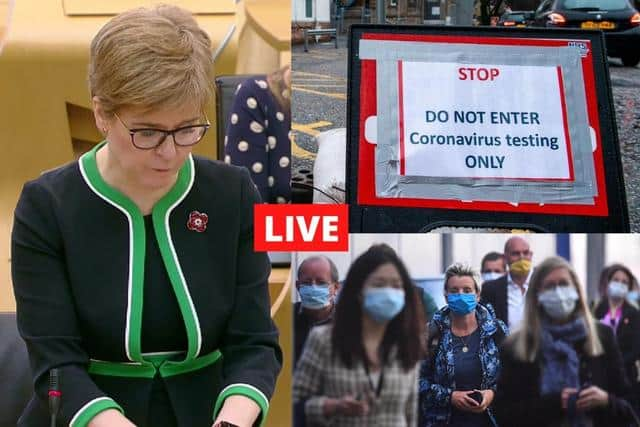 Live updates on Covid-19 in Scotland, the UK, and around the world.
Follow along here to stay up-to-date with the latest developments on Wednesday, February 10.
A message from the Editor:
Thank you for reading this article. We're more reliant on your support than ever as the shift in consumer habits brought about by coronavirus impacts our advertisers.
If you haven't already, please consider supporting our trusted, fact-checked journalism by taking out a digital subscription.
Coronavirus in Scotland LIVE: The latest updates on Wednesday, February 10
Last updated: Wednesday, 10 February, 2021, 09:00
Coronavirus vaccinations near 1m mark
Scotland recorded 50 Covid deaths on Wednesday
803 new cases in the past 24 hours
Universal credit 'worth less than 2013' if £20 cut goes ahead
Business funds paid out £244m in Covid support in January, says Forbes
A total of £244 million was paid out to businesses through three Scottish Government funds in January, the Finance Secretary has said.
Kate Forbes said support for companies had increased since coronavirus restrictions were tightened after Christmas.
The Strategic Framework Business Fund, along with support for the hospitality and taxi trades, has paid out £276 million since November.
Some £4.7 million was paid to taxi and private hire drivers in the first 10 days of claims, the Scottish Government said.
Ms Forbes also said local authority discretionary funding would be doubled to £120 million.
Scottish Golf reports £250,000 downturn in finances due to Covid-19
A combination of the Covid-19 pandemic and rolling out a digital strategy led to Scottish Golf suffering a near-£250,000 slip in finances in 2020, it has emerged.
Elton John and Michael Caine appear in NHS video urging people to get vaccinated
Sir Elton John and Sir Michael Caine have appeared in an NHS advert urging the public to get vaccinated against coronavirus.
The video, shot at London's Chelsea and Westminster Hospital, aims to "show others that getting the life-saving jab is easy and safe", according to a statement.
The clip shows the pair appearing to audition for a part in an advert promoting the jab.
In the video Sir Elton, 73, said: "The more people in society that get vaccinated, the more chance there is of eradicating the national Covid pandemic.
"It is really important to know that the vaccines have all been through and met the necessary safety and quality standards."
After apparently being given the injection, Sir Elton then references his 1983 hit I'm Still Standing by saying: "As you can see, I'm still standing, yeah, yeah, yeah."
The director then responded by saying: "Thanks Elton, we will let you know."
Sir Elton replied: "Well at this short notice you won't find anyone bigger."
The video then cuts to Sir Michael, 87, as he appears to be given the vaccine.
'Too soon' to book a holiday, says Shapps
It is "too soon" to book a holiday, Transport Secretary Grant Shapps has warned.
The Cabinet minister told BBC Radio 4's Today programme that "people shouldn't be booking holidays right now – not domestically or internationally".
He went on: "The Prime Minister will say more about the route to unlocking this country, starting when he speaks about it on February 22.
"But we don't know yet whether that will include information on things like holidays, simply because we don't know where we'll be up to in terms of the decline in cases, deaths, vaccination.
"And not just the vaccination programme here, but the vaccination programme internationally, because people will be going outside of our borders.
Coronavirus in Scotland: These are the areas of the country with the lowest rate of Covid between January 31 and February 6
Here is a list of the top fourteen areas in Scotland that are showing the lowest rate in coronavirus cases in the last week
New Covid jabs may not be needed if current vaccines stop severe disease - here's why
New Covid-19 vaccines may not be needed if the current jabs can prevent severe disease and keep people out of hospital, MPs have heard.
Professor Jonathan Van-Tam condemned "nasty, pernicious" scare stories circulating on social media about the potential impact of Covid vaccines on fertility.
Transport Secretary Grant Shapps has revealed that his father is on a coronavirus ward in hospital, and has been for "quite some time".
Charles and Camilla receive their Covid-19 jabs
The Prince of Wales and the Duchess of Cornwall have had their first Covid-19 vaccinations, Clarence House has said.
Heir to the throne Charles, 72, and Camilla, 73, are, as over 70-year-olds, in the fourth priority group for the rollout of the jabs.
Prime Minister Boris Johnson has set a target for all people in the top four groups to be offered a coronavirus vaccine by February 15.
The confirmation comes after the Queen and the Duke of Edinburgh were given the injection last month, announced in an unusual move by Buckingham Palace which rarely comments on the private health matters of the 94-year-old head of state and her consort, 99.
A Clarence House spokesman said: "The Prince of Wales and the Duchess of Cornwall have had their first Covid-19 vaccinations."
No further details have been released.
Coronavirus in Scotland: Delays to vaccination in Edinburgh after shortage of needles
A number of over 80s in Edinburgh have not yet received a Covid-19 vaccine after a shortage of needles caused appointments to be postponed.