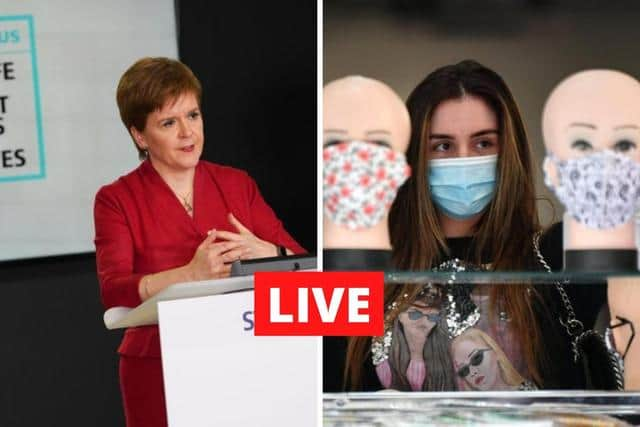 Live updates on coronavirus in Scotland, the UK, and around the world.
Follow along here to stay up-to-date with the latest developments on Thursday.
Coronavirus in Scotland LIVE: The latest updates on Monday
Last updated: Monday, 26 October, 2020, 13:15
Boots to unveil in-store rapid Covid-19 testing service
Scotland sees 1,122 new positive cases and one further death in 24 hours
Local lockdowns and home working taking a toll on jobs market
Students might have to stay in halls over Christmas, warns John Swinney
Vaccine candidate shows 'strong immune response' among the elderly
The Oxford Covid-19 vaccine shows a "strong immune response" among elderly participants, experts have said.
Information from an earlier stage of the Oxford University and AstraZeneca vaccine candidate trial suggests "similar" immune responses among younger and older adults, scientists said.
Data on the safety and immune responses among those taking part in the phase two vaccine trial has been submitted for peer review in a medical journal.
But the findings have been discussed before publication, prompting more excitement about the vaccine – considered one of the forerunners in the Covid-19 vaccine race.
The vaccine is currently in a phase three clinical trial, which means the safety and effectiveness of the vaccine is being tested by thousands of participants across a number of different countries.
Experts have predicted that the data from the trial could be presented to regulators within weeks.
Bishop of Paisley John Keenan has called for a 24-hour "circuit breaker" to be put in place on Christmas Day
Nicola Sturgeon: No plans to reduce the two-week self-isolation period
Nicola Sturgeon said she has "no plans" to reduce the two-week self-isolation period in Scotland.
The First Minister was asked about reports that the UK Government was considering reducing the length of time people with coronavirus symptoms or close contacts of people who test positive should isolate.
"We have no plans at the moment to reduce the period of self-isolation," Ms Sturgeon said.
She added: "We keep all of this under review; we don't want people to live under the most severe restrictions for longer than is absolutely necessary."
Scotland's national clinical director Jason Leitch said he was not aware of any scientific advice in any part of the UK that would support a reduction from the current 14-day period, or 10 days from the date a person's symptoms end.
Mr Leitch said: ""We have no plans with the present clinical advice to change that in any way.
"As far as I know, there is no clinical advice in the other three UK countries."
He added: "There's no present plan, but we keep it under constant review globally and locally and if we think the incubation period has changed or we think the risk has changed in some way, then we will of course advise appropriately
"But for now, I'm afraid it's still a 14-day self-isolation."
Unlike in Scotland, Downing Street has suggested that trick or treating can take place
Downing Street has suggested that trick or treating can take place this Halloween as long as the respective tier-related social distancing rules in each area are adhered to.
Asked about the prospect of trick or treating being banned this year, the Prime Minister's official spokesman: "The rules are those which apply to household mixing in general and what that means in practice is if you in a Very High alert level then you cannot mix with other households indoors or in private outdoor spaces.
"If you're in a High Covid alert level then the rule of six applies in private gardens and outdoor spaces but households must not mix indoors.
"And in terms of the Medium alert level, you can meet indoors and outdoors in groups of no more than six people.
"The rules are there for all circumstances and people will have to use their commons sense in ensuring they are following the rules."
Nicola Sturgeon reminded people not to take public transport to centres, pointing out that home kits are available.
The increase in cases is slowing, but there is not yet evidence of decline, says Ms Sturgeon
Freeman: Scotland on track for 65,000 daily Covid tests by winter
Scotland is "on track" to have capacity for 65,000 coronavirus tests per day by winter, Health Secretary Jeane Freeman has said.
Ms Freeman told the Scottish Government coronavirus briefing that a "significant proportion" of the testing capacity increase will come from three new regional laboratory hubs that she expects to open in November and December.
More than a third of the potential capacity will be provided by the new laboratories, she said.
Nicola Sturgeon says there are now 11 walk-through testing sites open after new locations opened in Greenock and Inverness at the weekend.
Nicola Sturgeon LIVE
Nicola Sturgeon said details of what lockdown level will apply to different parts of Scotland will be announced ahead of a coronavirus debate in the Scottish Parliament on Tuesday.
The First Minister announced last week that a new five-level approach would be introduced across the country from November 2 and the level will depend on the spread of Covid-19 in local authority areas.
She explained that areas in the central belt which are currently subject to stricter local restrictions are likely to be classified as level three, while other areas may be equivalent to level two.
Speaking at the Scottish Government's coronavirus briefing, Ms Sturgeon said a "sustained" fall of virus transmission will be needed for an area to move down tiers.
Ms Sturgeon said: "The best way of moving to a lower level of restrictions and of living more freely is to have a lower level of transmission of the virus.
"The best way we have of driving transmission lower and keeping it low is for all of us to stick to the rules that are in place at any given time.
"And that, of course, is a collective responsibility for all of us."
Nicola Sturgeon: "Be in no doubt that we want to allow students to return home for Christmas."