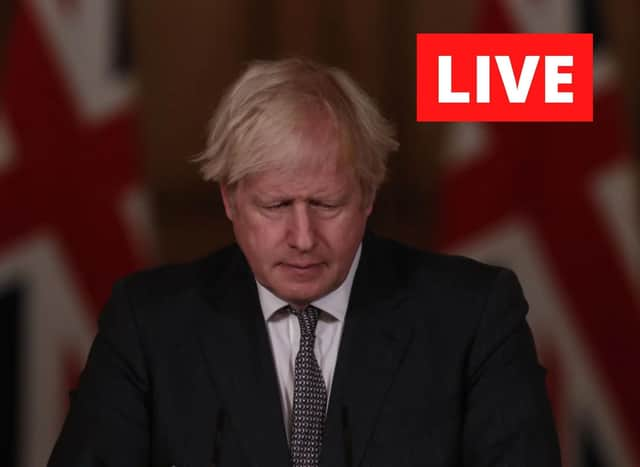 Boris Johnson is hosting a press conference on Tuesday at 5pm, a day after announcing that England are to go back into lockdown.
This announcement was hours after Nicola Sturgeon told Parliament that all areas in Level four in Scotland would go into a stricter lockdown.
A message from the Editor:
Thank you for reading this article. We're more reliant on your support than ever as the shift in consumer habits brought about by coronavirus impacts our advertisers.
If you haven't already, please consider supporting our trusted, fact-checked journalism by taking out a digital subscription.
Coronavirus in Scotland LIVE: The latest updates on Tuesday, January 5
Key Events
Prime Minister Boris Johnson to hold a press conference with his scientific advisers.
Fire stations piloted as new sites for Covid-19 testing
2,529 new coronavirus cases reported on Tuesday
11 additional Covid deaths registered in past 24 hours
A&E attendances down by almost 3,000 over Christmas week
Show new updates
Fire stations are being trialled as new locations for Covid-19 testing in parts of rural Scotland.
Health Secretary Jeane Freeman said the move – which is being piloted in Lochgilphead, Argyll and Bute, and Thurso in the Highlands – could help give people "more consistent" access to coronavirus testing.
From Wednesday January 6, people who live in either walking or driving distance of the fire stations in the towns will be able to call NHS Highland and request a test, if they have symptoms of the virus.
Testing at the fire stations will be available for three-and-a-half hours each day Monday to Friday as part of the pilot scheme, which runs until January 29.
People will be able to take a test themselves at both sites and leave it there for collection by a courier.
Alternatively they can collect a test for someone else and return it to the fire station for courier collection.
As well as making the fire stations available, the Scottish Fire and Rescue Service (SFRS) will provide logistic support by ordering tests and storing samples prior to them being collected by courier.
Mainland Scotland has returned to lockdown until at least the end of January in a bid to combat further spread of the new coronavirus strain.
The latest restrictions came into effect from midnight in all Level 4 areas of the Scottish Government's five-tier system and will continue throughout the month.
Scotland's First Minister Nicola Sturgeon announced the new rules on Monday afternoon, just hours before Prime Minister Boris Johnson also imposed a third national lockdown on England.
She tweeted: "Being back in lockdown is really hard to take for everyone, but it is necessary to slow down this new strain of the virus while we get people vaccinated.
"Please – for you own safety, that of your loved ones and of the whole country: Stay at Home, Protect the NHS and Save Lives."
Grand Designs host Kevin McCloud said he has been telling people off in the street if they get too close to him amid the pandemic.
The 61-year-old TV presenter said he is in a vulnerable category and has been busy working on the new series of the Channel 4 property programme.
During production, McCloud said he has not been shy in letting passers-by know if they are not social distancing near him.
He said: "It's a big thing actually, because we've been filming since June and we've developed a protocol for all the various places, whether we're filming in a building or outside, quite diligently. We have Covid compliance officers with us at all times, checking out here, making sure we are all being good.
"Also, I've got quite good at being rude. So if somebody approaches, I say, 'excuse me back off! What do you think you're doing? Be Covid compliant'. I'm quite bad walking down the street now. I tell people off. You can now, I can be completely anonymous in a hat and a mask."
The Government should provide the music industry with an indicative date for when live events can resume with full capacities, according to a trade body for the sector.
UK Music is calling for a range of measures to be put in place to help the industry get back up and running this year.
A statement from the organisation said there is "no certainty" about when events will be able to restart in front of full capacity crowds and the sector needs to be able to "plan for the post-pandemic period and the peak summer season".
The organisation has also called for events organisers to be provided with coronavirus cancellation insurance in its Let The Music Play: Save Our Summer 2021 report.
The lack of coronavirus insurance available to the sector is the "biggest barrier" to events taking place this year, UK Music said in a statement.
The organisation has called for the Government to introduce a scheme similar to one unveiled for the film and television industry in July, which compensates companies where costs are incurred due to projects being delayed or abandoned because of Covid-19.
Liberal Democrat leader Sir Ed Davey said the Prime Minister had developed a costly habit of being late to respond to expert advice on the need for a national lockdown.
He told BBC Breakfast: "I'm afraid this Prime Minister has a record now: he is always late on these lockdowns.
"He was late on the first, he was late on the second, late on the third – and that's because he ignores the advice of experts.
"He ignored Cobra back last February, he ignored Sage (Scientific Advisory Group for Emergencies) on September 21, he ignored Sage again on December 22.
"He always seems to put off the difficult decisions to the last minute and that means people end up paying the price, either with disruption to their lives or, in some cases, with their lives themselves.
"I'm afraid that, yes we will support these measures, but we just wish the Prime Minister was rather more competent."
Nicola Sturgeon reiterated her 'stay at home' plea hours after Scotland went back into full lockdown – and admitted she can't be certain about when the new restrictions will be lifted.
Nicola Sturgeon is set to give an update on the latest coronavirus figures today (Tuesday, January 5).
Around 600,000 retail, hospitality and leisure sites will be able to claim a one-off grant of up to £9,000, the Government has announced.
The payments will cost the Treasury £4.6 billion and are aimed to help support the high street as new lockdown measures announced on Monday take hold.
Chancellor Rishi Sunak also announced a further £594 million for local authorities and devolved administrations to support businesses not eligible for the grants.
The Scottish Government will receive £375 million, the Welsh Government £227 million and the Northern Ireland Executive £127 million.
First Minister Nicola Sturgeon will hold a virtual coronavirus briefing at 12.15pm with national clinical director Jason Leitch.
Tough new coronavirus restrictions may have to remain in place until March, senior Cabinet minister Michael Gove warned, as England enters its third national lockdown.
In a televised address on Monday, Boris Johnson announced stringent new controls – including closing schools to most pupils – in an attempt to prevent the NHS being overwhelmed by a surge in new infections.
At the same time, the Prime Minister raised the prospect that the vaccination programme being rolled out across the country could enable restrictions to be progressively eased from mid-February.
But, in a round of broadcast interviews on Tuesday morning, Mr Gove said relaxation of the rules may have to wait until the following month – and that even then some measures may have to remain in place.
"We will keep these constantly under review, but we can't predict with certainty that we will be able to lift restrictions in the week commencing February 15-22," he told Sky News.