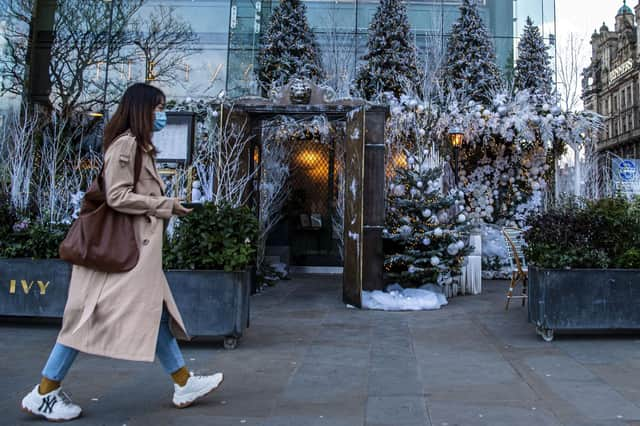 Nicola Sturgeon said there would be a 'slight and careful' of restrictions at Christmas
First Minister Nicola Sturgeon, who will deliver a statement updating the restrictions on Tuesday, said decisions to ease rules over the festive period were a "particularly difficult balance to strike" and had split public opinion.
It came as the Prime Minister Boris Johnson said leaders of the four nations were devising plans for a "special time-limited Christmas dispensation" to allow families "to come together, while minimising the risk".
While the details of the four nations plan have yet to be finalised, Ms Sturgeon said it was "likely" extended household bubbles will be allowed over Christmas.
The First Minister said it was unlikely there would be any relaxation around new year
She said: "Reducing the prevalence of the virus is also what will allow us to consider a slight and careful – and I want to stress today those words 'slight' and 'careful' – easing of the rules for a few days over the festive period.
"There is an obvious desire to see loved ones at Christmas, I think we all feel that very strongly. There's also a lot of anxiety about the potential risks associated with that, particularly at a time when we're starting to see, perhaps, the end of this pandemic loom on the horizon.
"So we're trying as hard as we can to reach a sensible balance, although it is possible – likely, in fact – that some households may be able to form slightly larger bubbles with each other for a short period over Christmas.
"We're considering this because we recognise that isolation and loneliness can hit people particularly hard over the Christmas period."
Any hope of a similar relaxation around new year, however, is set to be dashed. Ms Sturgeon said "we can't do everything".
"Why Christmas and not New Year? Well maybe Christmas is a more important time for kids and I think for most of us even if we value New Year, Christmas is still the time when families are more likely to want to not have someone on their own.
"People just really have to understand that Christmas may just be a big enough ask for us and may involve difficult enough decisions without that extending to another part of the festive period."
Currently, 11 council areas are at Level 4 – the highest tier of restrictions for Scotland. The latest coronavirus figures for Scotland show 949 people tested positive for coronavirus in the past 24 hours, with no new deaths recorded.
No significant changes to Scotland's levels are expected on Tuesday, however Ms Sturgeon did announce that East Lothian would move down a protection level from 6am. Midlothian, however, which had also been expected to move to Level 2, will remain in Level 3 following a spike in cases.
The Prime Minister yesterday announced that as England's second lockdown restrictions are eased on December 2, a toughened up version of the previous three-tier system will come into force instead until March.
Speaking in the Commons, the PM said the levels would be reviewed every fortnight.
He said: "So we're not going to replace national measures with a free for all, the status quo anti-Covid, we're going to go back instead to a regional tiered approach – applying the toughest measures where Covid is most prevalent.
"And while the previous local tiers did cut the 'R' number, they were not quite enough to reduce it below one. So the scientific advice, I'm afraid, is that as we come out our tiers need to be made tougher."
Mr Johnson said the new rules would give the public back some freedoms, but be much tougher than some measures seen in the past. Outdoor sports will be allowed to welcome up to 4000 spectators in Tier 1, and up to 2000 in Tier 2.
Mr Johnson said that families would need to make a "careful judgment" about visiting elderly relatives over the festive period because "this virus is obviously not going to grant a Christmas truce".
He told the Commons: "I can't say that Christmas will be normal this year, but in a period of adversity time spent with loved ones is even more precious for people of all faiths and none.
"We all want some kind of Christmas, we need it, we certainly feel we deserve it. But what we don't want is to throw caution to the winds and allow the virus to flare up again, forcing us all back into lockdown in January.
"So to allow families to come together, while minimising the risk, we're working with the devolved administrations on a special time-limited Christmas dispensation, embracing the whole of the United Kingdom."
Ms Sturgeon, meanwhile, revealed the restrictions on gatherings would affect her own family's plans for Christmas Day.
She said: "My usual family Christmas is having my parents, sister and kids and my husband's mother, sister and kids to our house so we don't tend to go to others.
"That's a gathering that has reduced a little bit over the years with death and suchlike but it is more than 10 people.
"We will not be doing that this year – absolutely not – because I think that would be outwith any kind of reasonable limits and I don't want to put elderly parents or mother in law at risk so we will not do that."
Ms Sturgeon said there was a recognition that – given the nature of Christmas and pressure people may feel to spend time with family members who may be alone over the period – some may "try to push the boundaries" of restrictions. She said rather than allow that to be "uncontrolled", the Scottish Government was trying to build in flexibility during the holidays.
A message from the Editor:Thank you for reading this article. We're more reliant on your support than ever as the shift in consumer habits brought about by Coronavirus impacts our advertisers.
If you haven't already, please consider supporting our trusted, fact-checked journalism by taking out a digital subscription.