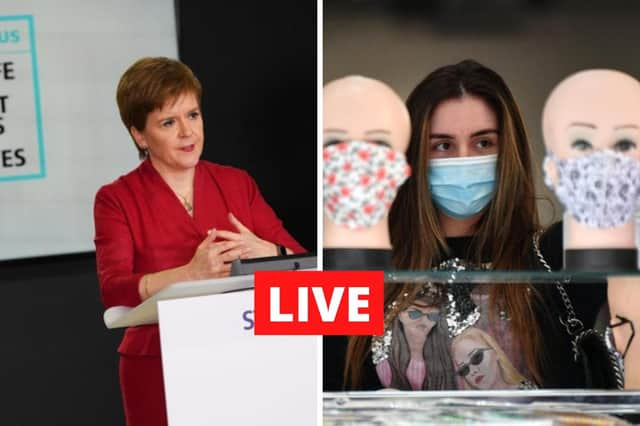 Coronavirus in Scotland live blog updates
Follow along here to stay up-to-date with the latest developments in Scotland, the UK, and around the world.
Coronavirus in Scotland LIVE: Boris Johnson warns UK must prepare for no deal, Scotland records nine new deaths and 1,196 cases in 24 hours
Key Events
Nine new deaths recorded in Scotland in the last 24 hours
Nicola Sturgeon urges football fans not to travel to Carlisle to watch weekend match
Boris Johnson warns UK must prepare for no deal with the EU
Show new updates
Scotland's First Minister thanked teachers, school staff, pupils and parents for their handling of the virus in recent months
The First Minister added that it was a "real achievement" that schooling has largely returned to normal in this academic year.
She said: "We must not lose sight of what you have achieved during this first half-term.
"It is down to your efforts and your ability to adapt in extremely difficult circumstances that schools have been able to return.
"As a result, the vast majority of pupils are now able to have the classroom and wider school experience that was lost back in the spring.
"I don't think we should underestimate that - it is a real achievement that young people have been able to have that normal school experience for the last number of weeks that they lost out on for much of this year."
Nicola Sturgeon, again, urges football fans to adhere to coronavirus restrictions
Nicola Sturgeon has again urged football fans to adhere to local coronavirus restrictions over the weekend, despite Saturday's Old Firm game.
Speaking at the coronavirus briefing in Edinburgh, Ms Sturgeon said that the temptation to defy public health measures could be "even greater" than usual as a result of the game - the first Glasgow derby of the season.
She said: "Nobody likes the fact that these restrictions have to be in place, but they are vital to protecting all of us and keeping us safe.
"So please comply with restrictions, by doing that you will be playing your part in helping us get the virus under control and you'll be helping hasten the day when we can all watch and enjoy the things that we love doing whether that's football or the many things that we find ourselves not able to do normally."
'I feel deeply frustrated and depressed at the prospect of no deal,' First Minister said when asked about Boris Johnson's latest comments
'But I am focusing on everything we possibly can to do cope with Covid-19.'
She added her own planning for constitutional matters have had to be put on hold to cope with the ongoing virus.
New walk-in centres for testing open in Scotland:
Two new walk-in testing centres will open on Friday and Saturday in Scotland, Nicola Sturgeon has announced.
Speaking at the coronavirus briefing in Edinburgh, the First Minister announced the new facilities, which will add to seven other such sites across the country, most of which are intended to allow students to get tested.
However, the First Minister said that the centres, opening today in Dundee city centre and tomorrow in the Sighthill area of Edinburgh, would also be available to non-students
Travel quarantine updates for Scotland:
Italy, Vatican City and San Marino were added to the quarantine list for those travelling to Scotland on Thursday night.
From 4am on Sunday, anyone entering Scotland from these three countries should self-isolate for 14 days.
'Please don't go to another house to watch the match, or a pub. It's not the biggest sacrifice I've asked people to do this month,' the First Minister added.
'Be responsible and don't put people at risk' - Nicola Sturgeon urges football fans not to cross the border to watch a football match in Carlisle
Chief Medical Officer Dr Gregor Smith - 'too early' to tell the impact of recent government measures in Scotland
'It will be some time before we see the impact of these changes,' he said, 'but there are encouraging signs.'
First Minister says she cannot guarantee the next steps for pubs and restaurants following the current two-week closure restrictions