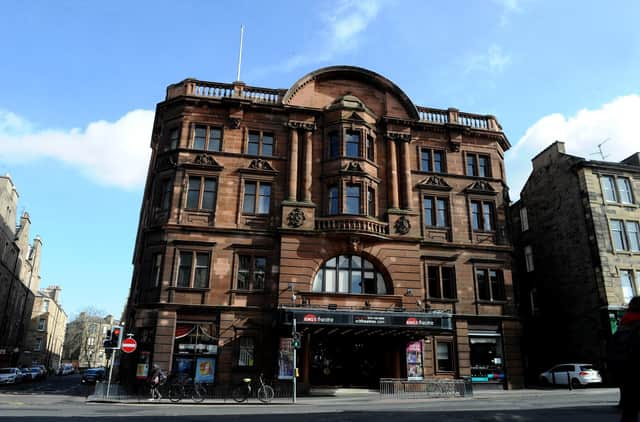 The King's Theatre in Edinburgh will be going completely dark until the end of April. Picture: Lisa Ferguson
The run of The Lion King at the 3000-capacity Playhouse, Britain's biggest all-seater theatre, was halted with several weeks of performances still to be staged.
The move was ordered by its owners, the Ambassador Theatre Group, shortly after Prime Minister Boris Johnson suggested people should avoid going to see shows during the outbreak.
The company's move also affects its two venues in Glasgow – the King's Theatre and the Theatre Royal.
The other theatres had announced their closure plans in the wake of the Scottish Government's call on Sunday for all indoor events for more than 500 people to be halted.
The Scottish Government tonight urged people to avoid going to smaller gatherings, including bars and restaurants, and to avoid public transport as much as possible.
Capital Theatres, who run the King's and Festival theatres in Edinburgh, said they would be cancelling all shows due to be held until the end of April.
The same action has been taken at the Pavilion in Glasgow, which was forced to close for a lengthy period two years ago due to a major fire in Sauchiehall Street.
The Music Hall in Aberdeen has announced the postponement of shows by comic Jimmy Carr this week until August.
The Byre Theatre in St Andrews announced on Friday that it was cancelling all performances and public events until the end of May.
Mark Cornell, chief executive of the Ambassador Theatre Group, said: "In response to the Prime Minister's statement, advising the UK public to avoid unnecessary social contact, including in theatres, we regret to inform you that shows in all venues are temporarily suspended with immediate effect.
"We understand that this decision comes as a disappointment, and a massive inconvenience for those of you already on the way to a venue this evening, but ultimately we all want the same thing: the health and safety of our communities, and we believe this is the correct decision to make.
"Given the current ambiguity and lack of clarity as to how long our theatres may be closed for, we hope to provide you with an update within the next 48 hours regarding the exchange of tickets. We will be consulting with industry bodies including the Society of London Theatre and UK Theatre and the government over the immediate future.
"For now, we would like to thank you for your understanding and patience, and to recognise the incredible efforts and support of producers, artists, partners and customers over this difficult period."
A statement from Capital Theatres said: "We can announce that we will be cancelling or postponing all performances at the Festival Theatre, the Kings Theatre and The Studio throughout March and April as an initial measure.
"Customers who have tickets for performances during March and April will automatically receive a full refund over the coming weeks.
"Our box office staff will contact customers directly if there are any issues, please bear with us as we work through the refund process at this challenging time.
"We are currently working to reschedule cancelled performances to dates in the autumn and will keep all customers up-to-date as quickly as possible regarding this.
"We greatly appreciate the support of our audiences at this testing and anxious time. It is a fast moving situation, we are monitoring it closely and will keep you posted. We are hopeful that things will get back to normal soon and we hope to see you return in the not too distant future, stay safe."
A statement from the Pavilion said: "We are currently working with promoters to obtain rescheduled dates in the autumn period for cancelled shows and will keep all customers up to date as quickly as possible, by Friday of this week one way or the other.
"Ironically, it is nearly two years to the day of our last forced closure with the fire in Sauchiehall Street, which if anything, taught us how to keep everyone up to date with information as detailed and up to date as possible.
"Thank you for all your recent support over the last couple of days. Where most customers were happy that we continued with the shows, deep down we were aware that this day would come."
The statement from the Byre Theatre, which is run by St Andrews University, said: "In light of the rapidly evolving pandemic of coronavirus Covid-19 in the UK, Europe, and further afield, we have taken the decision to cancel all performances and public events due to take place until Sunday 31 May."