Follow along here to stay up-to-date with the latest developments on Wednesday, March 10.
A message from the Editor:
Thank you for reading this article. We're more reliant on your support than ever as the shift in consumer habits brought about by coronavirus impacts our advertisers.
If you haven't already, please consider supporting our trusted, fact-checked journalism by taking out a digital subscription.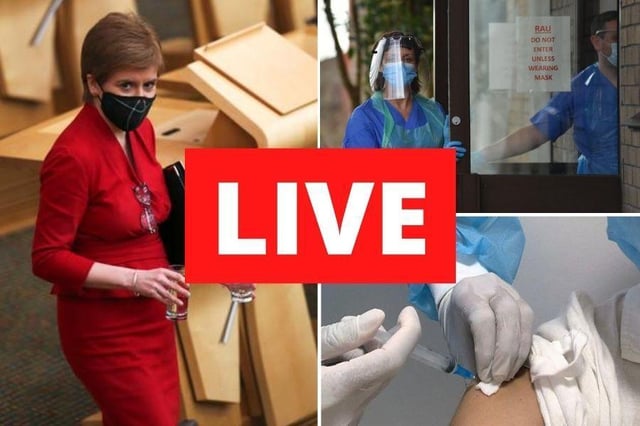 The latest updates on Covid-19 in Scotland.
Coronavirus in Scotland LIVE: The latest updates on Wednesday, March 10
Last updated: Wednesday, 10 March, 2021, 11:40
Restrictions on outdoor meeting to ease from Friday
20 Covid deaths in Scotland reported on Wednesday
A further 691 new coronavirus cases recorded
Restrictions on outdoor meeting to ease from Friday, Sturgeon announces
Rules on outdoor meeting in Scotland will ease from Friday, Nicola Sturgeon has announced.
Updating MSPs at the Scottish Parliament in the latest lockdown review, she said up to four adults from two households will be able to meet outside then.
Currently, coronavirus regulations restrict meetings to two adults from two households for essential exercise.
The First Minister also announced a relaxation in rules for those aged 12 to 17 meeting outside, who can meet in groups of up to four from up to four households from Friday.
Outdoor meetings will be allowed for social and recreational purposes, as well as essential exercise.
Outdoor, non-contact sports for adults in groups of up to 15 can restart from the same date.
Possible new case of Brazilian P1 Covid-19 variant identified in Scotland
A possible case of a new strain of coronavirus has been identified in Scotland – though Nicola Sturgeon stressed this was not linked to three earlier cases of the so-called P1 strain on the virus.
The First Minister was also clear that there was "no indication of onward community transmission of this variant".
As a result she said the authorities "currently have no reason to believe that this case presents any risk to the wider community".
Further tests are being done to confirm the genomic sequencing of the case.
But concerns have already been raised that the P1 strain of the virus, first detected in the Brazilian city of Manaus, could be more contagious than the current dominant strain, with uncertainty also about how it responds to vaccines.
The suspected new case was identified in a person who flew to Scotland from Rio de Janeiro, via Paris, arriving in the country on February 19.
Ms Sturgeon said there were 22 passengers and cabin crew on the flight into Scotland, with 11 passengers – including the person in question – going into "managed quarantine" on arrival.
Other passengers, who self isolated at home, are now being contacted by Public Health Scotland and offered advice.
Scots aim to be kinder and spend more time outdoors when pandemic ends – study
Scots want to see their lives and communities improved after the coronavirus pandemic with new research finding public priorities include being kinder and supporting nature.
New research found more than three quarters (77%) were helping their neighbours, while 71% of people said they had been helped by friends or family.
The study, carried out for the David Hume Institute think tank also found almost seven out of 10 (68%) gave to charity.
Meanwhile, more than a third (36%) of Scots said they had spent more time out of doors in nature during 2020, and 58% plan to spend more time outside in the future, with just over a quarter (26%) intending to walk or cycle more.
And 11% said the change they would most like to see as a result of the pandemic is more people shopping locally and supporting local businesses.
Susan Murray, director of the David Hume Institute, said the research "clearly shows that people want their lives and communities to be different".
She added: "The pandemic has focussed people's minds on what is important to them.
"People told us their priorities are being kinder, supporting nature and climate change, and making conscious choices with money. People have realised where they choose to spend money makes a difference to others."
Scottish budget to 'help put country on road to recovery' passes
The Scottish Government's tax and spending plans have been backed by MSPs after deals were reached with the Greens and the Lib Dems.
The £46.5 billion Bill passed at stage three by 70 votes to 53.
In the past two days, Finance Secretary Kate Forbes has reached deals with the opposition parties, making this budget the fifth in a row to be supported by the Scottish Greens.
Before the deals were struck, the budget pledged to extend 100% rates relief, record funding of £16 billion for the NHS and more than £145 million to tackle drug and alcohol addiction.
In order to secure the Greens support for the fifth year in a row, the Scottish Government has pledged to extend the concessionary travel scheme – announced as part of last year's budget deal and due to come into force this year – to anyone under 22 years old.
Ms Forbes has also agreed to pay rises for public sector workers, amounting to £800, or around 4%, for those earning under £25,000, 2% for those between £25,000 and £49,000 and 1% above that.
The Greens also secured Covid-19 relief payments of up to £130 for low-income families as well as two further instalments of £100 each in August and December for families with children eligible for free school meals.
All primary school pupils in Scotland will also be able to claim free school meals during term time, under the new plans, and £40 million will be invested in active travel, energy efficiency and other environmental efforts.
Lego cheers fastest growth in five years amid pandemic sales boost
Danish toy giant Lego has revealed its fastest growth for five years thanks to soaring demand from locked-down families during the pandemic.
The group reported a 19% jump in operating profits to 12.9 billion Danish kroner (£1.5 billion) for 2020 as revenues rose 13% to 43.7 billion Danish kroner (£5 billion) and consumer sales soared 21%.
It saw strong online sales as shops worldwide were forced to close amid coronavirus lockdowns and restrictions and with parents seeking to entertain their children in lengthy periods of lockdown.
It also hailed last year's launch of the Super Mario sets, which blend physical bricks with digital games, as one of its most successful ever.
Lego said it will ramp up investment in similar sets during 2021, starting with this month's release of Lego VIDIYO – a partnership with Universal Music, which allows children to make their own music videos with special effects and filters.
Lego group chief executive Niels Christiansen said: "For the past two years we've made large-scale investments in initiatives designed to support long-term growth.
More than one in four university students feel lonely often or always – ONS
More than one in four university students have said they feel lonely often or always, a report suggests.
Loneliness is more pronounced among younger students, with a third reporting that they feel lonely frequently, according to an Office for National Statistics (ONS) survey.
The poll, of more than 2,700 students in February and March, suggests that more than four in five (85%) are currently living at the same address as they were at the start of the autumn term.
It found that 26% of students reported feeling lonely often or always, compared with 8% of the adult population in Great Britain over a similar period.
Among students aged between 16 and 29, one in three (33%) said they feel lonely often or always, compared with only 12% of the overall population in the same age bracket in Great Britain.
Nicola Sturgeon LIVE: "We still have a virus circulating at a level that is too high for comfort."
Nicola Sturgeon LIVE: 691 new Covid cases and 20 further deaths in the last 24-hour period.
Nicola Sturgeon LIVE: First Minister tells Holyrood's Covid-19 Committee that Scotland's exit from lockdown "may be slower than everyone wants it to be".
Nicola Sturgeon LIVE: First Minister tells Holyrood's Covid-19 Committee she's "reasonably confident" target to offer first dose of vaccine to all adults in Scotland by the end of July will be met.
Kent coronavirus variant may be twice as deadly as previous strains – study
The Kent variant may be up to twice as deadly as previous strains of coronavirus, new research suggests.
The more infectious variant, B117, which swept across the UK at the end of last year before spreading across the world, is between 30% and 100% more deadly, according to a new study.
Epidemiologists from the Universities of Exeter and Bristol said the data suggests the variant is associated with a significantly higher mortality rate among adults diagnosed in the community compared with previously circulating strains.
Robert Challen, from the University of Exeter, lead author of the study, said: "In the community, death from Covid-19 is still a rare event, but the B117 variant raises the risk.
"Coupled with its ability to spread rapidly, this makes B117 a threat that should be taken seriously."
Researchers looked at death rates among people infected with the new variant and those infected with other strains.
Nicola Sturgeon LIVE: First Minister tells Holyrood's Covid-19 Committee focus of lockdown easing is "steady and one-directional".
Covid-19 rates drop below 50 cases per 100,000 in half of all local areas
Covid-19 case rates have fallen below the symbolic level of 50 cases per 100,000 people in half of all local areas in the UK, new analysis shows.
It is a major turnaround from one month ago, when only six of the 380 local areas were reporting rates under 50 per 100,000.
A handful of areas are even recording rates that are now in single figures.
The steep fall suggests the various lockdowns in place across the country are continuing to play a key role in reducing the number of new reported cases of coronavirus.
The analysis, which has been compiled by the PA news agency, shows that for the seven days to March 5 a total of 190 out of 380 local authority areas in the UK recorded Covid-19 case rates below 50 per 100,000 people.
First Minister tells Holyrood's Covid-19 Committee she hopes to get the vaccination rate up to 400,000 a week "as supplies permit".
Stephen Fry hails 'wonderful moment' as he is vaccinated in Westminster Abbey
Comedian and actor Stephen Fry has described receiving his coronavirus vaccination at Westminster Abbey as a "wonderful moment".
The Cambridge University alumnus joked that he would have to "put petty rivalries behind me", after being given a dose of the Oxford jab.
Westminster Abbey opened its doors for the first time on Wednesday morning to administer vaccinations to members of the public.
The vaccination area is situated directly above Poet's Corner, where many literary giants including Charles Dickens and Geoffrey Chaucer are buried.
Fry said it was "extraordinary" to have received his jab in such a "symbolic" place, and he hailed the "vindication of science and research."
He said: "It's a wonderful moment, but you feel that it's not only helpful for your own health, but you know that you're likely to be less contagious if you yourself happen to carry it.
"It's a symbol of being part of society, part of the group that we all want to protect each other and get this thing over and done with.
"I'm so excited and it's such a vindication of science and research and slow discovery and experiment.
"It's not over yet by any means but it's a wonderful step."