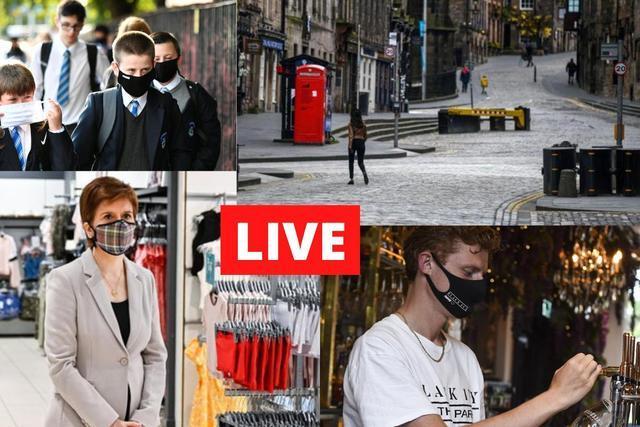 The updates on Covid-19 in Scotland.
Follow along here to stay up-to-date with the latest developments on Friday, March 5.
A message from the Editor:
Thank you for reading this article. We're more reliant on your support than ever as the shift in consumer habits brought about by coronavirus impacts our advertisers.
If you haven't already, please consider supporting our trusted, fact-checked journalism by taking out a digital subscription.
Coronavirus in Scotland LIVE: The latest updates on Friday, March 5
Last updated: Friday, 05 March, 2021, 14:01
Possible easing of outdoor meeting restrictions next week
498 new Covid cases reported in Scotland on Friday - and 11 further deaths
Total of 1,717,672 Scots have received first coronavirus vaccine
Euro 2020: Nicola Sturgeon says getting Tartan Army to Hampden to cheer on Scotland is reason to stick to Covid rules
Nicola Sturgeon has said she is hopeful that Scotland can host Euro 2020 matches this summer – but she insists it is too soon to tell if fans will be in attendance.
Nicola Sturgeon says holidays are still on hold because international travel bans are 'most important protection' against the virus
On the day Cyprus said it was preparing to welcome vaccinated UK holiday makers in May, Nicola Sturgeon said that the biggest risk we face as we suppress the virus in Scotland is 'new variants coming in from elsewhere'.
Nicola Sturgeon LIVE
Nicola Sturgeon urged people to stick with the rules, saying if people did that she was "really, really optimistic that we will continue to see the progress we need to see to start opening things up and getting us all back to much more reality".
She said case numbers had now reduced to the level they were at in September or October.
Ms Sturgeon cautioned: "We also know then just how quickly things started to go in the wrong direction.
"It is really important we stick with it for now, hold our nerve, keep suppressing cases while vaccination does its job.
"If we do all of that, we can be really hopeful that there are definitely, at long last, better days lying ahead."
Coronavirus in Scotland: 498 new cases in the last 24 hours as 11 additional deaths are recorded
In the last 24 hours, 11 deaths have been recorded in Scotland while 498 new cases have been reported.
Scotland's National Clinical Director, Prof Jason Leitch, says he is more hopeful than he has been for some time as rates continue to go in the right direction.
Nicola Sturgeon LIVE
Speaking about coronavirus testing, Nicola Sturgeon said routine testing was now available for people without symptoms in food production and processing businesses – such as dairies, abattoirs and meat and seafood processing plants.
She said these workplaces had a higher risk of transmission, due to factors such as the cold temperature and limited ventilation.
The First Minister said: "We have extended testing to these kind of businesses in order to try to minimise the risk of outbreaks in them."
Staff will be able to do voluntary lateral flow tests, with results available quickly, Ms Sturgeon said, adding a "growing number" of businesses were signing up for this.
Nicola Sturgeon LIVE
Nicola Sturgeon said: "The good progress of the vaccination programme and also the declining number of people catching or falling seriously ill with Covid should give us all real encouragement just now that greater normality is firmly on the horizon."
She said she was "hopeful" the Scottish Government may on Tuesday be able to announce some "relatively minor but important changes" to the rules around meeting people out of doors and young people seeing their friends out of doors.
Speaking at her regular coronavirus briefing, she stressed: "It is really important that we don't get carried away yet. The overall stay-at-home message needs to stay for a bit longer so we don't send our progress into reverse.
"I am very keen that within that, if we can, we should all get a bit more opportunity to see loved ones as the first steps we take out of this lockdown."
Nicola Sturgeon: "We are absolutely intent on having Hampden as a host stadium for the Euros"
Nicola Sturgeon LIVE
Nicola Sturgeon said by 8.30am on Friday, a total of 1,717,672 Scots had received their first coronavirus vaccine, an increase of 29,064 from the previous day.
Meanwhile, a total of 108,197 have had their second jab, with 8,139 getting this on Thursday.
Ms Sturgeon said 96% of 65 to 69-year-olds had had their first dose of the vaccine, along with 39% of 60 to 64-year-olds, 33% of 55 to 59-year-olds and 27% of 50 to 54-year-olds.
She warned: "We might face some supply issues next week which could affect vaccination appointments, but we are working hard to try to avoid that."
She also stressed Scotland is still "on track" to have offered a first dose to everyone aged 50 and above, all unpaid carers and all adults with certain underlying health conditions by the middle of April.
498 new Covid cases reported in Scotland on Friday - and 11 further deaths
Scotland has recorded 11 deaths from coronavirus and 498 positive tests in the past 24 hours, Nicola Sturgeon has announced.
It brings the death toll under this measure – of people who first tested positive for the virus within the previous 28 days – to 7,409.
Speaking at the Scottish Government's coronavirus briefing, she said the daily test positivity rate is 3.1%, up from 2.5% the previous day.
There are 666 people in hospital confirmed to have the virus, down 52 in 24 hours, and 64 patients are in intensive care, down three.
Waiters, bricklayers and air cabin crew 'worst hit by pay cuts' during pandemic
estaurant staff, IT engineers, bricklayers and air travel assistants are among the workers most likely to have had their pay cut since the Covid-19 pandemic began, analysis suggests.
These professions have been classed as "high vulnerability jobs" by the Office for National Statistics (ONS), meaning they are non-key worker roles very unlikely to be done from home.
Just under a third (32.4%) of employees in the UK fall into the high vulnerability group, and may have been more likely to see a reduction in working hours or wages during the pandemic.
More than half of employees (53%) who were furloughed last April worked in high vulnerability jobs, the ONS said.
Occupations in this group made up 88% of jobs with a median hourly wage below £9.12 – the threshold for low pay.
Some people with severe asthma 'refused Covid-19 vaccine'
Some people with severe asthma who are eligible for a Covid-19 vaccine have been refused one by their GP, a charity has warned.
Asthma UK said there is widespread confusion over the guidance for who should be in priority group six, after some GPs appeared to say only those with recent hospital admission – rather than any history of admission – should be included.
The Joint Committee on Vaccination and Immunisation (JCVI) guidance for group six says anyone with asthma that has resulted in admission to hospital should be given a vaccination, alongside those who have had three tablet or liquid steroid prescriptions over a three-month period.
People with asthma who were shielding have already been vaccinated in group four, while those with milder asthma must wait for a jab according to their age.
UK most likely place in world for Covid-19 mutant strain - health minister warns
The UK is the most likely place in the world where a mutant strain of Covid-19 will occur, a health minister has warned.
Prof Hayward says Covid restrictions came too late
Looking back on the beginning of the pandemic, Prof Hayward, professor of infectious disease epidemiology at UCL, told Times Radio: "I think one of the reasons that we've had so many deaths is that we left things far too late, in terms of taking more restrictive measures.
"We should have been taking social distancing measures, if not a full lockdown then other measures that were trying to separate people much earlier.
"At that time, of course, we also didn't really have the same mechanisms to measure how much disease there was in the community, so we were largely only really seeing the tip of the iceberg of cases.
"By the time you start to see major increases in deaths then it was really too late to take action, and hence the levels got extraordinarily high before we took effective action, and it took a long, long time for them to go back down again."
Edinburgh Airport arrivals from Dublin wrongly compelled to buy £210 Covid tests by Border Force amid travel restrictions confusion
Dozens of passengers arriving at Edinburgh Airport from Dublin were wrongly compelled to buy £210 Covid test kits, The Scotsman has learned.