Coronavirus in Scotland RECAP: Nicola Sturgeon reports 12 Covid deaths and 625 new cases in past 24 hours
Live updates on Covid-19 in Scotland, the UK, and around the world.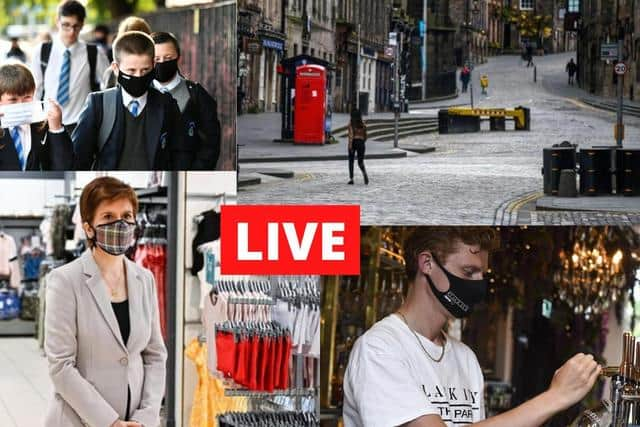 The latest updates on Covid-19 in Scotland.
Follow along here to stay up-to-date with the latest developments on Wednesday, March 17.
A message from the Editor:
Thank you for reading this article. We're more reliant on your support than ever as the shift in consumer habits brought about by coronavirus impacts our advertisers.
If you haven't already, please consider supporting our trusted, fact-checked journalism by taking out a digital subscription.
Coronavirus in Scotland LIVE: The latest updates on Wednesday, March 17
Last updated: Wednesday, 17 March, 2021, 12:48
Key Events
Scotland records 12 deaths and 625 new cases on Wednesday
Nicola Sturgeon sets out timetable for easing of lockdown
Stay-at-home order in Scotland to be removed on April 2
Show new updates
One year on: Does the office still have a place in a post-Covid world?
Nobody can say with absolute certainty how the world of work will look after we re-emerge into the sunlight of relative normality from the darkness of lockdown.
City centres and regions to get £4 million to aid Covid-19 recovery
Two new funds totalling £4 million to help city centres and regions recover from Covid-19 have been announced by the Scottish Government.
City local authorities in Scotland have been invited to submit a proposal to aid its recovery from the pandemic for a share of the £2 million City Centres Recovery Fund.
Applications for funding to help businesses apply for outdoor trading areas in Glasgow and for the repurposing of empty buildings in Dundee city centre are among those already received, the Scottish Government has said.
A further £2 million will also be available through the Regional Recovery Fund, which aims to maximise local job creation and accelerate the fulfilment of city and regional growth deals, which have been signed across the country.
The funds were announced by Economy Secretary Fiona Hyslop ahead of the first meeting of the city centre recovery task force, set up to inform government policy as restrictions as a result of the pandemic are eased.
Latest National Records of Scotland figures released
A total of 9,831 people have died in Scotland with confirmed or suspected coronavirus, according to the National Records of Scotland (NRS).
The figures show 104 deaths relating to Covid-19 were registered between March 8 and March 14, down 38 on the previous week.
Of these, the majority – 83% – happened in hospital at 86, with 14 in care homes and four at home or in a non-institutional setting.
The statistics are published weekly and cover all deaths registered in Scotland where Covid-19 was mentioned on the death certificate.
They differ from the lab-confirmed coronavirus deaths announced daily by the Scottish Government because the NRS figures include suspected or probable cases of Covid-19.
Sheriff courts set to reopen from April 19 as Covid cases subside
The court system in Scotland is set to fully reopen following a reduction in Covid-19 transmission levels.
Due to the latest lockdown, criminal courts have focused on the most serious trials since January, with the majority of summary trials in sheriff and Justice of the Peace courts adjourned.
Lord Calloway, the Lord President, Scotland's most senior judge, has announced that due to the vaccine rollout and the reduction of coronavirus cases, the courts can cautiously begin to ease the current restrictions.
From April 19, sheriff court cases will restart, and summary trial courts will return to their pre-January loads of three trials scheduled, with two backup cases.
From June 7, Justice of the Peace courts will restart all business.
All criminal jury trials in the High Court and sheriff court will continue as planned. All new custody cases and summary custody trials in the sheriff courts and Justice of the Peace courts will continue to be heard.
All High Court criminal and civil appeals and tribunals will continue to operate virtually and remotely, as they have been doing throughout the pandemic.
Court rooms will continue to have social distancing and face covering measures in place.
Witnesses cited to attend the sheriff court for a summary criminal trial before April 19 should not attend unless they are contacted directly by the Crown Office and Procurator Fiscal Service (COPFS) or the solicitor acting for the accused.
After April 19, witnesses should attend as per their citations.
Remote jury centres will continue to be in operation, as they have been since last year.
Boris Johnson's former chief adviser Dominic Cummings has said the UK Government was unable to make rapid decisions on science funding at the start of the pandemic.
Scotland records 12 deaths and 625 new Covid cases on Wednesday
Test positivity rate at 3%
The total number of positive cases in Scotland is now 211,230.
NS: "The continued decline in deaths is welcome. They have now fallen by more than three quarters since the third week of January. This week is the first in a long time that the number of deaths has been below the five-year average for this time of year."
NS: "All of this provides further evidence of the effectiveness of the vaccination programme and is obviously very positive."
Want to join the conversation? Please or to comment on this article.