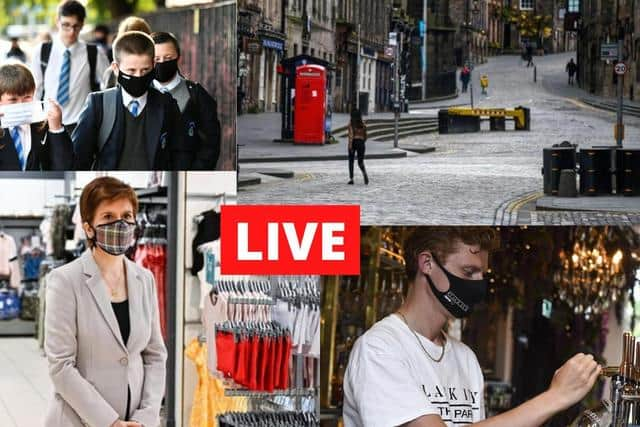 The latest updates on Covid-19 in Scotland.
Follow along here to stay up-to-date with the latest developments on Wednesday, March 17.
A message from the Editor:
Thank you for reading this article. We're more reliant on your support than ever as the shift in consumer habits brought about by coronavirus impacts our advertisers.
If you haven't already, please consider supporting our trusted, fact-checked journalism by taking out a digital subscription.
Coronavirus in Scotland LIVE: The latest updates on Wednesday, March 17
Last updated: Wednesday, 17 March, 2021, 12:15
Scotland records 12 deaths and 625 new cases on Wednesday
Nicola Sturgeon sets out timetable for easing of lockdown
Stay-at-home order in Scotland to be removed on April 2
The stay-at-home order in Scotland will be removed on April 2, First Minister Nicola Sturgeon has confirmed.
City centres and regions to get £4 million to aid Covid-19 recovery
Two new funds totalling £4 million to help city centres and regions recover from Covid-19 have been announced by the Scottish Government.
City local authorities in Scotland have been invited to submit a proposal to aid its recovery from the pandemic for a share of the £2 million City Centres Recovery Fund.
Applications for funding to help businesses apply for outdoor trading areas in Glasgow and for the repurposing of empty buildings in Dundee city centre are among those already received, the Scottish Government has said.
A further £2 million will also be available through the Regional Recovery Fund, which aims to maximise local job creation and accelerate the fulfilment of city and regional growth deals, which have been signed across the country.
The funds were announced by Economy Secretary Fiona Hyslop ahead of the first meeting of the city centre recovery task force, set up to inform government policy as restrictions as a result of the pandemic are eased.
Hancock seeks to reassure public AstraZeneca Covid-19 jab is safe
The Health Secretary has sought to reassure the public that the AstraZeneca Covid-19 jab is safe after some European nations halted its rollout.
The European Medicines Agency (EMA) is conducting a full scientific review, but has said it currently "remains convinced" that the "benefits of this vaccine outweigh the risk".
The regulator, which approved the jab for Europe, is due to offer a further update on Thursday after several European countries halted its use due to reports of some people suffering blood clots following vaccination.
Matt Hancock told broadcasters on Tuesday: "The Oxford/AstraZeneca jab is safe, we know that over 10 million people have had it in this country, and that's what the British regulator says but also the World Health Organisation and even the European regulator.
"We keep the effects of these vaccines under review all the time and we know that the Oxford/AstraZeneca vaccine is saving lives in the UK right now so if you get the call, get the jab."
The Health Secretary said "huge numbers" of people are still taking up the jab, adding: "The enthusiasm for getting the vaccine is incredibly strong and we're still seeing that."
It comes as the World Health Organisation (WHO) issued a new statement saying it was also evaluating the reports, but still believed the benefits of the AstraZeneca vaccine outweighed any risks.
Retail and tourism bosses welcome timetable to end lockdown in Scotland
Groups representing retail and tourism businesses have welcomed clarity from the Scottish Government on the easing of restrictions in Scotland.
Under new plans, announced by First Minister Nicola Sturgeon on Tuesday, more retailers, including click-and-collect services, garden centres, car dealerships, homeware and electrical repair stores and barbers and hairdressers, will also be able to reopen from April 5.
The stay-at-home order will also be removed on the same date, to be replaced by guidance urging people to stay within their local authority areas, which the Scottish Government hopes will be in place for no more than three weeks.
All non-essential retail will also reopen from April 26, the same date it is hoped that travel restrictions across the country can be lifted, along with portions of hospitality and tourism businesses.
Bars and restaurants will be able to operate outdoors, with restrictions meaning indoor service will not be allowed to sell alcohol, while tourist accommodation will also be allowed to reopen.
Marc Crothall, the chief executive of the Scottish Tourism Alliance, said: "The First Minister's announcement of an indicative timeline for the phased reopening of our tourism and hospitality sector will be massively welcomed by the sector today; it is the most positive news we have received in a long time."
He added: "Today's announcement will offer some very much needed light at the end of what has been the darkest tunnel for our industry."
Fiona Campbell, the chief executive of the Association of Scotland's Self Caterers, added that she believes the plans "strike the correct balance between the needs of business, the desire across the country for increased normality, and the caution that we all have to continue to observe as we work together to beat Covid-19".
First Minister Nicola Sturgeon will hold a virtual coronavirus briefing with chief medical officer Dr Gregor Smith at 12.15pm.
Boris Johnson's former chief adviser Dominic Cummings has said the coronavirus vaccination programme has only been a success because it was taken out of the Department of Health and Social Care.
Blair Drummond safari park announces date for reopening
Blair Drummond Safari Park has announced it will reopen on March 20.
The wildlife park, near Stirling, has been closed since December due to the most recent Covid-19 lockdown.
However, the park is set to reopen after the Scottish Government outlined the route map out of lockdown on Tuesday.
The park will only be open to local residents to begin with, in line with Level 3 lockdown restrictions, but hopes to welcome back other visitors soon.
The safari park has a number of measures remaining in place to keep visitors safe.
This includes a limit on the number of tickets, capped at less than 30% of usual capacity, with all tickets need to be pre-booked online.
Visitors will be able to enjoy the safari drive-thru, as usual, from the safety of their own car.
A one-way walking route through the other attractions in the 160-acre site has been put in place, including the giraffes, tigers and adventure play areas.
Covid-19 infects cell factors 'more abundant in the elderly, men, and smokers'
Coronavirus infects cells via factors that are more abundant in the elderly, men, and smokers, new research suggests.
A large-scale new study reveals which cell types in the human body can be infected by Sars-CoV-2 due to their viral entry factors – what the virus attaches to in order to gain entry to the cell.
The research also suggests that an increased amount of these factors in some people partially explains the differences of Covid-19 severity reported in relation to age, gender and smoking status.
Dr Malte Lucken, computational biologist at Helmholtz Zentrum Munchen in Germany, and a co-first author of the study, said: "Fighting the pandemic, we cannot rely on conclusions that are limited to only a few observations.
"Instead, we must rely on robust analysis of big data.
"For example, to assess whether the ACE2 receptor required for virus entry is more abundant in cells of the elderly population, we need a strong representation of many diverse individuals in our dataset.
"Using data from the Human Cell Atlas, we could model how genetic viral entry factors in cells are expressed across the population."
'Literally no patients' at some NHS Lothian vaccination centres after appointment letters delay
Some Covid-19 vaccination centres in the Lothians have seen no patients at all over the last few days, the First Minister has confirmed, after a 'major problem' with the issuing of appointment letters.
Scotland lockdown roadmap: full list of dates for exit out of lockdown following Nicola Sturgeon's update
The First Minister announced dates for the easing of lockdown rules in Scotland