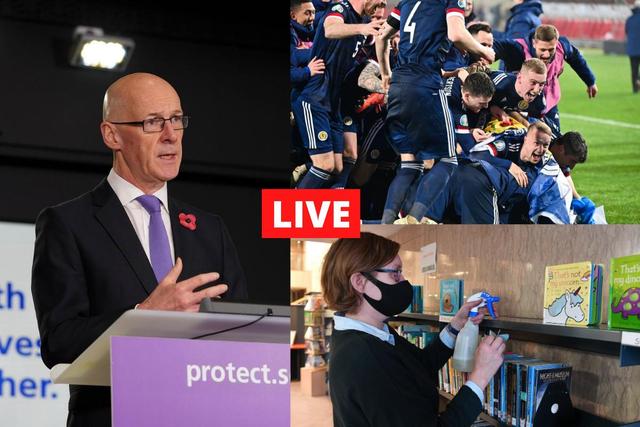 The latest updates on Covid-19 in Scotland.
Follow along here to stay up-to-date with the latest developments on Monday, March 8.
A message from the Editor:
Thank you for reading this article. We're more reliant on your support than ever as the shift in consumer habits brought about by coronavirus impacts our advertisers.
If you haven't already, please consider supporting our trusted, fact-checked journalism by taking out a digital subscription.
Coronavirus in Scotland LIVE: The latest updates on Monday, March 8
Last updated: Monday, 08 March, 2021, 12:37
One Covid-19 deaths recorded on Monday
501 new coronavirus cases in past 24 hours
Nicola Sturgeon condemns 'infuriating' Rangers fans
Sturgeon condemns 'infuriating' scenes as Rangers fans urged to 'go home'
Nicola Sturgeon has condemned the "infuriating and disgraceful" celebrations in Glasgow as she urged Rangers to ask people to go home.
Thousands of fans have flouted the coronavirus lockdown to gather in the streets and celebrate Rangers winning the Scottish Premiership – their first top-flight title in 10 years.
The mass gatherings have been widely condemned, with the First Minister warning that the celebrations could jeopardise plans to ease the coronavirus restrictions.
Scotland's Justice Secretary and police chiefs have also urged rule-breakers to go home but the pleas have gone unheeded, with fans packed into George Square and congregating outside Ibrox stadium.
Shortly after 5pm, Police Scotland said a "small number" of arrests have been made and officers at the scene have been attempting to encourage fans to return home.
By 9.30pm, police officers had encircled a depleting group of fans at the base of the Scott monument and the force revealed more arrests had been made and fines issued.
Ms Sturgeon tweeted: "I share folks' anger at this.
"Everyone has made so many sacrifices in the past year and seeing a minority risk our progress is infuriating and disgraceful.
"It is deeply unfair to the entire country, and the police have a hard enough job already.
"Please ask fans to go home @RangersFC".
Record level of business confidence despite impact of pandemic, report finds
Businesses in Scotland are now more optimistic about the year ahead than they have been for almost a decade, according to a financial report.
The latest Royal Bank of Scotland purchasing managers' index (PMI) found firms were positive about the future despite still suffering the effects of the coronavirus pandemic.
The bank's analysts noted improved confidence among private-sector firms, the highest recorded in its monthly reports since 2012.
Businesses said their optimism was boosted by hopes of a timely end to Covid-19 restrictions and a subsequent financial recovery.
It came despite the Scottish economy remaining stuck in a downturn during February.
Corrie star Will Mellor opens up on grief after losing his father during lockdown
Coronation Street star Will Mellor opened up on how the experience of losing his sister helped him better deal with the death of his father during lockdown.
The actor, 44, said he is a "very upbeat person" and struggled after his sister died nine years ago.
Mellor told how he "didn't deal with that very well" and turned to drink and gambling.
After his father died in April last year, Mellor told the PA news agency he "saw the signs" and was able to better cope with the loss.
He said: "Obviously, lockdown didn't help. Because when you've not got to be up in the morning, there's no excuse not to have a few drinks. You have a word with yourself. And I was sick of feeling crap, I was feeling rubbish. And now I feel great.
"You can't change situations, but you can change yourself, you can change the repetition of what you're doing and keep an eye out for the little things that spark things off, the little triggers. Just stay away from it."
Deliveroo reveals £224m loss as it nears London stock market float
Deliveroo has revealed that it has posted losses of £223.7 million, despite surging sales over the past year, as the takeaway delivery business announced plans for its stock market debut.
The Amazon-backed company has disclosed its expected intention to list in a move expected to value the company at more than £7 billion.
In a new filing, the company said it saw transactions rocket by 64% to £4.1 billion in 2020 as the pandemic helped to spark increased takeaway demand.
The company also reported a surge in demand from restaurants seeking to use the platform, after sites were forced to close for dine-in customers for large parts of the year.
It said that more than six million people order through the 115,000 restaurants, cafes and stores on its platform each month.
Deliveroo revealed an underlying loss of £223.7 million for the year despite the jump in transactions, although this represented an improvement on its £317.3 million underlying loss in 2019.
The company has continued to invest heavily in its expansion and currently covers about 800 locations in 12 countries.
'Get them fined': Social media reacts to Rangers fans' title celebrations
Footage of Rangers fans celebrating their first top tier title victory in a decade has provoked a strong reaction online, with some members of the public calling for police to issue fines en masse.
Police arrest 28 amid mass gatherings of Rangers fans following league win
Police Scotland arrested 28 people after thousands of Rangers fans gathered in Glasgow on Sunday to celebrate winning the Scottish Premiership.
A further seven people were issued with fixed penalty notices or will be reported to the Procurator Fiscal.
Fans packed into George Square and gathered outside Ibrox Stadium after Rangers took their first top-flight title in 10 years.
The force said action was taken for offences including assaulting police officers, breaching coronavirus regulations, disorder, use of flares and sectarian breaches of the peace.
Prime Minister Boris Johnson will hold a Downing Street press conference later on Monday, No 10 has said.
Among adults in Great Britain aged 16 to 29 years, 17% reported hesitancy towards the Covid-19 vaccine, compared with 1% of adults aged 80 years and over, the ONS said.
Four in 10 black adults 'likely to be hesitant about Covid-19 vaccine'
More than four in 10 black adults in Great Britain are likely to be hesitant about receiving the Covid-19 vaccine – the highest level among all ethnic groups, new figures suggest.
Some 44% of black adults reported vaccine hesitancy, compared with 17% of mixed adults, 16% of Asian adults, 8% of white adults, and 18% of Chinese adults or adults from other ethnic groups, according to a survey from the Office for National Statistics (ONS).
The findings cover the period January 13 to February 7.
The ONS defines vaccine hesitancy as adults who have been offered the vaccine and decided not to be vaccinated; who report being very or fairly unlikely to have the vaccine if offered; and who responded "neither likely nor unlikely", "don't know" or "prefer not to say" when asked how likely or unlikely they are to have the vaccine if offered.
501 new Covid cases reported in Scotland on Monday - and one additional death
John Swinney briefing LIVE
Scotland has recorded one death of a coronavirus patient and 501 new cases in the past 24 hours, Deputy First Minister John Swinney has announced.
This takes the death toll under this measure – of people who first tested positive for the virus within the previous 28 days – to 7,422.
The daily test positivity rate is 5%, up from 3.2% on Sunday.
There are 654 people in hospital confirmed to have the virus, up 26 in 24 hours, and 59 are in intensive care, down two.
A total of 1,774,659 people have received their first dose of a coronavirus vaccine as of Monday morning – an increase of 14,909 in a day – and 118,732 have received their second dose.
Deputy First Minister John Swinney describes behaviour of some Rangers fans yesterday as "an absolute disgrace" and "shameful".
John Swinney brands silence from Rangers' leadership 'deafening' after 'disgraceful' scenes of revelry in breach of Covid rules
John Swinney LIVE
Deputy First Minister John Swinney has said the Scottish Government will be making clear its "extreme disappointment" in a "lack of leadership" from Rangers following scenes in Glasgow's George Square.
Speaking at the daily coronavirus briefing, he said: "The Government and Police Scotland reminded Rangers of the need for the club to remind fans to adhere to the current restrictions in discussions on February 26 and March 5.
"It is a matter of profound regret that that did not happen.
"The Scottish Government will be making our extreme disappointment at the lack of leadership clear to the team management."
Coronavirus in Scotland: 501 new cases detected
A total of 501 new cases of COVID-19 were reported today, up from yesterday's 390 cases.