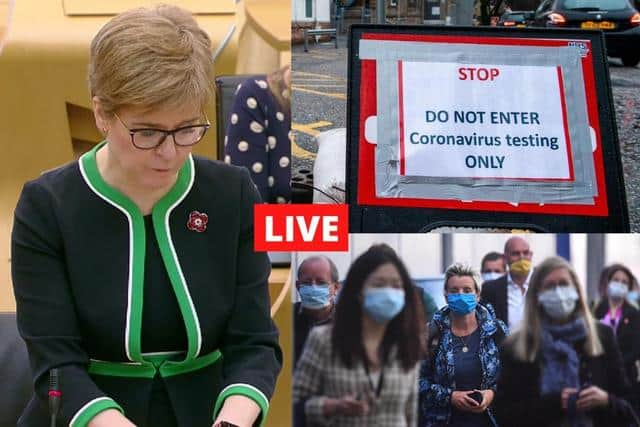 Live updates on Covid-19 in Scotland, the UK, and around the world.
Hello and welcome to our live blog for Wednesday, March 31.
Follow along here to stay up-to-date with the latest developments on the coronavirus crisis.
A message from the Editor:
Thank you for reading this article. We're more reliant on your support than ever as the shift in consumer habits brought about by coronavirus impacts our advertisers.
If you haven't already, please consider supporting our trusted, fact-checked journalism by taking out a digital subscription.
Coronavirus in Scotland LIVE: The latest updates on Wednesday, March 31
Last updated: Wednesday, 31 March, 2021, 06:19
Stay at home rule to lift on Friday, FM confirms
12 Covid deaths reported on Tuesday
411 new Covid cases reported in Scotland
Sturgeon: Easing of Covid-19 restrictions in Scotland to go ahead as planned
Planned easing of coronavirus restrictions in Scotland is to go ahead despite cases "plateauing" rather than continuing to decline, Nicola Sturgeon has said.
The First Minister was speaking during a Scottish Government, Covid-19 briefing, which are no longer given on a daily basis since the Scottish Parliament election campaign began last week.
Ms Sturgeon said the "Stay at Home" order would be removed from Friday and replaced with a "Stay Local" rule.
On Monday, hairdressers and barbers can reopen for pre-booked appointments, click and collect shopping will be permitted, and homeware shops and garden centres can welcome back customers.
University and college students can also return for in-person teaching and outdoor contact sports for 12-17-year olds may resume.
The First Minister said she will give further updates in April but that Scotland is on course to ease restrictions further, with cafes, restaurants, shops and gyms due to open from April 26 and more people allowed to meet up outdoors.
Urgent cancer referrals still below pre-Covid levels, figures show
The number of Scots being referred to hospital when cancer is suspected is still lower than it was pre-Covid, new figures have revealed.
Public Health Scotland data for the period October to December 2020 showed there were 3,502 urgent referrals made.
While that is up by 14.9% from the previous three-month period, it is still 5.9% lower than October to December 2019, when there were 3,720 such referrals.
Cancer referrals fell after coronavirus hit Scotland, with the Scottish Government pausing screening for breast, bowel and cervical cancer as the NHS focused on tackling the virus.
Breast and cervical cancer screening "started to slowly resume" from July 13, Public Health Scotland noted, with bowel cancer screening only returning from October 12.
The health body added that the last three months of 2020 had seen an increase in patients referred after breast and cervical screening.
Of those patients who were referred when cancer was suspected, 86.2% started treatment within the target time of 62 days.
That is below the Scottish Government target, which states that 95% of people referred urgently should begin receiving care within two months.
Only one health board in Scotland met the target, with NHS Tayside starting to treat 97.1% of cases within the target time, but this only happened for seven out of 10 (70.2%) of patients in the NHS Highland area.
Half of people in most parts of UK have Covid-19 antibodies, figures suggest
About one in two people in most parts of the UK now have Covid-19 antibodies, new figures suggest.
Some 54.7% of people in private households in England are likely to have tested positive for the antibodies in the week to March 14, along with 50.5% in Wales and 49.3% in Northern Ireland, according to the latest estimates from the Office for National Statistics (ONS).
Regional estimates range from 60.0% for north-west England to 50.3% for south-east England.
In Scotland about two in five people (42.6%) are likely to have tested positive for antibodies in the week to March 14.
The figures are for people in private households and do not include settings such as hospitals and care homes.
The presence of coronavirus antibodies suggests someone has either had Covid-19 in the past or has been vaccinated.
It takes between two and three weeks after infection or vaccination for the human body to make enough antibodies to fight Covid-19.
Coronavirus and independence dominate in first TV clash of Holyrood election
Coronavirus and the prospect of a second independence referendum dominated exchanges in the first TV leaders' debate of the Holyrood election campaign.
SNP leader and First Minister Nicola Sturgeon took on her rivals in the BBC Scotland clash which took place just days into the campaign.
But with just the five parties who currently have MSPs in Holyrood taking part, there was no place for former first minister Alex Salmond, who recently made a dramatic return to politics as the leader of the new Alba Party.
As Scotland looks to move on from the coronavirus pandemic, Ms Sturgeon promised to be an "experienced hand at the wheel" with her SNP party bringing forward "bold policies to drive our recovery".
But she insisted that when the crisis has passed, people should have a "choice on independence".
The SNP wants that vote to take place in the first half of Scottish Parliament's five-year term.
But Scottish Conservative leader Douglas Ross insisted: "We can't have a recovery and a referendum."