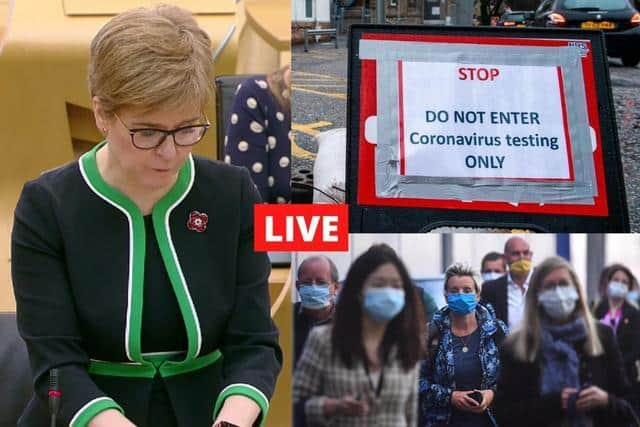 Live updates on Covid-19 in Scotland, the UK, and around the world.
Hello and welcome to our live blog for Friday, March 26.
Follow along here to stay up-to-date with the latest developments on the coronavirus crisis.
A message from the Editor:
Thank you for reading this article. We're more reliant on your support than ever as the shift in consumer habits brought about by coronavirus impacts our advertisers.
If you haven't already, please consider supporting our trusted, fact-checked journalism by taking out a digital subscription.
Coronavirus in Scotland LIVE: The latest updates on Friday, March 26
Last updated: Friday, 26 March, 2021, 14:04
543 new Covid cases reported on Friday - and six further deaths
Vaccinated people 'should be allowed to see each other'
Child poverty was rising before pandemic hit, figures show
Child poverty was increasing in Scotland before the pandemic hit, the latest figures show, moving further away from the Government's targets to tackle the problem.
Data released on Thursday shows 26% of children were living in relative poverty in 2019/20 – around 260,000 youngsters.
This is up from 23% in 2018/19, when around 230,000 children were living in relative poverty.
Households which are in poverty under this measurement have incomes below 60% of the median (middle) UK income.
The 2017 Child Poverty (Scotland) Act, which was supported by all parties at Holyrood, set targets to reduce child poverty to less than 18% by 2024 and less than 10% by 2030.
Campaigners said the latest data is "utterly dismaying" and called for the new Scottish child payment benefit to be at least doubled.
Almost 100,000 applications were made for the £10-a-week benefit when it launched earlier this year.
Unions backing window poster campaign for NHS worker pay rises
Unions are urging people to put colourful posters in their windows in support of a campaign for a proper pay rise for NHS workers.
Fourteen unions, representing more than one million workers, called on households across the UK to show their appreciation for NHS workers with bright displays on April 1, the day staff are due to have a wage rise.
The increase has been delayed and the Government has sparked anger by recommending a 1% rise in England, compared to 4% in Scotland.
Unions say the delay means health workers, including cleaners, porters, physiotherapists, 999 call handlers, nurses, midwives and healthcare assistants, must now wait until later in the year for the wage rise they are due.
Unison general secretary Christina McAnea said: "Everyone can join the NHS 'thank you' with an eye-catching window show.
"The brighter the better to bring cheer to everyone's street and to those giving their all on the front line.
"The public have shown they genuinely value health workers, but ministers have put on a false front with praise one minute and a meagre 1% the next.
"Ministers must display more imagination and heart.
"The Scottish government has already shown if the will is there, the money can be found."
EC chief warns AstraZeneca must honour contract before exporting doses elsewhere
The European Commission president has warned AstraZeneca that it must "honour" its vaccine contract with the bloc before exporting doses elsewhere in the world.
Ursula von der Leyen urged "transparency" from other countries, but did not confirm if the EU would bring in tougher export restrictions on coronavirus jabs, amid a row over supplies with the British-Swedish pharmaceutical giant.
However, she acknowledged that worldwide supply chains needed to remain "intact" for vaccine production, while some European leaders appeared optimistic that the UK and EU could soon resolve their dispute over supplies.
Elsewhere, Boris Johnson sought to calm fears over the possible introduction of coronavirus certificates after publicans criticised his suggestion that it may be up to landlords to decide to request proof of vaccination in venues.
Just days after the Prime Minister flagged tougher measures to prevent Covid-19 variants being transmitted from Europe, the Telegraph reports the Government is planning to implement a mass testing regime for lorry drivers arriving in the UK.
Nearly one in four Scots rule out going on holiday this year
Nearly a quarter of Scots are ruling out going on holiday this year, according to a wide-ranging new opinion poll which reveals that one in three people have been impacted financially by the pandemic.
More jobs on offer as virus restrictions ease, study suggests
The number of job vacancies has increased as Covid restrictions start to lift, new research suggests.
The Recruitment and Employment Confederation (REC) said 146,000 new job adverts were posted in the third week of March, giving a total of 1.29 million on offer.
The number has increased in recent weeks, especially for veterinary nurses, bricklayers, sales and retail assistants, as well as roles in hospitality, it said in a report.
There has also been a higher proportion of adverts for temporary jobs in recent weeks, according to the REC.
Chief executive Neil Carberry said the last two weeks were the best for new jobs postings for a year, adding: "There are particularly positive signs for the retail, leisure and hospitality industries, as businesses in those sectors look to prepare for reopening.
"We continue to see the importance of temporary work in helping businesses and workers get back on their feet."
Retail sales stage partial recovery as households prepare for lockdown end
Retail sales volumes recovered slightly in February but not enough to offset heavy falls a month earlier, new data from the Office for National Statistics (ONS) has suggested.
Volumes rose 2.1% but only partially recovered on the 8.2% fall in January, with sales still down 3.7% on a year earlier and before the Covid-19 pandemic impact.
Clothing retailers reported the largest fall – down 50.4% – in sales volumes when compared with February 2020 and petrol stations (or "automotive fuel stores", according to the ONS) fell 26.5% as the travel sector took a bad hit.
By comparison, online retailers continued to enjoy huge gains in customer spend, with 36.1% of all cash spent at retailers going to online operations in February. A year ago the proportion was just 20%.
It set a new record, beating the previous record set in January.
The amount of money spent in retail was also up in February by 2.2% compared with a month earlier, but down 4.4% on the same month a year ago.
Mexico's Covid-19 death toll topped 200,000 on Thursday
Robert Jenrick said there was no "immediate plan" to make an announcement on the use of vaccine passports and suggested any rollout would not be until after the "whole country has been vaccinated".
Researchers invite ethnic minority groups to share impact of Covid pandemic
Academics are asking people from ethnic minority communities to share their experiences of the Covid pandemic for a vital research project that could shape future policies.
The project aims to investigate the impact of the pandemic on wellbeing and resilience across black, Asian and minority ethnic (BAME) groups and will make recommendations to the Government to ensure long-term support is provided to those who need it.
Professor Iyiola Solanke, the principal investigator, said recognising the specific impacts of Covid-19 on these communities is important to prevent further discrimination and inequality, and the information collected by the project could be used to help in future pandemics.
The Consortium on Practices for Wellbeing and Resilience in Black, Asian and Minority Ethnic Families and Communities (Co-POWeR) project will speak to people from a range of groups, including the police, local authorities, teachers, social workers and the medical community, to explore the impact of Covid in a number of areas, such as children, the elderly, physical activity and the application of emergency powers.
Prof Solanke, professor of EU law and social justice at the University of Leeds, told the PA news agency: "It's really about trying to hear the voices of individuals and, by hearing their voices, allowing them to tell their own story so there's a sense of empowerment, it's not just people speaking about them but they are telling their stories in a way the Government can hear.
"We'll be talking to different communities, as well as individuals themselves, to try to get a 360-degree picture of what is going on, so not just from the recipients of care, but also those who are delivering the care, not just those who are perhaps being arrested and given fixed penalty notices, but also those who have the responsibility to give them."
Hospitality bosses says vaccine passports 'totally futile' as four-nations plan considered
Scottish hospitality bosses have dismissed the idea of vaccine passports or certificates as "totally futile" and warned they would create an age-segregated society.