Follow along here to stay up-to-date with the latest developments on Friday.
A message from the Editor:
Thank you for reading this article. We're more reliant on your support than ever as the shift in consumer habits brought about by coronavirus impacts our advertisers.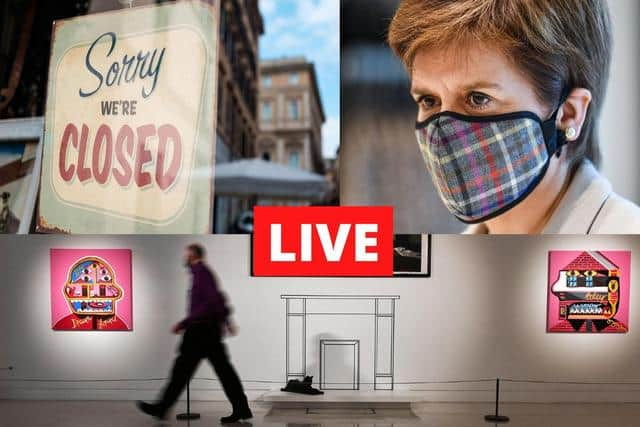 If you haven't already, please consider supporting our trusted, fact-checked journalism by taking out a digital subscription.
Coronavirus in Scotland LIVE: The latest updates on Friday
Show new updates
More than 70% of pain sufferers 'did not seek treatment during first lockdown'
More than 70% of people who suffered with pain during the first lockdown did not seek treatment, according to a study.
The poll by the Musculoskeletal Partners Network – the national trade association for physiotherapists, osteopaths and chiropractors – involved 2,000 people.
A total of 57% of respondents said they experienced pains, strains or discomfort including in their joints, limbs, hips, back, neck, knees, shoulders, ligaments, muscles or with conditions such as arthritis.
When asked about how they treated their condition, 73% said they did not seek any treatment during the first lockdown.
Reasons for this included self-medication, not wanting to burden the NHS with a low priority issue and avoiding a healthcare setting due to potential exposure to Covid-19.
Amazon to gift $500 million in bonuses to frontline staff over festive season
Amazon is dedicating 500 million US dollars to Christmas bonuses for its frontline staff after the company recorded a stellar year of sales during the pandemic.
In a blog post, senior vice president of Amazon Worldwide Operations Dave Clark said the money would go to full-time and part-time staff who are employed by the company between December 1 and December 31.
Full-time frontline employees in the UK and the US will receive £300 or 300 dollars, while part-time staff will be eligible for £150 or 150 dollars.
The e-commerce and technology giant recorded a net income of 6.3 billion dollars (£4.73 billion) in the three months to September 30 – up from 2.1 billion dollars (£1.58 billion) in the third quarter of last year.
By the end of the year, Amazon will have recruited 10,000 extra UK staff to cope with the uptick in sales stemming from the pandemic.
Mental health services need share of Covid funding, say psychiatrists
Mental health services are not receiving a "fair share" of government funding, a psychiatry body said as figures showed inpatient admissions are at their highest rate in over two decades.
Figures from Public Health Scotland show there were 51,400 mental health discharges in 2019/20, up from around 43,000 in 1997/98.
Royal College of Psychiatrists (RCPsych) in Scotland said the services were already struggling before the coronavirus pandemic, despite ring-fenced funding of at least 8.1% (£1.1 billion).
It is now calling on the Scottish Government to confirm that the 8.1% will be applied to the additional Covid-19 funding granted in the autumn – which would give mental health services an extra £145 million to deal with the impact the pandemic has had on mental health.
The call came as RCPsych in Scotland published its manifesto ahead of the Scottish parliamentary elections next year.
Planned redundancies in October soared to more than double 2019 figures
Planned redundancies for October were reportedly more than double last year's rate as the coronavirus pandemic battered business confidence.
According to figures obtained by the BBC in a Freedom of Information request, some 842 employers informed the Insolvency Service of plans to cut at least 20 staff last month, putting 51,000 jobs at risk – almost two-and-a-half times last year's number.
Pret a Manger and Manchester Airport were among companies to announce redundancy plans.
Despite being far higher than last year, the figures are lower than those recorded in June, July and September, the broadcaster said.
Baltic states added to Scotland's coronavirus quarantine list
Quarantine rules have been reinstated for travellers into Scotland from Estonia and Latvia.
People entering the country from the two Baltic states must self-isolate for 14 days upon arrival as of 4am on Saturday.
The Scottish Government said it comes after a "significant increase in cases" of coronavirus and a rise in the numbers testing positive.
More research needed into Oxford vaccine, says health expert
More research is needed into the efficacy of the Oxford-AstraZeneca coronavirus vaccine, a former director of immunisation at the Department of Health has said.
Professor David Salisbury said the Government faced some "tough choices" if the vaccine was less effective than others that have been developed.
"I think this has to be unpicked and it may not be possible to do that with the amount of patients that have been recruited so far," he told the BBC Radio 4 Today programme.
"If this vaccine came through at truly 90% and it is a cheaper vaccine and it requires much less rigorous cold chain (storage) than the RNA vaccines then that would be a great result.
"But if it comes through at 62% and the other vaccines that are coming through so far at 90% then I think you have to think very carefully what do we with a 100 million doses of a product that isn't protecting as well as the alternatives?
"I think there are some tough choices."
Health Secretary Jeane Freeman and chief nursing officer Fiona McQueen will hold a coronavirus briefing at 12.15pm.
Boris Johnson said more mass coronavirus testing is in the pipeline and the supply of quick-result tests is not an issue, with the UK set to make its own within months.
Relaxing rules at Christmas is not green light to party, Leitch warns
The relaxation of coronavirus restrictions at Christmas should be used only to relieve social isolation and not to have a big party, Scotland's national clinical director has said.
Professor Jason Leitch said the public health advice is to remain cautious, as he reminded Scots "the virus will not take Christmas off".
Restrictions will be eased between December 23 and December 27 to allow three households to form a "bubble", permitting them to meet indoors, outdoors or in a place of worship.
Prof Leitch said "everything was on the table" at discussions between the four UK nations on a united approach to Christmas, including lifting all restrictions for one day or keeping all the regulations in place – but they concluded it was right to offer people some flexibility.
Downing Street tried to get the Oxford University coronavirus vaccine labelled with Union Jacks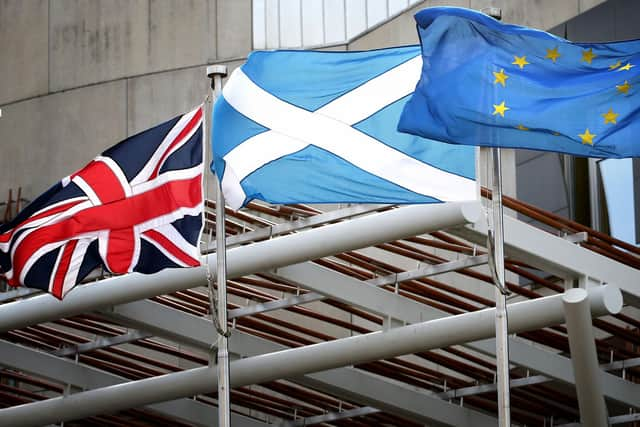 Downing Street tried to get the Oxford University coronavirus vaccine labelled with Union Jacks.