Follow along here to stay up-to-date with the latest developments on Monday, March 22.
A message from the Editor:
Thank you for reading this article. We're more reliant on your support than ever as the shift in consumer habits brought about by coronavirus impacts our advertisers.
If you haven't already, please consider supporting our trusted, fact-checked journalism by taking out a digital subscription.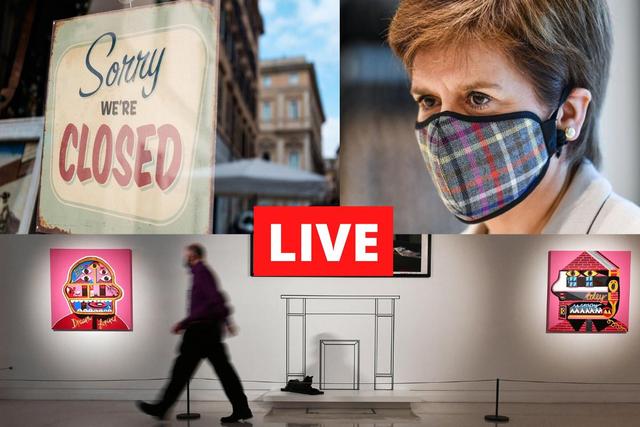 Live updates on Covid-19 in Scotland, the UK, and around the world.
Coronavirus in Scotland: The latest updates on Monday, March 22
Last updated: Monday, 22 March, 2021, 14:31
359 new cases of Covid-19 reported on Monday
Police thank Old Firm fans as only 'small groups' gather for game
No coronavirus deaths in Scotland on Monday
359 new cases of Covid-19 were reported in Scotland on Monday - and no further deaths
No deaths of coronavirus patients were recorded in Scotland in the past 24 hours, according to the latest official figures.
There were 359 new cases in the same period with a daily test positivity rate of 3.7%, up from 2.9% on Sunday.
The death toll under the measure used for the daily figures – of people who first tested positive for the virus within the previous 28 days – remains at 7,552.
The figures published by the Scottish Government indicate 353 people in hospital are confirmed to have the virus, up nine in 24 hours, and, of these, 33 patients are in intensive care, down two.
A total of 2,182,400 people received a first dose of a Covid-19 vaccination as of 7.30am on Monday and 225,096 have received their second dose.
359 new cases of Covid-19 were reported in Scotland on Monday - and no further deaths
359 new cases of Covid-19 were reported in Scotland on Monday - and no further deaths
359 new cases of Covid-19 were reported in Scotland on Monday - and no further deaths
359 new cases of Covid-19 were reported in Scotland on Monday - and no further deaths
Coronavirus in Scotland: Why is there no covid briefing today and when will Nicola Sturgeon announce new measures?
There will be no coronavirus briefing today as Scotland is set to face another lockdown review from the Scottish Government tomorrow.
Two out of five Scottish firms optimistic about 2021, survey finds
A survey has found 40% of Scottish businesses feel optimistic about their future this year.
The Business Gateway poll also revealed the pandemic remains an area of concern, with 31% of businesses reporting that they felt positive about the remainder of the tax year, which ends in April.
It found 37% stated they felt either pessimistic or very pessimistic about the future of their business for the same period.
However, these concerns lift slightly when asked about the rest of the year, with around 40% saying they feel optimistic about their future this year.
Hugh Lightbody, chief officer of Business Gateway National Unit, said: "As we approach the anniversary of the first national lockdown, we must take some positives from the results of this survey.
"We appreciate that the pandemic is not over yet, and for some businesses, this will continue to be a concern.
"However, it is welcome to see initial signs that some businesses are feeling more optimistic about their prospects.
"Going forward, it is important not to lose momentum and it will be vital that businesses continue to have access to a range of support, as they begin the journey back to a form of normality."
European Commission president Eric Mamer insisted Brussels was not set on "banning vaccine exports" but wanted pharmaceutical firms to meet their contractual obligations to the bloc.
There will be no Scottish Government coronavirus briefing today
'Honestly so exciting' – Jeremy Vine gets coronavirus vaccine
Jeremy Vine has praised the speed of the Covid-19 vaccine rollout after receiving his first jab.
The presenter, 55, received his first dose at the weekend and a video of the moment was shown on his Channel 5 morning programme on Monday.
Vine, who contracted coronavirus last December, described the experience as "honestly so exciting" and was seen bumping elbows with the NHS staff member who gave him the injection.
Speaking to viewers, he added: "And to think that a year ago whatever went in my arm there wasn't even developed. You think it would take 10 years and it took them six months – six months to make it and six months to roll it out, and then five seconds to get it into my arm. That is amazing."
Firms have opportunity to redefine how people work post-pandemic – report
Moving on from the pandemic offers organisations the opportunity to redefine the way people work and to re-imagine the purpose of the office, according to a new report.
The Scottish Futures Trust (SFT) study said that as organisations look towards the future beyond Covid-19, they should consider the three 'Hs' of working – from home, a nearby hub or the head office.
Many people became homeworkers "virtually overnight" when the country went into lockdown on March 23 last year and the report said that the workforce of the future will want to make informed choices about where and how they work.
Analysis of a sample of workers from public sector organisations found that 88% of the 4,961 respondents wanted to work at least one day a week from home, with 24% happy to continue to work full-time from home.
One in 10 (10%) said they preferred not to work from home while 2% did not specify.
Boris Johnson to call EU leaders in attempt to stop potential Covid vaccine export ban
Prime Minister Boris Johnson is expected to speak to EU leaders this week regarding proposals to ban the export of Oxford/AstraZeneca vaccines to the UK.
Public health expert advises holidays in Scotland, but says things could change
A public health expert has urged would-be holidaymakers to focus first on opportunities here in Scotland, though not ruling out trips overseas at some stage.
Hearing loss may be linked to coronavirus, study suggests
Hearing loss and other auditory problems may be strongly associated with coronavirus, new research suggests.
Researchers found 56 studies that identified an association between Covid-19 and auditory and vestibular problems.
They pooled data from 24 of the studies to estimate that the prevalence of hearing loss was 7.6%, tinnitus was 14.8% and vertigo was 7.2%.
The vestibular system includes the parts of the inner ear and brain that process the sensory information involved with controlling balance and eye movements.
However, the team – who followed up their review carried out a year ago – described the quality of the studies as fair.
Their data primarily used self-reported questionnaires or medical records to obtain Covid-19-related symptoms, rather than the more scientifically reliable hearing tests.
Kevin Munro, professor of audiology at The University of Manchester and Manchester Biomedical Research Centre (BRC) hearing health lead, said: "There is an urgent need for a carefully conducted clinical and diagnostic study to understand the long-term effects of Covid-19 on the auditory system.
"It is also well-known that viruses such as measles, mumps and meningitis can cause hearing loss, little is understood about the auditory effects of the Sars-CoV-2 virus.
"Though this review provides further evidence for an association, the studies we looked at were of varying quality so more work needs to be done."
DIY boom sees profits at B&Q owner soar more than 600%
The owner of B&Q has cashed in on a DIY boom as millions of people stuck at home tried to improve their living conditions.
Kingfisher said it had seen pre-tax profits balloon 634% from £103 million to £756 million in the 12 months to the end of January.
Sales increased by 7.2% during the same period to £12.3 billion, the company revealed on Monday.
Growth was driven by a boom in online sales, which were up by 158%.
E-commerce was already a growing segment for the business, which also owns Screwfix, as it rose 8% in the year ending January 2020. However, the explosive growth during lockdown came as people tried to do up the homes they were confined to.
Chief executive Thierry Garnier said: "Kingfisher is coming out of the Covid crisis as a stronger business, with an improved competitive position in all key markets, strong new customer growth and a step change in digital adoption.
"I would like to express my personal thanks to all our teams for their incredible efforts in the most testing of circumstances."
The company said it had seen a strong start to this financial year amid high demand in the UK and France, which are both going through lockdowns.
Since the end of January life-for-like sales have risen more than 24% compared with the same period in 2020.