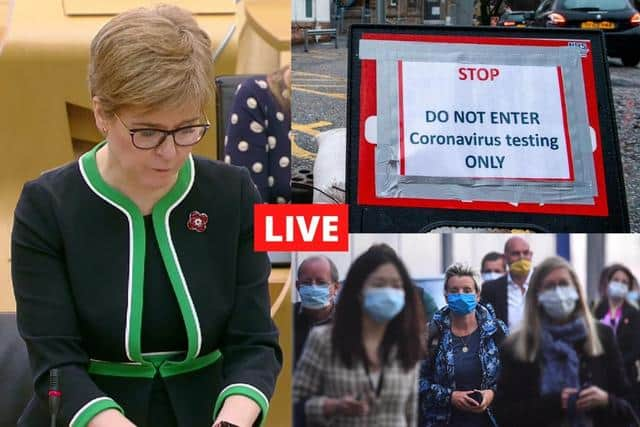 Hello, and welcome to our live blog for Wednesday, April 7.
Follow along here to stay up-to-date with the latest developments on the coronavirus crisis.
A message from the Editor:
Thank you for reading this article. We're more reliant on your support than ever as the shift in consumer habits brought about by coronavirus impacts our advertisers.
If you haven't already, please consider supporting our trusted, fact-checked journalism by taking out a digital subscription.
Coronavirus in Scotland LIVE: The latest Covid-19 updates on Wednesday, April 7
Show new updates
William praises NHS staff for 'fantastic job' during pandemic
The Duke of Cambridge has paid tribute to the efforts of the NHS and its workers during the pandemic, describing the institution as "probably the most admired organisation around".
William's words of praise came during a call with a consultant working in a Belfast hospital, after a series of telephone and video calls to NHS staff across the country and in all departments since the start of the year.
During the call – made on March 17 with Dr Thelma Craig, a respiratory consultant at the Mater Hospital – William said: "I just want to say on behalf of everyone what a fantastic job you've done. You've all held it together and been absolutely wonderful people.
"It's been a real team effort but we're all very proud of you. The NHS has gone from already being much loved to probably the most admired organisation around.
"Thank you so much for all your hard work."
Sturgeon's promise to boost hospital activity as part of NHS 'remobilisation'
Nicola Sturgeon is to outline plans to increase NHS activity to 10% above pre-coronavirus levels as part of efforts to help Scotland recover from Covid-19.
The SNP leader and current Scottish First Minister will insist her party was the only one going into the Holyrood election campaign with "a serious plan for government and for national recovery from Covid".
If the SNP is re-elected to power next month, Ms Sturgeon said they would look to raise NHS in-patient activity, day case and out-patient activity to 10% above pre-pandemic levels within one year.
The shows that the SNP has a "bold, progressive plan for government with the remobilisation of the NHS at its heart," she will say.
Ms Sturgeon will promise measures to support NHS staff and will also commit to a future SNP government investing to ensure people can get the right care care closer to home, while also working to maximise hospital capacity so patients can be treated more quickly.
The commitment comes after the coronavirus pandemic disrupted some routine NHS care over the course of the past year.
Ms Sturgeon will highlight the efforts as part of her party's commitment to "build a fairer, more equal country, grounded in a sense of solidarity where we look out for one another".
Church survey finds 96% moved worship online during lockdown
A survey of churches in Scotland found nearly all those who responded offered online worship during the first coronavirus lockdown and more than one in eight plans to continue.
A total of 369 congregational leaders from 27 different denominations across Scotland responded to the study and, of these, 96% said they provided online worship during the first lockdown last year, when places of worship were closed.
Prior to the coronavirus pandemic, fewer than a fifth (18%) of the churches surveyed offered this service.
The study was produced in partnership by the Scottish Church Leaders' Forum, Action of Churches Together in Scotland and Brendan Research and around half of responses – 184 – came from Church of Scotland ministers.
It found 82% of respondents plan to continue online worship in the future.
Mounting concern over 'exams in all but name' as return to school confirmed
Teachers and parents have complained of mounting confusion over how pupils will be assessed this year as it was confirmed all secondary schools will return after the Easter holidays.
Covid-19 linked to increased risk of psychiatric and neurological conditions
Contracting Covid-19 is "robustly associated" with an increased risk of developing mental health and neurological conditions in the six months after a diagnosis, a study suggests.
Researchers at the University of Oxford looked at the TriNetX electronic 2020 health records of more than 230,000 Covid-19 patients, mostly from the US.
Their study, published in The Lancet Psychiatry journal and said to be the largest of its kind to date, estimated that one in three Covid-19 survivors (34%) were diagnosed with a neurological or psychiatric condition within six months of being infected.
For 13% of people it was their first recorded neurological or psychiatric diagnosis, researchers found.
The findings also suggested that the incidence of such conditions rose with the severity of a coronavirus case, with a neurological or psychiatric diagnosis occurring in 39% of those who were admitted to hospital, 46% of those in intensive care, and 62% in those who had encephalopathy – described as "delirium and other altered mental states" – during their Covid-19 infection.
When comparing the data with a control group and taking into account underlying health characteristics such as age, sex, ethnicity, and existing health conditions, researchers also found that overall there was a 44% greater risk of neurological and mental health diagnoses after Covid-19 than after flu, and a 16% greater risk after Covid-19 than with other respiratory tract infections such as pneumonia.
Given the scale of the coronavirus pandemic and chronic nature of some neurological and psychiatric diagnoses, the study's authors concluded that "substantial effects on health and social care systems are likely to occur".
Moderna vaccine rollout welcomed as AstraZeneca children's trial is paused
A third coronavirus vaccine is being rolled out in the UK, as investigations continue into a potential association between the Oxford/AstraZeneca jab and a rare form of blood clot.
People in Wales will receive the first doses of the Moderna vaccine on Wednesday.
The UK has bought 17 million doses of that vaccine – enough for 8.5 million people.
Jabs will be given out at West Wales General Hospital in Carmarthen in what has been hailed as "another key milestone" in the fight against coronavirus.
It comes as a trial of the Oxford/AstraZeneca vaccine in children has been paused while regulators investigate reports of a rare form of blood clot among adults.
The University of Oxford said no safety concerns have arisen from the children's trial and Sage adviser Professor Calum Semple said the decision to pause had been made out of "exceptional caution", as he urged people to continue accepting Oxford/AstraZeneca jabs.
Assessments are under way into a very rare and specific type of blood clot in the brain, known as cerebral venous sinus thrombosis (CVST), occurring together with low levels of platelets (thrombocytopenia) following vaccination in adults.
Ryanair says losses to be slightly less than first expected
Ryanair has said it expects losses for the year of Covid to be slightly lower than first thought.
Net losses are now expected to be between 800 million euros and 850 million euros (£689 million and £732 million), compared with previous guidance of between 850 million and 950 million (£732 million and £818 million), the airline said.
No reason for the revision was given.
Bosses also said Easter travel restrictions and the slow rollout of the Covid-19 vaccines saw a delay in passenger numbers recovering.
As a result of delays to international travel resuming, bosses explained they do not expect traffic to fully recover this financial year, with expected passenger numbers to be at the lower end of previous guidance between 80 million and 120 million.
Passenger numbers fell to just 27.5 million in the year to March 31, compared with 149 million a year earlier.
Ryanair said: "Easter travel restrictions/lockdowns and a delayed traffic recovery into the peak (summer) season, due to the slow rollout in the EU of Covid-19 vaccines, means that traffic is likely to be towards the lower end of our previously guided range".
It added: "While it is not possible (at this time) to provide meaningful (2021/22) profit guidance, we do not share the recent optimism of certain analysts as we believe that the outcome for (2021/22) is currently close to break-even."
Euro 2020 host cities may upscale plans for fans if pandemic conditions improve
UEFA will allow host cities to upscale plans for supporters to attend Euro 2020 matches should conditions around the coronavirus pandemic improve, the PA news agency understands.
The European governing body has asked for the 12 host cities – including Glasgow, Dublin and London – for their proposals on how many fans they expect to be able to accommodate by Wednesday.
The UK Government has announced plans for a number of test events – including a 21,000 crowd for the FA Cup final on May 15 – with a view to having Wembley full for at least some European Championship games.
Wembley will see England open their Group D campaign against Croatia on June 13, before then welcoming Scotland on June 18 followed by the Czech Republic.
The national stadium is also set to host one last-16 game as well as both the semi-finals and then final on July 11.
On Tuesday, Scotland First Minister Nicola Sturgeon was optimistic there would be a "reasonably good number" of supporters at Hampden for matches against the Czechs on June 14 and then Croatia eight days later.
The UK has begun rollout of its third Covid-19 vaccine, as the first Moderna doses were administered in Wales on Wednesday.
Nicola Sturgeon sets out plans for NHS 'remobilisation' after coronavirus
Half of all spending on frontline NHS care will go to GPs and community services if the SNP is re-elected in May, Nicola Sturgeon has pledged.
The First Minister also promised that her party will set up an expanded network of 10 centres doing diagnostic work and elective surgery.
This would include a renewed Edinburgh Eye Pavilion, as well new elective treatment centres in Ayrshire and Cumbernauld.
While work to establish the new centres is taking place, Ms Sturgeon said "mobile operating theatre units" will be deployed at a number of NHS sites.
The health service could also utilise "under-used theatre capacity in community and general hospitals", she added, saying this could see more people treated as day cases.
The SNP leader announced the plans as part of her party's "full-scale post-pandemic remobilisation of the NHS".
To help reduce waiting times, she said activity levels for inpatient, day-case and outpatients will rise by 10% compared to what they were prior to the coronavirus crisis.
This will happen in the first year of a new SNP government, Ms Sturgeon said, and then be maintained for the rest of the next five-year term.