Keep up-to-date with the latest developments across Scotland.
A message from the Editor:
Thank you for reading this article. We're more reliant on your support than ever as the shift in consumer habits brought about by coronavirus impacts our advertisers.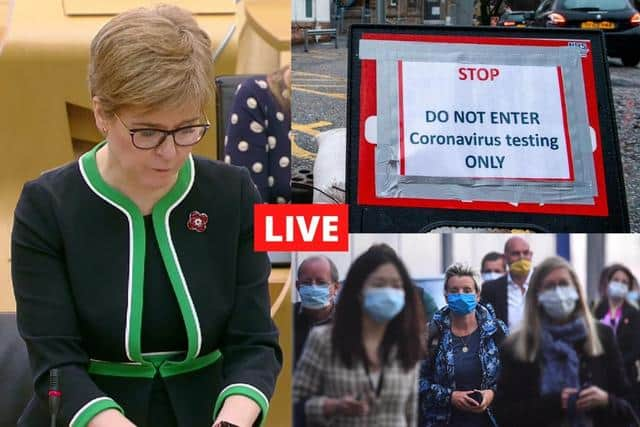 If you haven't already, please consider supporting our trusted, fact-checked journalism by taking out a digital subscription.
Coronavirus in Scotland LIVE: The latest updates on Friday, December 11
Show new updates
Police Scotland Chief Constable Iain Livingston thanked the public for their co-operation during a "very difficult year"- and urged people to stick to guidelines.
Sturgeon thanks level 4 areas for compliance
The First Minister was speaking as 11 council areas were to be moved out of the toughest levels of restrictions.
Ms Sturgeon thanked the residents of the local authorities, mainly in west and central Scotland, but urged them to continue to follow the rules to avoid the increased spread of the virus.
"Please abide by the rules, that means – in particular – not visiting other people's houses", she said.
"I know how hard this is for all of us, but it remains the most effective way of trying to limit transmission."
Non-essential retail businesses were allowed to open at 6am on Friday in areas moving between Level 4 and Level 3, and the First Minister again asked for shoppers to comply with regulations.
"I cannot emphasise enough to you today that the very, very last thing we want to see is overcrowding in and around shops and shopping centres", the First Minister said at the coronavirus briefing in Edinburgh.
Success in asymptomatic testing trial
Nicola Sturgeon said she is "pleased" with the uptake of a community testing programme in Johnstone.
Speaking at the coronavirus briefing in Edinburgh, the First Minister said that more than 5,000 people came forward to be tested – around 40% of the target population, she said.
"That is a good uptake and one that we are pleased about," the First Minister added.
"I want to take this opportunity to thank everyone who came forward for a test, and to thank all of the local partners who helped to deliver the trial quickly and safely."
Nicola Sturgeon said the community testing site set up in Johnstone to trial asymptomatic testing has been completed - and in eight days, more than 5,000 people came forward for testing.
Self-isolation payment not impacted by new self-isolation rules
The Scottish Government's self-isolation payment will not be impacted by new self-isolation rules, Nicola Sturgeon has said.
A further 1,001 Covid-19 cases recorded in Scotland
Scotland has recorded 31 deaths from coronavirus and 1,001 positive tests in the past 24 hours, Nicola Sturgeon said.
It brings the death toll under this measure – of people who first tested positive for the virus within the previous 28 days – to 4,070.
Ms Sturgeon said 104,306 people have now tested positive in Scotland, up from 103,305 the previous day.
The daily test positivity rate is 4.6%, down from 4.7% on the previous day.
Of the new cases, 246 are in Greater Glasgow and Clyde, 196 in Lothian, 125 in Lanarkshire, 117 in Ayrshire and Arran and 111 Grampian.
There are 999 people in hospital confirmed to have the virus, up 15 in 24 hours.
Of these patients, 53 are in intensive care, up by one.
The provisional data indicates the breakdown of new cases is as follows:
·NHS Greater Glasgow & Clyde: 246
·NHS Ayrshire and Arran: 117
Self-isolation reduced to 10 days
The self-isolation period for contacts of a positive coronavirus case will be cut from 14 days to 10 days, the UK's chief medical officers have announced.
Those required to quarantine after returning from countries which are not on the travel corridor list will also see their isolation period reduced, in an approach agreed by all four nations.
Health chiefs said in a joint statement that following a review of the evidence, they were "confident" that the self-isolation period could be shortened.
This reduction already applies in Wales following an announcement by the Welsh Government earlier this week, while it will take effect in England, Scotland and Northern Ireland from Monday.
The new rules will apply to all those who are currently self-isolating, including those who began doing so before Monday.
Nicola Sturgeon coronavirus briefing LIVE: 1,001 new Covid-19 cases in Scotland. 31 further deaths registered.
Coronavirus self-isolation period in Scotland reduced after clinical advice
The self-isolation period has been reduced for people arriving in Scotland from countries not on the quarantine exemption list or those who have come into contact with a positive case.
Previous guidance was to remain indoors for 14 days but recent clinical advice has allowed this to be reduced to 10 days.
The change will take effect from Monday after discussions between the UK's four chief medical officers.
It will also come into force then for people who are already self-isolating.
"After reviewing the evidence, we are now confident that we can reduce the number of days that contacts self-isolate from 14 days to 10 days," a joint statement from the chief medical officers said.
"People who return from countries which are not on the travel corridor list should also self-isolate for 10 days instead of 14 days.
"People who test positive should continue to self-isolate for 10 days from onset of symptoms or 10 days from point of taking a positive test if asymptomatic.
"We urge everyone to self-isolate when appropriate, it will save lives."