As Scotland reimposes travel restriction on people coming from Spain, follow here for details on the latest developments.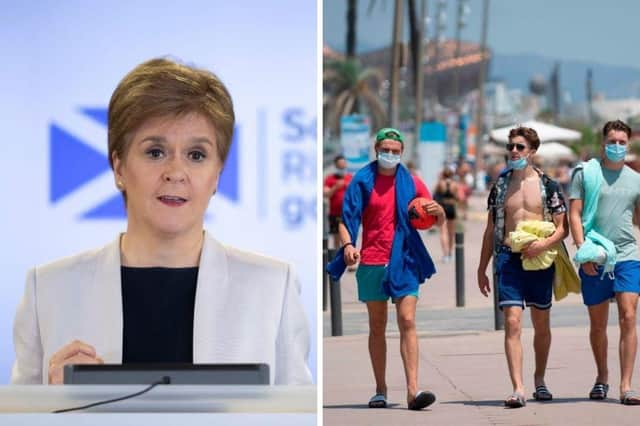 Coronavirus in Scotland LIVE: latest updates
Show new updates
Cabinet Secretary Michael Gove, said a group of pro-independence activists who staged a demonstration on the A1 beneath the official "Welcome To Scotland" sign earlier this month did not speak for Scotland.
The protestors displayed a "keep Scotland Covid free" banner as well as Saltire and Lion Rampant flags while a livestream video of the event showed one protester saying: "Basically what we're saying here today is stay the f*** out."
Speaking after a visit to hospitality businesses in Alness, Mr Gove described the small group of protesters as "just a few bampots who don't speak for Scotland".
He added: "You will alway find some people in any sitatuion who will engage in these stunts but they don't speak for Scotland and I know that's the view of the First Minister as well."
There have been no new deaths from Covid-19 in Scotland for an 11th day running.
The Scottish government confirmed that there have been three new positive cases in the country.
A BBC data investigation found that the majority of care providers in Scotland, including council-run homes, have refused to release information about the numbers of deaths, while the Care Inspectorate has said it won't reveal the information for "commercial" reasons.
Scottish Labour's health and social care Monica Lennon has now challenged Health Secretary Jeane Freeman to publish the data.
Care homes have accounted for more than half of all coronavirus deaths in Scotland since the start of the pandemic, but a lack of detailed information has made it impossible to map all the deaths to specific care homes or care providers.
Vietnam is evacuating visitors and has closed Da Nang city to tourists after recording the country's first locally transmitted coronavirus cases since April.
Da Nang is a central coastal city, which is very popular with domestic tourists. Four new cases were recorded there, resulting in a ban on tourists entering the city for up to 14 days.
Additionally, the country is arranging new flights in order to evacuate up to 80,000 visitors.
The NHS Louisa Jordan, built in three weeks inside Glasgow's SEC in a pre-emptive bid to deal with the expected demand for Covid-19 care, has now seen 315 patients for outpatient consultations.
A trial by NHS Lanarkshire, which began at the beginning of July, involved patients who needed orthopaedic and plastic surgery appointments, and plans are now in place to expand the services offered at the hospital to increase the number of patients it can receive daily from health boards across Scotland.
New services to be offered include key diagnostics such as X-rays, CT scanning and ultrasounds, as well as speciality dermatology appointments.
The hospital, which was named after Glasgow-born First World War nurse Sister Louisa Jordan who died on active service in Serbia in 1915 as part of the Scottish Women's Hospitals for Foreign Services, was opened in April, with 1036 bed bays and the capacity to treat an initial 300 patients.
However it was never required as the numbers of people needing hospital care for Covid, did not overwhelm the NHS, leading to demands from opposition MSPs for the hospital to be used in other ways to ease pressure on the NHS.
A Scottish pilot who was Vietnam's most critically ill Covid-19 patient has warned others not to be "blase" about the risks of the virus.
Stephen Cameron was working for national carrier Vietnam Airlines when he tested positive for the coronavirus in March and went on to become seriously ill, spending 65 days on life support.
The 42-year-old, who became something of a media sensation in Vietnam as one of the country's earliest and most critically ill patients, said the response of the country had been "mind-blowing".
Speaking to BBC News, Mr Cameron, from Motherwell, North Lanarkshire, said the effects of Covid-19 should not be under-estimated.
He added: "I'm a living example of what this virus can do and it is serious.
"People might grumble about having to put on gloves or social distancing two metres apart … but I contracted it and I was under for 10 weeks on life support.
"People can't be blase about this until we have eradicated it."
There are "lessons to learn" after the decision to remove Spain from the list of countries exempt from quarantine, Humza Yousaf has said.
The Justice Secretary said the change was made after "deeply alarming" data emerged showing cases almost doubling in Spain.
He said it is "inevitable" that countries which are currently on the exempt list for quarantine will be removed as spikes in coronavirus cases emerge.
The decision to remove Spain from the list was made on a "four nations" basis on Saturday, with the UK Government and all devolved administrations ordering returning travellers to self-isolate for 14 days.
Speaking on the BBC's Good Morning Scotland radio programme, Mr Yousaf acknowledged how "frustrating and disappointing" the situation was for many tourists, but said travel during the pandemic would always have an element of risk.
He said: "The reason is very much based on the public health data we received on Saturday from the UK Government that showed a deeply alarming trend in Spain.
"In the space of a week, from the 17th of July to the 24th of July we saw cases in Spain almost double from 5,700 to 11,000."
Asked if it was a mistake to take Spain off the quarantine list a few days ago, he said: "When we made the decision to remove Spain, the decision was based on the data.
"So the prevalence, which is the percentage of the population per 100,000 that is infectious, that has dramatically reduced, in fact it was lower than what Scotland's was …
"Clearly on reflection, perhaps there are some lessons for us to learn, I'm never against us doing that.
"I think that's important for us to do, particularly because without a global vaccine being available there are going to be times when countries are going to be taken off the exempt list, put back on the list, depending on the data that we receive."
He said travel during a global pandemic would always carry "some element of risk" as the situation could change rapidly.
Mr Yousaf said: "Of course I understand why people will be disappointed, I understand why people would be frankly quite angry.
"But I hope people understand that the only reason we choose to make decisions is based on the public health data we receive and is in the best interests of keeping people safe here in Scotland."
The Economy Secretary was in touch with travel companies to discuss support, he said.
A new account of a meeting attended by First Minister Nicola Sturgeon suggests she may have misled Parliament about when she first knew of the allegations against her predecessor, Alex Salmond.
In 2018, two female civil servants made formal complaints against Mr Salmond, accusing the former First Minister of historical sexual misconduct while in office.
Mr Salmond strenuously denied the claims against him.
Ms Sturgeon told Parliament that she was first made aware of the allegations against her predecessor on April 2, 2018, when he told her about them.
But, according to reporting by Sky News, a previously unseen account of a meeting attended by the First Minister suggests that she was involved in a "discussion about the investigation" four days earlier - on March 29, 2018.
The meeting took place at Ms Sturgeon's office in Holyrood, and was attended by her, a government official, and Mr Salmond's former chief of staff, Geoff Aberdein.
The meeting was disclosed during Mr Salmond's recent criminal trial - where he was acquitted of 13 charges of sexual assault - but details of what was discussed were not.