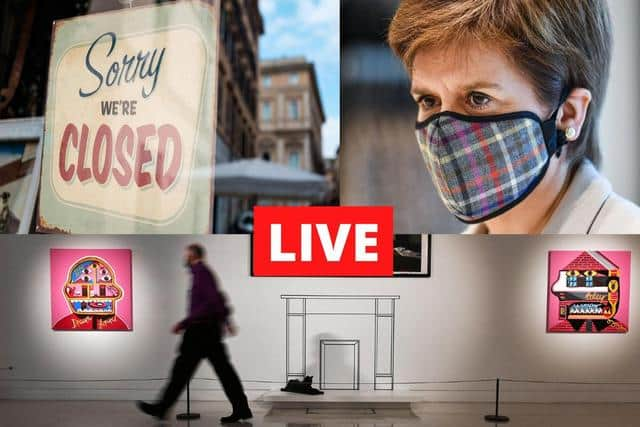 Hello, and welcome to our live blog for Wednesday, April 21.
Follow along here to stay up-to-date with the latest developments on the coronavirus crisis.
A message from the Editor:
Thank you for reading this article. We're more reliant on your support than ever as the shift in consumer habits brought about by coronavirus impacts our advertisers.
If you haven't already, please consider supporting our trusted, fact-checked journalism by taking out a digital subscription.
Coronavirus in Scotland LIVE: The latest updates on Wednesday, April 21
Key Events
Weekly Covid deaths at lowest level since early October
Scotland records further 273 Covid cases on Wednesday
One further Covid-19 deaths registered
Show new updates
Regular exercise cuts the risk of dying from infectious diseases such as Covid-19 by more than a third, according to new research.
An international team of scientists found 150 minutes a week of physical activity that gets you slightly out of breath can have a massive impact on immunity.
It suggests exercise can reduce fatalities by 37%, the danger of even catching similar diseases by 31% and boost the effectiveness of vaccines by up to 40%.
Professor Sebastien Chastin, who led the study, said: "You don't need to go to a gym, as dancing around the living room, going for a run or walk is just as effective.
"In this period of pandemic being outside is better than in a gym or closed environment.
"The clear message is 'stay active' – it's not only good for your mental and general health, but we now have the proof that it is also good for boosting your immunity.
"You need to keep it up as it's about regular exercise and making time to build it into your day."
Glasgow Caledonian University (GCU) conducted the full-scale systematic review of 16,698 worldwide epidemiological studies published between January 1980 and April 2020 with world-renowned immunologists and epidemiologists from other institutions.
Boris Johnson has launched a new drive to identify simple treatments for coronavirus, amid warnings that a third wave of cases could hit the UK.
The Prime Minister insisted the "path to freedom" remained open, with nothing in the figures to suggest a deviation from the road map out of lockdown.
For the first time since September the latest figures showed fewer than 2,000 Covid-19 patients in hospital.
But as he launched a new taskforce to identify antiviral treatments, Mr Johnson acknowledged soaring cases overseas and warnings from scientists that there will be another wave this year.
At a Downing Street press conference he said: "As we look at what is happening in other countries, with cases now at record numbers around the world, we cannot delude ourselves that Covid has gone away.
"I see nothing in the data now that makes me think we are going to have to deviate in any way from the road map – cautious but irreversible – that we have set out.
"But the majority of scientific opinion in this country is still firmly of the view that there will be another wave of Covid at some stage this year.
"And so we must, as far as possible, learn to live with this disease as we live with other diseases."
Student paramedics are trapped in a "deteriorating mental health crisis", with one in 10 having considered suicide due to a lack of money, a survey has indicated.
More than two-thirds thought they did not have enough money to finish the course, and more than eight in 10 were "worried they are going to burn out".
The findings came to light after the Pay Student Paramedics campaign group sent the survey to all paramedic science students across all five universities in Scotland which offer the course in March, receiving 200 responses.
The group said the "looming crisis" could damage the Scottish Ambulance Service and cost student lives.
It wants the current Nursing and Midwifery bursary to expand and encompass paramedic courses by September, meaning every paramedic student in Scotland will receive £11,000 a year.
At the National Union of Students (NUS) hustings on Tuesday night, it was said that the Scottish National Party, Scottish Labour, the Scottish Conservatives, the Greens and the Liberal Democrats all supported the equal bursary with nursing students.
Nicola Sturgeon said: "I'm committed to this yes, we have got the commitment to parity in our manifesto and I want to get that implemented as quickly as feasible."
Medics have written a letter to Prime Minister Boris Johnson urging him to massively increase investment in NHS staffing.
Groups and unions representing NHS workers have said increased demand for services due to coronavirus has led to a "chronic undersupply" in staffing and there are nearly 90,000 vacant posts.
The letter has been signed by the NHS Confederation, NHS Providers, the British Medical Association (BMA), the Royal College of Nursing, the Academy of Royal Medical Colleges and Unison, and states that "billions of extra funding" is needed.
The NHS has reported "high levels of staff stress and burnout as a direct impact of the pandemic" which threatens to further increase vacancies, according to the letter.
It adds that results from the biggest survey of NHS staff, published last month, show that almost two thirds believe there are not enough people in their organisations to enable them to do their job properly.
More than four in 10 also said they feel unwell as result of their job, according to the letter.
Beer giant Heineken has said UK sales by volume plunged around 30% in the first quarter as pubs remained shut during the lockdown.
Scotland's economic output has fallen by 3.3% since Covid-19 restrictions were re-imposed in October, Scottish Government estimates show.
The latest findings show GDP rose by 0.9% in February, but remained 7.4% lower than pre-pandemic levels.
Tiered restrictions were put in force in October, to target the local authorities hit hardest by the virus, causing widespread closures of hospitality and non-essential retail.
Between the restrictions being put in place and February, the Scottish Government estimates economic output fell by 3.3%.
The figure counters rapid increases seen across the country after lockdown restrictions were eased in the summer.
During February, the Scottish Government said output grew in the services, production and construction industries at a rate of 1%, 0.9% and 1.6%.
The estimates suggest the bump in services was due to the return of some children to primary schools after enforced closures.
The decision to offer the under-30s an alternative to the AstraZeneca vaccine over blood clotting concerns has had no impact on people's intention of getting the jab, new research suggests.
New UK guidance was issued on April 7 recommending that people aged 18 to 29 should be offered the Pfizer or Moderna vaccines after the Medicines and Healthcare products Regulatory Agency (MHRA) said there is a possible link between the AstraZeneca jab and "extremely rare" blood clots.
Several European countries including France, Germany and Italy suspended use of the vaccine in March over the link, although they later said they would resume its rollout.
University of Stirling researchers have been collecting data for a wider project on fear and concerns related to Covid-19 and they examined whether public concern about the AstraZeneca jab led to "vaccine hesitancy".
They carried out a survey after news of the European suspensions emerged in mid-March, and they found no drop in the proportion of people who said they intended to get the vaccine.
Researchers carried out another survey on April 9 after guidance on vaccinating the under-30s changed and found only a slight change in people's intentions.
On April 9 they found that 85.7% of respondents said they intended to get the vaccine compared to 86.1% on March 17.
They also found little change in the 30 to 40 age group, who will continue to be offered the AstraZeneca vaccine.
Scotland's weekly coronavirus deaths are now at their lowest level since early October, according to the latest figures.
National Records of Scotland (NRS) data shows 24 deaths relating to Covid-19 were registered between April 12 and 18, down 10 on the previous week.
It brings the total number of fatalities up to Sunday to 10,055.
Of the deaths recorded this week, 15 happened in hospital, six in care homes and three at home or in a non-institutional setting.
The statistics are published weekly and cover all deaths registered in Scotland where Covid-19 is mentioned on the death certificate.
They differ from the lab-confirmed coronavirus deaths announced daily by the Scottish Government because the NRS figures include suspected or probable cases of Covid-19.
Monthly analysis from the NRS last week suggested March 2021 was the first month since October 2020 where Covid-19 was not the top cause of death, but the fifth.
The latest figures were published a day after Nicola Sturgeon confirmed lockdown easing will go ahead as planned next week.
Beer gardens, cafes, shops and gyms are to reopen in Scotland on Monday as the country moves from Level 4 to Level 3 of the Scottish Government's five tiers of restrictions.
Updated guidance is being published on collecting customer contact details, requiring venues to take down the details of all customers and not just the lead member of each group.