Keep up-to-date with the key events happening on the global Covid-19 response.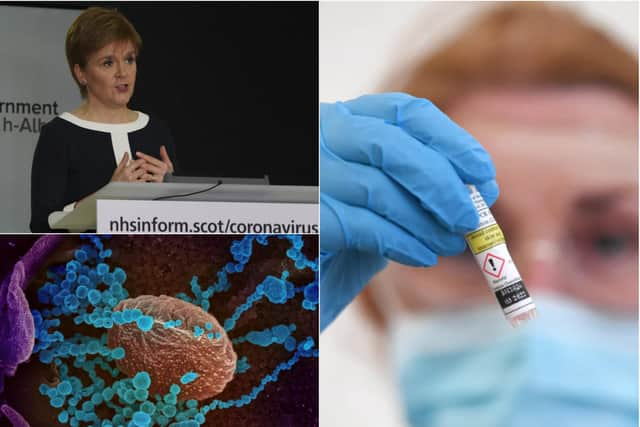 Coronavirus in Scotland LIVE: Latest updates on Friday, 1 May
Show new updates
World Health Organisation says coronavirus 'natural in origin' after Trumps Chinese Lab Claim
A senior World Health Organisation official has insisted the coronavirus is "natural in origin" after Donald Trump claimed to have seen the evidence outbreak originated from a laboratory in China.
Head of emergencies Dr Michael Ryan said WHO teams have listened "again and again" to many scientists who have looked at the gene sequences and the virus, "and we are assured that this virus is natural in origin".
Police Scotland has announced that there is currently a temporary restriction of Airspace in force around the NHS Louisa Jordan
UK testing chief: fresh indications Covid-19 immunity exists are encouraging
Joan Tait: tributes paid to pioneering female police inspector who died after testing contracting coronavirus aged 81
Tributes have been paid to a trail-blazing police officer who was one of the first women in the country to become an inspector.
Joan Tait, nee Scriven, who has died aged 81 after contracting Covid-19, at times worked undercover during her high-flying career – and when she posed as a prostitute during the Yorkshire Ripper inquiry she was so convincing she was arrested by unsuspecting colleagues.
Downing Street says Scottish government face covering policy has 'weak but positive effect'
Ministers are still deciding the details of the advice to issue on face coverings.
There must not be a return to austerity when the UK eventually exits lockdown and begins the process of rebuilding the economy, Nicola Sturgeon has said
Doubts cast on government's 100,000 test a day claim
Health Secretary Matt Hancock called the achievement "incredible"
Speaking at the daily Downing Street press briefing, Mr Hancock said 122,347 tests were performed in the 24 hours up to 9am on Friday, adding that testing would help "unlock" the lockdown.
It comes after the Health Secretary had promised that testing performance would reach 100,000 each day by the end of April.
But doubts have been cast over how the testing target was reached.
UK Health Secreatry Matt Hancock has stated that they have reached their target of 100,000 tests a day. This number now includes tests that have been sent to people's homes, though not necessarily returned for lab examination.
Matt Hancock says the total amount of tests are 122,347.
Trump claims to have seen proof coronavirus originated from a Wuhan Laboratory
Donald Trump has claimed to have seen evidence that the coronavirus outbreak originated from an infectious disease laboratory in Wuhan.
The US president speculated that China could have unleashed Covid-19 on the world due to some kind of horrible "mistake", and even put forward the idea the release was intentional.
It comes as his intelligence agencies said they are still examining a notion put forward by the president and aides that the pandemic may have resulted from an accident at a Chinese lab.
US intelligence agencies have debunked a conspiracy theory, saying they have concluded that coronavirus was "not man-made or genetically modified"
Picture credit: Alex Brandon
Concerns over 'fairness' in Scots qualifications this year raised by MSPs