Coronavirus fund gives women's domestic abuse charities £1.5m boost
Domestic violence charities are to receive a £1.5m boost to help women at risk of abuse during the coronavirus lockdown as fears grow of hidden violence.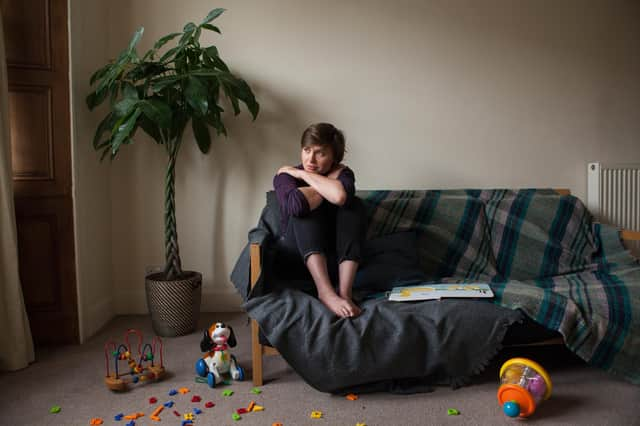 The Scottish Government is awarding £1.35m to Scottish Women's Aid while Rape Crisis Scotland will receive £226,309, to step up the support they can offer to women suffering from domestic abuse over the next six months.
The financial boost revealed by Nicola Sturgeon came as the charities are due to mark the first anniversary of the "gold-standard" Domestic Abuse (Scotland) Bill, passed by Holyrood last year.
However, the First Minister added that Police Scotland could also be pro-active during the period of lockdown, when vulnerable women are at heightened risk of assault.
Already a man has been charged with killing his wife in South Wales since the lockdown, a former soldier has been charged with killing his nurse wife in South Yorkshire and a murder inquiry is ongoing after two adults and two children were found dead at a house in Sussex.
The United Nations has also raised concerns about the impact of a coronavirus lockdown on victims of domestic violence and there have been reports of increased incidents of domestic abuse following the lockdown after the outbreak of the virus in China.
Today, Ms Sturgeon said: "Money from the £350m community fund, which was announced two weeks ago, is already being allocated and today we're confirming that more than £1.5m will be given to Scottish Women's Aid and Rape Crisis Scotland.
"There is a real risk that women and children already subject to domestic abuse will feel even more isolated and vulnerable during this crisis, so this funding will ensure they have access to support services.
"People who are suffering domestic abuse do not have to wait to seek help, that help is available now and they should not hesitate to come forward and get it."
Asked if she believed that Police Scotland could be pro-active, visiting the homes where they have been called out to deal with domestic abuse in the last year, she said: "Yes, I think there is a need to keep a very close eye on this.
"It's not for me to tell the police on an operational basis what to do, they have said they are conscious of it and will be vigilant.
"It doesn't take long for people to understand the increased risks and vulnerabilities that many women and children will be in as people are living more of their lives behind closed doors, so we will continue to look at the resources and funding that frontline organisations have and if there a need to increase that we will not hesitate to do that.
"But I want to stress to anyone who needs advice and support, that because of the emergency that advice is not there – it is there."
Dr Marsha Scott, chief executive of Scottish Women's Aid said she was delighted with the announcement of financial support. "Our services are in the midst of a radical redesign and SWA is keenly aware that our systems are in an unprecedented period of change and challenge." she said.
"We are assuming that normal operations will not be feasible for a year or more. The Scottish Government asked what we needed to respond robustly to the pandemic, and we have given them our analysis of what we will need to continue to provide support and advocacy over the coming six months.
"We have missed some issues, we have underestimated some costs and overestimated others, but this is our best guess at this time. The government has responded with unprecedented flexibility and speed, and we are delighted to welcome the First Minister's announcement of £1.35 million."
She added: "By far the largest chunk of this money will go directly to the 36 services around Scotland that continue, every single one of them, to stay open and provide support and advocacy for children and women experiencing domestic abuse.
"Smaller amounts will be used to support investment in technology to support remote operation of Scotland's Domestic Abuse and Forced Marriage Helpline and enable Scottish Women's Aid to support and drive innovation in this new normal."
Detective Chief Superintendent Samantha McCluskey, of Police Scotland's Specialist Crime Division, said tackling domestic abuse remained a priority "despite the unprecedented and dynamic set of circumstances the country is faced with" and urged people to call the police if they were aware of it occurring.
She added: While it may be too early to assess the impact of coronavirus on incidents of domestic abuse, I can reassure the public that officers are continuing to work hard to prevent harm by identifying people who may be at risk.
"Proactive assessment work is ongoing which includes engagement with Scottish Government and our partners in the third sector and we continue to monitor the potential impact on victims and families. Domestic abuse is not acceptable and is everyone's business. If you, or anyone you know, is being abused or at risk of abuse, we need to know now – your information could be absolutely crucial at this particular time.
"Where a report of domestic abuse is received, we will continue to respond appropriately and help victims gain access to the support they need."
Justice Secretary Humza Yousaf later added: "We want women and children experiencing domestic abuse in the home to know that although they may feel isolated and vulnerable during these unprecedented times, they are not alone.
"Anyone experiencing violence, including coercive and controlling behaviours, should not feel in any way inhibited by the current coronavirus outbreak to report a crime against them.
"These are enormously difficult times, but the safety of women and child victims who experience abuse in the home is paramount – the message to stay at home does not mean that they should not seek urgent help, advice or support."
Contact Police Scotland on 101 or 999 in an emergency.
Scotland's 24hr Domestic Abuse and Forced Marriage Helpline is available on 0800 027 1234.
Rape Crisis Scotland Helpline is available on 08088 01 03 02. Calls to this number are free. Or email [email protected] or text 07537 410027.