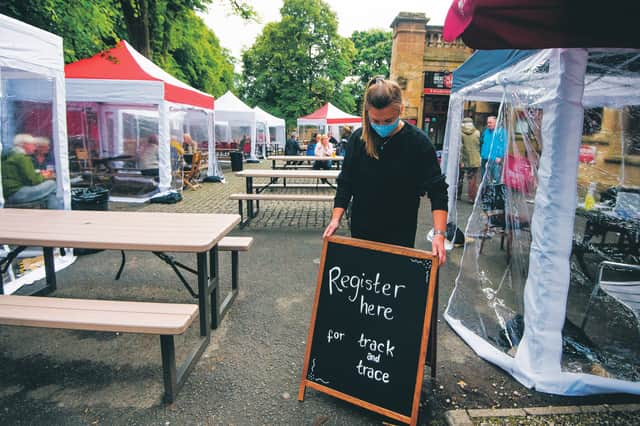 A Glasgow beer garden after reopening with Covid-19 restrictions. Picture: John Devlin
I ran a busy pub in Glasgow – once. What are the rules now?
Pubs, cafés and restaurants have been allowed to open outdoor spaces, such as beer gardens and indoor areas. They can seek an exemption from the two-metre distancing rule, but will have to warn customers that they are entering a one-metre zone, produce revised seating plans, and take steps such as improving ventilation. Physical distancing will have to be observed, and customers will have to provide their contact details.
I would like to hold an informal marketing session for senior staff in my home. What are the rules?
Simples. Up to eight people from a maximum of three different households can meet indoors – but there has to be physical distancing.
People should stay two metres from people in other households, clean surfaces after touching them, and wash their hands regularly.
Up to 15 people from five different households can meet outdoors, while also following the two-metre distancing rules. Adults are advised not to meet people from any more than four different households in one day.
I run a Highland hotel in a small village and it's popular for wedding venues. What are the rules?
No more than 20 people are allowed to attend a marriage ceremony or civil partnership in Scotland, with 30 allowed for such events down south (but see below). Wedding receptions are still subject to rules for other indoor and outdoor gatherings – three households and up to eight people indoors, or five households and up to 15 people outside.
If my Europe sales rep travels from England to Scotland, surely there is no need to quarantine when travelling round the UK?
Right up to a point, but not the correct answer. They will need to quarantine if they are returning from countries where there is no "travel corridor". If based in Scotland, the list of countries is decided by the Scottish Government; if in England, by the UK government.
If within 14 days prior to arriving in Scotland they have visited anywhere that is not exempt from quarantine restrictions, they will have to self-isolate when they get here. They can't get around this requirement by coming into Scotland via a place that does not require it.
I run a sports centre. Are pools open and gyms not open? Or is it the other way around?
Indoor gyms and pools are still closed in Scotland and Wales. The Scottish Government said gyms and swimming pools "involve prolonged close social contact, increasing the chance of infection spreading". It has given an "indicative date" for their reopening of 14 September. Gyms opened in Northern Ireland earlier this month – but opening swimming pools will be considered again in August. Indoor gyms and pools in England reopened in July. All "guided by the science?" Really?
I run a beauty salon. Is it back to normal?
Facial treatments are allowed in Scotland – but beauticians should avoid "prolonged" periods of close face-to-face contact with clients. Beauticians in Northern Ireland were allowed to reopen from 6 July. In England, facial treatments can go ahead from 1 August. But check the late-night news. The Welsh government is still "strongly advising" against treatments to the face.
Is it possible to play a game of football if over 18?
No. Footballers are allowed to play again. Non-professional adult and informal games at any age are not allowed just now. This restriction won't be reviewed again until next month.
Rules, rules, rules. They keep changing. When's the next lot due?
The Scottish Government has given a series of indicative dates for when the next changes could take place.
The hope is that it will be possible to reopen bingo halls, amusement arcades, casinos, funfairs and snooker halls.
Live events such as concerts and comedy could be allowed outdoors from the same date, with physical distancing, enhanced hygiene and restricted audience numbers.
People of all ages should be able to take part in organised outdoor contact sports, and driving lessons will be allowed to resume. Gyms, swimming pools and indoor sports courts are set to reopen on 14 September.
But First Minister Nicola Sturgeon said the decision would be reviewed on 20 August to see if the date could be brought forward. Or perhaps even pushed back.
Will I get advance notice?
Don't count on it if UK Health Secretary Matt Hancock is anything to go by. You can't look away for a minute. He announced new restrictions banning separate households from meeting over much of northern England at 9pm on Thursday evening – effective three hours later. Best have a digital map handy if travelling south for news on area lockdowns. Prime Minister Boris Johnston announced last Friday that the further easing of coronavirus restrictions in England – due to come in this weekend – has been postponed for at least two weeks.
Casinos and bowling alleys will remain shut, with Johnson saying it was time to "squeeze the brake pedal". Wedding receptions of up to 30 people were meant to be allowed as part of the changes but cannot yet happen. Face coverings will be mandatory in more indoor settings, such as cinemas. And people attending places of worship will also be among those required to wear face coverings, in a change that will be applied from next weekend.
But they've only just been relaxed.
That was the day before, when he was in "Bouncing Boris" mood. Now it's Boris the Brakes, holding back the coronavirus like a hyperactive bouncer.
Form a queue, keep your social distance, don't forget the face mask and do keep up at the back. The rules may have changed by the time you've read this.