Beechgrove presenters to garden from home to keep show on the air
It will take more than a worldwide pandemic to force one of Scotland's most enduring TV programmes from the screens – after a radical rethink to keep its long-running gardening show going in the face of the lockdown.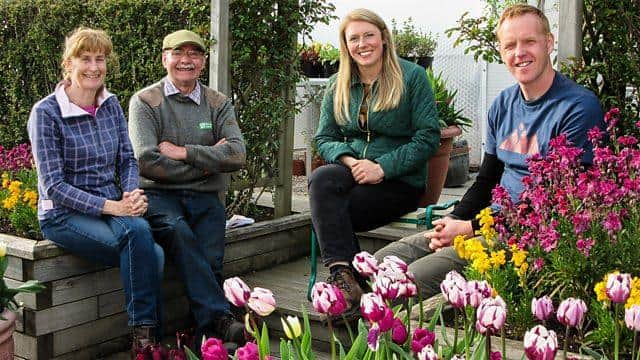 Beechgrove's four presenters will be split up and filming from their own homes when the new series gets underway this week.
Beechgrove's presenters are to swap its famous Aberdeenshire location for their own gardens scattered around Scotland, where they aim to demonstrate the "therapeutic" joys of gardening regardless of how little space is available.
Bosses hope the 28-part series will help improve the mental well-being of viewers when it returns to the BBC Scotland channel this Thursday evening and BBC Two on Sunday morning.
The shake-up is the biggest in the history of the programme, which has been running for more than 40 years, that has been based at a site between Westhill and Peterculter in Aberdeen since 1995.
Long-time presenter Carole Baxter will host the new-look show from her home and garden in the city.
The programme will also show fellow presenters Brian Cunningham in his garden in Perthshire, Kirsty Wilson at her flat in Edinburgh, and George Anderson in his garden in Joppa, on Edinburgh's waterfront.
Wilson, a horticulturist at the Royal Botanic Garden in Edinburgh, will also be giving an insight into work to cater for the site's collections that is going on during the restrictions, which have forced the venue to close to the public.
Baxter said: "These really are extraordinary times that we find ourselves in, but one thing that is for certain is that we need gardening even more than ever – for so many reasons.
"Obviously not everyone has a garden and many people are largely confined to their flats, but we're aiming to give people across the board inspiration.
"Gardening is extremely therapeutic and I think at this time our connection to the natural world has never felt so precious."
Wilson said: "The difficult decision to close the garden was taken because of the health and safety of staff, students, visitors and volunteers, which is paramount.
"Only a very small number of horticulture staff now work in shifts to tend our world-leading collection.
"They're doing a fantastic job in difficult circumstances, are missing our many visitors and are keen to share the spectacular sights of the plant collection in full bloom. I hope to bring the delights of the garden directly into people's homes.
"The natural beauty of spring is certainly not cancelled."
Want to join the conversation? Please or to comment on this article.