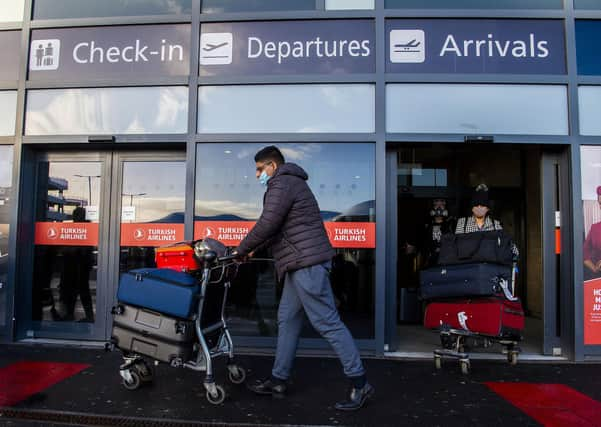 Edinburgh Airport and AGS Airports, which owns Aberdeen and Glasgow airports, were forced to submit two freedom of information requests in order to discover why plans to pilot a double test regime whereby passengers are tested on arrival and five days later were dropped.
Initially officials in the civil service had told the airports they were unable to say whether the plans had been rejected for several weeks despite having recommended them for refusal within days, with the FOI request required to find out the reasons why the plans were dropped.
The airport proposals were rejected on the basis of "considerable concerns" about removing quarantine for travellers but said it was "beneficial to explore a pilot approach".
On December 20, Nicola Sturgeon's office said the First Minister was "happy to consider" pilot proposals, but said she was "not at this stage supportive" of removing quarantine given the rise in cases prior to the Christmas period.
It is understood the airports are still waiting to hear about the potential introduction of a pilot scheme.
Gordon Dewar, chief executive of Edinburgh Airport said the lack of meaningful engagement had been frustrating for the sector and has led to concerns about whether the Scottish Government is ready to help the aviation industry recover from the pandemic.
He said: "We are incredibly disappointed and frustrated that we were forced to submit a second FOI request to find out what clinicians thought of our proposals despite spending months working with them. It simply shouldn't have come to this.
"We have constantly been told that aviation has been engaged but this highlights the stark contrast between the claims and the reality. The engagement we have experienced has been scarce, has not been meaningful and leaves us concerned about the lack of proactive planning for aviation's recovery despite requests for work to be undertaken."
Within the response, two Scottish Government ministers express their concern about providing English airports and tourism with a competitive advantage should the Scottish Government not keep pace with England.
Both Michael Matheson, the transport minister, and tourism minister Fergus Ewing expressed their concerns with the latter stating it would be "extremely damaging" should Scotland "fail to align with the UK Government approach".
Concerns about a loophole whereby travellers would fly into England and then travel to Scotland, similar to the one available to travellers to circumvent hotel quarantine, were also highlighted by ministers.
Mr Dewar added: "We are more than a year into this pandemic and still there is no direct support for Scotland's aviation industry despite Scottish Government Ministers themselves admitting inaction would lead to a competitive advantage to our competitors in England.
"It is worrying that still we have no recovery routemap and we are concerned that, as a facilitator industry, the failure to plan for aviation will lead to wider issues within our economy."
In mid-December, the UK Government introduced its 'Test and Release' scheme where travellers become eligible for early release from self-isolation should they test negative after five days and pay for a private test.
This move was also deemed unsuitable by Scottish airports, but private analysis provided to the Scottish Government claimed a double testing approach would be more suitable given low-level compliance with mandatory quarantine on arrival.
A spokesperson for AGS Airports, which owns Aberdeen and Glasgow airports, added that the failure to engage properly with industry stakeholders had left the airports concerned about the long-term recovery from Covid-19.
They said: "Not only do we urgently need a clear and detailed recovery plan for Scottish aviation, we need meaningful engagement with government. We want to work with government to agree how we can safely restart a sector on which tens of thousands of jobs across Scotland rely.
"We certainly don't want to be wasting time submitting FOI requests to understand why proposals we spent months developing with Edinburgh Airport for a robust testing regime were abandoned.
"Now is the time for action. Scotland's connectivity, which has been built up over decades, has been decimated and airlines will not return unless government works with us to develop a framework for recovery."
Responding, an SNP spokesperson said: "Globally, as well as here in Scotland, the aviation industry faces one of the longest recovery periods from the pandemic.
"The SNP have extended the 100 per cent non-domestic rates relief for the aviation sector for all 2021/22 - the only country to do this in the UK - and we're also working with airports on route recovery, to help rebuild connectivity for business and tourism once we are able to safely lift travel restrictions. This will help win back routes and employment opportunities."
A message from the Editor:
Thank you for reading this article. We're more reliant on your support than ever as the shift in consumer habits brought about by coronavirus impacts our advertisers.
If you haven't already, please consider supporting our trusted, fact-checked journalism by taking out a digital subscription.