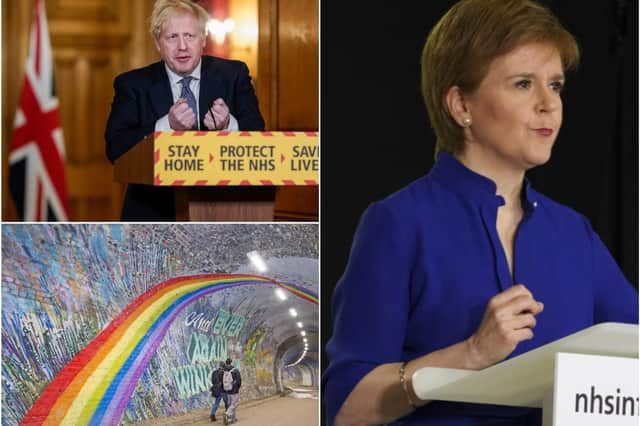 Coronavirus in Scotland LIVE
Scottish Government statistics show that 2,007 patients have died, while 14,117 patients have tested positive.
Nicola Sturgeon faced criticism from the Scottish Parliament at First Minister Questions about reports on lack of testing in care homes.
Coronavirus in Scotland: Latest updates on COVID-19 in Scotland
Last updated: Thursday, 14 May, 2020, 20:36
14,177 positive cases in Scotland
2,007 patients who tested positive have died (according to Scottish Government statistics)
FM under pressure to step up testing for care workers
Two coronavirus deaths in 24 hours at one of Scotland's maximum security prisons
Two inmates at one of Scotland's high security prisons have died from coronavirus within 24 hours of each other.
The two men died while serving at HMP Perth, according to a Scottish Prison Service spokesman.
One of the inmates, George Greenshields, 68, was serving a life sentence after being recalled for slitting a man's throat.
He was convicted of murder at Glasgow High Court in July 1988 after brutally killing a man then burning his body.
Police Scotland show their appreciation for other key workers
Legal bid launched to shut infection-hit Skye care home
Inspectors are seeking to close down a care home on Skye where seven people have died in a Covid-19 outbreak after discovering "serious and significant concerns".
The Care Inspectorate has submitted an application to the courts seeking the cancellation of the registration for Home Farm in Portree.
A spokesman said: "This could mean new care arrangements will be put in place for residents. We are working closely with partners including NHS Highland to ensure that residents experience appropriate care during this difficult time."
The action was taken after a recent unannounced inspection of the facility "identified serious and significant concerns about the quality of care experienced by residents".
How do you feel about returning to public transport?
If moving around during lockdown seems strange, getting back on trains and buses is going to be feel even weirder.
In normal times, we are encouraged to take public transport to get to work - and one in seven Scots previously travelled that way.
But the signs are that it might now be the form of transport we should avoid once lockdown restrictions north of the Border are eased.
Scottish ministers have still to publish their plans, and they may differ from those in England, but Prime Minister Boris Johnson has already urged those returning to work there to drive, cycle or walk instead.
The big problem for mass transit is exactly that - carrying large numbers of people at density. However, capacity could be cut to as little as 10 per cent of normal in some cases, and 20 per cent on at least some ScotRail trains.
But some people will have no option, such as the many, especially in cities, with no access to a car, or those commuting too far for walking or cycling to be feasible.
Expert urges Scottish Government to bid for antibody test
A leading expert is urging the Scottish Government to "bid quickly" for the antibody test that can determine whether people have been infected with coronavirus in the past.
Professor Hugh Pennington was reacting to the announcement by Public Health England (PHE) endorsing the test, which has been validated by experts at its Porton Down facility.
The test made by Swiss pharmaceutical giant Roche, has previously been called a "game-changer" by Prime Minister Boris Johnson and picks up 100 per cent of cases where somebody has had coronavirus in the past.
Experts believe those who have had Covid-19 develop a degree of immunity, meaning it could prove a useful tool for helping to ease lockdown restrictions.
Home Farm care home on Skye to receive 'enhanced assistance' after death of several residents
The Care Inspectorate had carried out an unannounced inspection of the home on Tuesday
Health Secretary Jeane Freeman addressed concerns over a Covid-19 outbreak at Home Farm care home in Portree on the Isle of Skye, where several residents have now died.
Ms Freeman said the Care Inspectorate had carried out an unannounced inspection of the home on Tuesday.
Following the visit, NHS Highland had agreed with owners HC-One to "provide enhanced assistance by deploying additional NHS resources, including social care management, nursing leadership and direct care".
Ms Freeman said: "This additional support has come into effect immediately with the aim of improving and sustaining the right quality of care for the residents.
"I and the Scottish Government strongly support action to ensure that all care homes provide a safe home for their residents.
"We have in Scotland a robust inspection regime for our care sector. That is why the health board and HC-One have been able to agree these interim arrangements very quickly following the inspection on Tuesday."
Nicola Sturgeon: 'Anybody that goes to a picnic in the park will be breaking the law'
First Minister Nicola Sturgeon reminded Scots that going out for picnics is still considered against the law as the country continues lockdown.
During her daily press briefing today she stressed the importance of the Stay at Home message in Scotland, despite Boris Johnson's more relaxed approach south of the border.
Ms Sturgeon said "anybody that goes to a picnic in the park will be breaking the law" and that she expects the police to act accordingly.
She added: "I understand you're fed up with lockdown, but please don't do it."
Jacob Rees-Mogg 'like Victorian mill owner' for demanding MPs return
The Liberal Democrats will not return to Westminster "unless and until" they believe it is safe for all their MPs to do so, the party's chief whip has said, as he compared Commons leader Jacob Rees-Mogg to a "Victorian mill owner".
Alistair Carmichael accused the Conservatives of putting party management ahead of public safety and scientific advice after Mr Rees-Mogg pushed for parliament to stop virtual sittings and return in person at the start of June.
The SNP has also said it is not yet safe to return to parliament, and Mr Carmichael - who represents Orkney and Shetland - said it was "not sustainable" for him to make a 26 hour journey each way to Westminster every week while social distancing and transport restrictions were in place.
Nicola Sturgeon warns "anti-lockdown" protests risk lives and face police action
Nicola Sturgeon has warned that Scots planning to take part in open air "anti-lockdown" protests around the country are putting lives at risk and face police action.
The First Minister issued an appeal to Scots not to get involved in the planned events, stating: "It's not worth it, so please don't do it."
She spoke out at today's daily Coronavirus briefing after leaflets were posted across social media advertising a "Unified Peaceful Mass Gathering" at locations across the country including Edinburgh, Glasgow, Inverness, Aberdeen and Dundee this weekend.
Ms Sturgeon accepted it is not "easy or pleasant" to live under the current "stay at home" restrictions to suppress the virus.
FM: "Anybody that goes to a picnic in the park will be breaking the law" and "you'll be putting people's lives at risk"
"I understand you're fed up with lockdown…please don't do it"