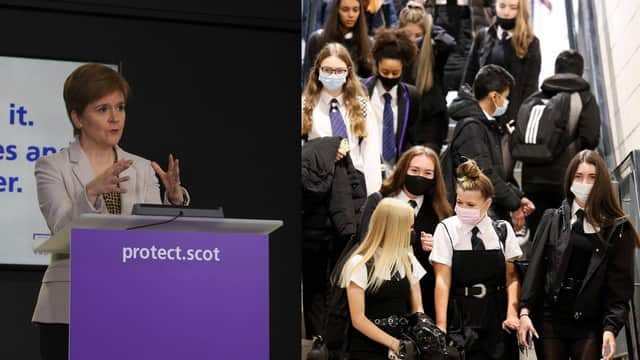 Today, when quizzed about 'brief answers' she had given the public during the press briefing on online learning and mental health support for children, Ms Sturgeon admitted she is "not happy" with the mental health pressures affecting on children but that there is "a huge amount of work underway" to tackle this.
Speaking at today's briefing, Ms Sturgeon said: "I'm not happy with the mental health pressures on children or on anybody else.
"Everybody is struggling with aspects of what we are dealing with right now.
"I'm not giving brief answers in a sense that it's glib or I'm not taking it seriously - there is a huge amount of work underway and sometimes when I give a brief answer it's sometimes because covering the totality of what's going on would take me too long."
Ms Sturgeon promised today to host a briefing 'very soon' dedicated to answering any questions on mental health support and going into detail what current support is out there for both children and adults.
The First Minister said: "We've had entire briefings here dedicated to mental health support.
"I'll give this commitment now - we will have one of them very soon.
"We will have mental professionals here at the briefing to talk in much more detail about the support that is there for adults and for children.
"We take this hugely seriously and we will continue to do that."
When asked whether the Government would consider a regional return of primary and secondary Schools, the First Minister commented that the return to schools is not necessarily going to be 'binary' and the Government will consider a phased return in later days.
She said: "We will consider later on could we get primary schools back even if we don't think it's possible to get secondary schools back and that will apply to the regional approach as well.
"If we do think we could have schools in part of the country back and not others we don't want the areas where they could be back to be held back by the areas where it's not safe.
"Even if we can't get all children back to all schools by February 1, we will absolutely try and get as many children back to as many schools across the country as we possibly can."
Talking earlier about the effect the school closures will have on children's mental health, Jo Bisset, organiser of the parents' campaign group UsForThem Scotland said: "For children, that means a second-class education system if they're lucky and complete isolation from their social groups.
"This is time they cannot get back.
"For many parents, especially those in shift work or on low income, this will mean falling into poverty with no prospect of a way out.
"We're almost a year into this pandemic and children are suffering more than anyone."
A message from the Editor:Thank you for reading this article. We're more reliant on your support than ever as the shift in consumer habits brought about by Coronavirus impacts our advertisers.
If you haven't already, please consider supporting our trusted, fact-checked journalism by taking out a digital subscription.