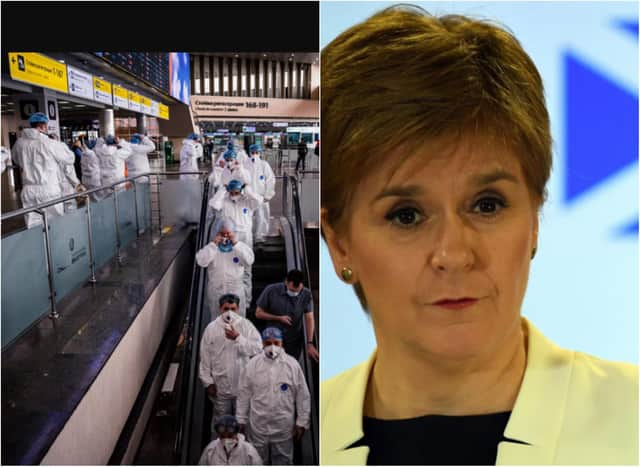 Scottish Government statistics show tat there are 584 positive cases of coronavirus across the country and sadly 16 patients in Scotland who have tested positive have died.
Coronavirus in Scotland RECAP: Latest updates on COVID-19 in Scotland
Key Events
Country on 'full lockdown' after emergency measures put in place
Restrictions on when the public can leave their homes
All non essential shops to close
Show new updates
First Minister: 'Overall message very clear, people must stay at home...life should not be feeling normal'
Scottish Government update: 584 confirmed cases, an increase of 35 since yesterday, and sadly another two deaths bringing the total to 16
Life for tens of millions in Hubei province beginning to return to normality
Only four people were in the cabinet room today for the weekly meeting of Boris Johnson's government, with most ministers joining via video conferencing for first time ever.
The Prime Minister, the Health Secretary, the head of the civil service and Professor Chris Whitty were in Downing Street, with the Chief Medical Officer giving and update on the coronavirus outbreak. Mr Johnson said it was "vital" that the public followed tough new lockdown restrictions imposed overnight. The Chancellor announced that the Comprehensive Spending Review would be postponed to help deal with the crisis.
Coronavirus lockdown could raise the risk of the neglect and abuse of the elderly, according to a leading charity.
Christians across Scotland are being encouraged to join others around the world in saying the Lord's Prayer at 11am on Wednesday.
Scottish Building Federation (SBF) has responded to the confusions over whether building sites should close by urging for clarification
Vaughan Hart, Managing Director of the Scottish Building Federation (SBF), said: 'The priority for all businesses working in the construction sector is always the safety and security of those working on sites but the conflicting information from the UK and Scottish Government's is unhelpful and we would urge them to clarify this as a matter of urgency so the industry can respond in a uniform manner.
'SBF is working collaboratively with other key federations and associations to respond to the incredible volume of calls we have taken from our members this morning but without absolute clarity on the situation from government, we risk a situation developing of different companies reacting in different ways which could be detrimental.
'There will be a need for some staff in some circumstances to be on site to ensure they are kept safe but we need to know exactly what is expected of us in other instances so we can play our part in reducing the impact of Covid-19 on our team and wider Scottish society.'
Announcement expected from Health Secretary