Coronavirus in Scotland: Hundreds of over 70s and one in five clinically vulnerable without vaccine after target deadline
The Scottish Government has been accused of not hitting its latest Covid-19 vaccination target amid reports of over 70s and those clinically extremely vulnerable who have not yet been offered a dose.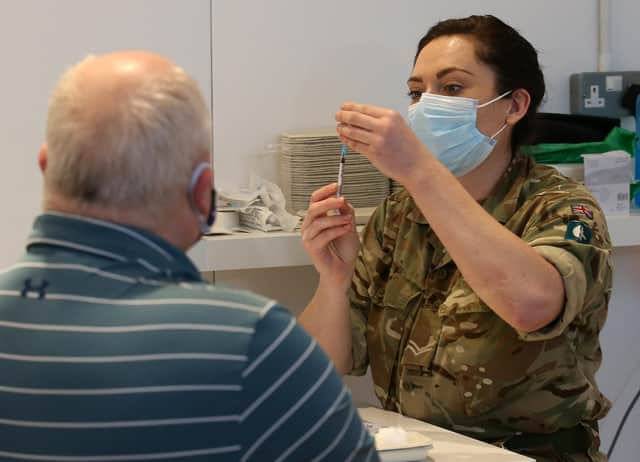 James Logan from Edinburgh, receives an injection of a coronavirus vaccine from military personnel who are assisting with the vaccination programme at the Royal Highland Showground near Edinburgh. Picture date: Thursday February 4, 2021.
First Minister Nicola Sturgeon told MSPs on Wednesday that the Scottish Government has offered a first dose to all those over 70, care home residents, frontline health and social care workers, and everyone with a serious clinical vulnerability.
But opposition MSPs have accused her of "misleading" the public as just 80 per cent of those on the shielding list have been given a vaccine.
Figures show that 201,356 people aged 75 to 79 have received a first dose, which exceeds the Scottish Government estimate of population in that cohort.
Some 90 per cent of those aged 70 to 74 have been given a first dose, a total of 250,986 people, while 143,752 of those who are clinically extremely vulnerable have been vaccinated, amounting to 80 per cent of those on the shielding list.
Asked about the vaccination programme at First Minister's Questions on Wednesday, Ms Sturgeon said: "I think that we will publish the data on this later today, or certainly by later this week, but around 140,000 people who are classed as clinically extremely vulnerable have been vaccinated. That is an uptake of around 80 per cent. The original estimate in our deployment plan was around 110,000, so we have exceeded that already."
Ms Sturgeon has been accused of "misleading" the public by opposition MSPs.
"These new statistics show that the SNP missed their target and in fact, one in five of the extremely clinically vulnerable are still waiting for their jag, days after the SNP said everyone would have it," said Scottish Conservative leader Douglas Ross.
He called for the First Minister to apologise for the discrepancy between the figures, and to be more open with information around the vaccination targets.
A spokesperson for the Scottish Government called the claim "completely untrue", and said that targets had been hit, as they were based on 80 per cent of those being offered a vaccine taking it up.
"The deployment plan was based on an uptake of at least 80 per cent in each cohort, and that was met yesterday for those who have been advised to shield," they said.
"We have offered first doses to all over-70s, all residents and staff in care homes for older people, all frontline health and care workers, and all people with a serious clinical vulnerability. Anyone who believes they should have had an invite but hasn't should visit NHS Inform to find out what they should do to get their appointment."
When asked last week in the coronavirus daily briefing on Monday about the percentage of extremely clinically vulnerable people who had been vaccinated, Ms Sturgeon said that the clinically extremely vulnerable group is the "hardest to get concrete estimates around", adding that definitions are "often based on clinical judgement".
Ms Sturgeon told MSPs on Tuesday that "hiccups" were inevitable in a vaccination programme of this scale, and that those over 70 or in the clinically extremely vulnerable group who have not yet received a vaccine should get in touch with their GP, call the Scottish Government's vaccination helpline, or email her office.
"It might be that their letter has gone astray or that some other administrative problem has occurred," she said.
One 77-year-old Fife resident said that as of Tuesday neither himself nor his wife, 73, had been offered a vaccine, or received any communication about an appointment.
He said that calls to his GP proved fruitless as they were not able to provide him with any information, and that the national helpline had not offered a solution either.
The couple were eventually given an appointment on Wednesday, after a friend being vaccinated raised their case with staff at the local vaccination centre directly.
A GP practice in the NHS Lothian area said it had been unable to vaccinate 300 patients over the age of 70 or clinically extremely vulnerable, due to a lack of supply.
"We can only vaccinate as fast as supplies and logistics allow," Riverside Medical Practice staff said in a statement, adding that they hoped to receive new supplies of vaccine this week.
Health boards around the country have reported known issues of some over 70s or clinically extremely vulnerable patients not yet being offered a vaccine.
NHS Tayside said almost 90 per cent of those in this group have been vaccinated, but said teams were aware of a number of patients who had not yet been booked into an appointment.
The health board said those who haven't yet been contacted should get in touch with their GP.
NHS Lanarkshire said there may be patients over 80 who are still yet to receive a vaccination appointments, and advised these patients to contact their GP.
A delay to vaccinating over 80s who are housebound was reported in NHS Lothian last week, when some GP practices ran out of the necessary type of needles.
Figures released on Wednesday showed that NHS Lothian, which has in past weeks suffered a slower vaccination rollout based on population than other health boards, again had the smallest percentage of population given a first dose.
Some 22 per cent of residents in NHS Lothian have been given a first dose, closely followed by 23 per cent in Lanarkshire.
In Greater Glasgow and Clyde the figure is 28 per cent, while the Western Isles has the highest percentage at 44.
The health board is now inviting over 60s to vaccination appointments.
A message from the Editor:Thank you for reading this article. We're more reliant on your support than ever as the shift in consumer habits brought about by coronavirus impacts our advertisers.
If you haven't already, please consider supporting our trusted, fact-checked journalism by taking out a digital subscription.
Want to join the conversation? Please or to comment on this article.