Coronavirus in Scotland: Failure to heed warnings over pandemic planning hindered response, finds Auditor General
The Scottish Government's failure to heed warnings over its pandemic planning in the last decade may have led to PPE shortages and stretched social care capacity that hindered Scotland's response to the Covid-19 pandemic, an independent report by the Auditor General has found.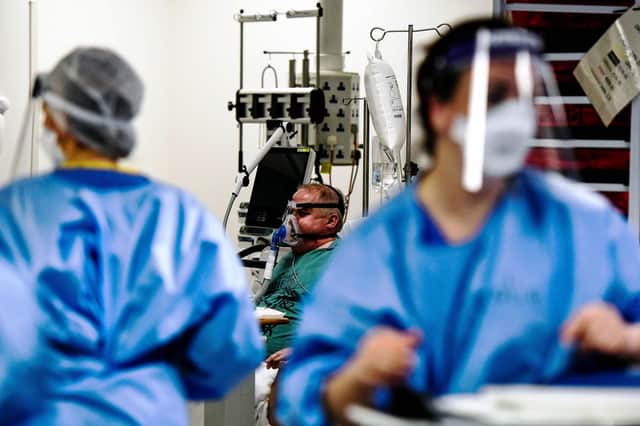 Intensive care at Forth Valley Royal Hospital. Picture: Michael Gillen
Scotland has taken part in three pandemic preparedness activities since 2011, but not all the recommendations from these activities were put in place, said the report.
Auditors also highlighted the need to address long-term health inequalities, and the disproportionate effect of the pandemic on those of minority ethnicity and/or lower income.
The Scottish Government "could have been better prepared" to respond to the Covid-19 pandemic," the auditors said.
"It based its initial response on the 2011 UK Influenza Pandemic Preparedness Strategy but did not fully implement improvements identified during subsequent pandemic preparedness exercises. It also did not include an influenza pandemic as a standalone risk in its corporate or health and social care directorate risk registers, despite assessing it as high risk."
Auditor General for Scotland Stephen Boyle said: "NHS staff have shown extraordinary commitment to treating and caring for Scotland's people during a pandemic that has highlighted the need to deal with long-standing health inequalities.
"Getting the full range of health services back up and running will be challenging. But there are clear lessons to be learned from the pandemic, both in how the country could have been better prepared and in the innovation that we've seen. It's essential that these advances are now retained and built upon."
Some aspects of Scotland's response are commended, including increases in intensive care capacity and the postponement of non-urgent operations and other care.
Dr Lewis Morrison, chair of BMA Scotland, said the issues around the Scottish Government's preparation for the pandemic were particularly obvious around healthcare workers' access to PPE.
"Going forward, lessons such as these must be learned so that such issues are addressed before they arrive, given the safety of the staff caring for patients must be at the top of the list of priorities during times like this," he said.
Dr Morrison added that a plan for recovery of the NHS after the pandemic is "crucial".
"It is concerning that the existing financial and operational challenges in the NHS have since been exacerbated by Covid-19 – particularly given how serious the warnings from Audit Scotland have been in previous reports," he said.
"It absolutely underlines our long-held view that the NHS is substantially underfunded. Going forward we need an honest conversation with the public about what our NHS can deliver, within the resources we are able or willing to make available to it."
The report warns of uncertainty over the "longer-term financial position" of NHS Scotland after the huge cost of the pandemic, as well as the impact on staff.
Opposition politicians lambasted the Scottish Government over the findings, with Conservatives saying it exposed a decade of "dithering and dereliction".
"No-one could have foreseen the full extent of what happened, but this report raises serious questions of SNP Ministers," said Donald Cameron MSP.
"Scotland was acutely unprepared because the SNP failed to implement key recommendations.
"Even if they find it difficult coming clean, they have an obligation to learn from these costly mistakes.
"Scotland has suffered an estimated 9,000 deaths, each one a tragedy. Disproportionately affected are those of BAME backgrounds and those from deprived areas.
"The SNP owe it to them and to all the grieving families to guarantee that lessons have been and will continue to be learned."
Labour's Anas Sarwar MSP said: "This report exposes the SNP's failings in managing our NHS. Despite all the warnings identified in training exercises, the government did not prepare the NHS for a pandemic – resulting in PPE shortages and other shortcomings."Even now, we're still falling far short of using all available testing capacity, despite the international advice to 'test, test, test'."We know there are major problems being stored up for the future with a backlog of treatment cases, workforce shortages and financial pressures."We need a massive catch-up plan that addresses workforce challenges and invests in the health service, with a laser-like focus on rebuilding our NHS."The report highlights that the death rate from Covid-19 is more than twice as high in the most deprived areas (183 per 100,000 population) than in the least deprived areas (79 per 100,000 population), and that there is almost twice as much risk of admission to critical care or death from Covid-19 among people of South Asian ethnicity.
These figures "underline the pressing need to address the scandal of health inequalities in Scotland," Dr Morrison said.
"Your life chances should not be determined by the postcode you were born in and we urgently need sustained action across Government to deal with that."
Danny Boyle, Policy Officer at BEMIS, an umbrella organisation working with minority ethnic communities in Scotland, said the Covid-19 pandemic "has had a severe health, economic and social impact on all of Scotland's minority ethnic population recognised in law and protected on the racial provisions of colour, nationality, ethnic and national origin."
He added that risks to mental and physical health can be "exponentially" increased by an intersection with socio-economic disadvantage.
"There is a concerted multi-agency ongoing response to the pandemic in Scotland and BEMIS will continue to play its part alongside our members and networks," he said.
Professor Angela Thomas, acting president of the Royal College of Physicians of Edinburgh, said the College has repeatedly warned that the pandemic will exacerbate health inequalities.
"We know that people in the poorest communities are also more likely to have lower life expectancy, than people in the most affluent areas," she said.
"It is essential that governments across the UK do more to tackle the issues of poverty and inequity. The College is always open to working with government, to investigate the root causes of health inequalities".
Commenting on Audit Scotland's 'NHS in Scotland 2020' report, Health Secretary Jeane Freeman said: "We welcome this report and will consider its findings carefully. As Audit Scotland acknowledge, the COVID-19 pandemic was caused by a new disease with unknown characteristics, and like governments around the world, we have had to respond rapidly to the emergence of an entirely new public health threat.
"At the beginning of the pandemic we put in place longstanding plans to double and then quadruple capacity of our intensive care units. We reconfigured the SEC in Glasgow into a quality critical setting, the NHS Louisa Jordan within three weeks. Emergency, urgent and trauma services have continued through the pandemic with as much other non-COVID care as possible and our frontline health and care staff have worked day-in and day-out to care for people across Scotland throughout this unprecedented crisis. At no point has our NHS been overwhelmed, which is testament to swift action and extraordinary efforts of everyone involved.
"At all times the Scottish Government's actions have been guided by the best and most up to date scientific and medical advice. Our approach to protecting our NHS and saving lives has been constantly adapted over the past 12 months, in line with this advice and the latest scientific evidence, and these lessons will inform future pandemic planning.
"Our focus now remains on suppressing COVID-19 to the lowest possible level in Scotland, to protect our health and care services, and the people of Scotland while the vaccine is delivered as quickly and as safely as possible. It is important to remember vaccination is only one layer of protection against this virus – all others, including testing and the FACTS guidance work to greatest effect when they work together, so it is essential people continue to follow the guidance and adhere to the restrictions currently in place."
Want to join the conversation? Please or to comment on this article.