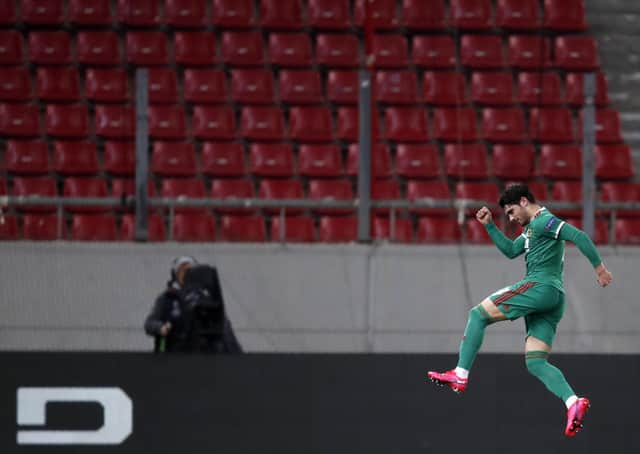 Any plans to play matches behind closed doors in Scotland in response to the coronavirus outbreak will be met with fierce resistance from the players' union, which has issued strong concerns about the welfare of its members.
In a statement to PFA Scotland members seen by The Scotsman, chief executive Fraser Wishart cited a case in Italy where a Juventus player who was involved in a game played behind closed doors has since tested positive for coronavirus.
"Through no fault of his own, he has put his team-mates and opponents' health at risk," Wishart, pictured, pointed out. "We cannot allow that to happen in Scotland."
A joint statement from the SFA and SPFL last night confirmed all this weekend's fixtures, including Sunday's clash between Rangers and Celtic, will go ahead as scheduled. However, it is unclear what will happen after that.
First Minister Nicola Sturgeon told the Scottish Parliament she would recommend the cancellation of gatherings of more than 500 people from Monday – the day after the Old Firm fixture at Ibrox, when almost 50,000 will cram into the stadium. The First Minister cited the pressure such large gatherings place on the emergency services, including police and ambulance crews.
The SFA and SPFL are now poised to enter discussions with the Scottish Government to understand the full details of the contingency plans and the implications for clubs and national sides.
"Once we are in possession of a definitive action plan from the Scottish Government, we will communicate contingency plans as quickly and as accurately as possible to all our stakeholders," said a joint statement, released last night by the SFA and SPFL."
The Scotland men side's sold-out Euro 2020 play-off semi-final against Israel at Hampden Park in just under a fortnight's time remains in grave doubt.
There could also be implications for next month's Scottish Cup semi-finals, and Euro qualifiers involving the Scotland women's national team and men's under-21 side.
There are no easy solutions and the cancellation of the domestic season is now a real possibility in the wake of PFA Scotland's stated stance on behalf of its members.
Wishart, following discussions with the players' management committee, set out PFA Scotland's position. "The situation is changing on an hourly basis and we will be led by advice from the government and medical authorities," he wrote. "However, given the growing concern we will ensure your health and safety is given utmost consideration at all times."
After growing speculation that the SPFL and SFA were preparing to announce that games where more than 500 fans are expected to attend would be played behind closed doors, Wishart stressed there should be "no middle ground".
He added: "If the supporters are not allowed in, the players should not be asked to put their health and safety at risk by playing games. Player safety should be treated the same as that of supporters and the wider population. We have been in discussions with FIFPRO [the world players' union] centrally and other player unions across Europe, all of whom are of a similar view."
FIFPRO will be represented at a meeting next Tuesday of Uefa and its 55 member associations as well as key stakeholders. It is expected that a decision will be made on European football's response to the outbreak of the virus, with the fate of Euro 2020 still very much in the balance.
It is understood Uefa is gearing up to postpone the competition for a year. Twelve stadiums in 12 different nations are being used, starting in Rome on 12 June and ending on 12 July with the final at Wembley. Hampden is due to host four games in total, including two Scotland clashes if Steve Clarke's side can beat Israel and then overcome the winners of the Norway v Serbia play-off semi-final.
Clarke was due to name his squad for the match with Israel on Tuesday. However, this Hampden press conference has been put back 24 hours due to the Uefa meeting on the same day. It might not be held any time soon if a decision is made to postpone the play-offs.
The Bosnian federation has already made a request to postpone its play-off tie with Northern Ireland.