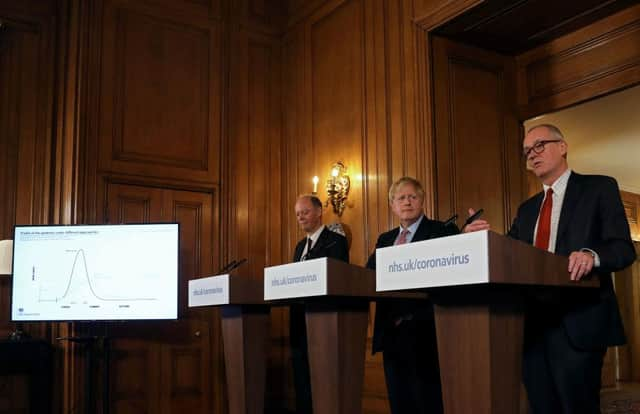 Scroll down and refresh for the latest on the coronavirus outbreak, as we keep an eye on the national and global picture.
Before you do that here are some articles offering practical advice
We will be providing live updates until 5pm
Coronavirus live blog, March 13
Key Events
Show new updates
Sir Patrick Vallance has made an appearance on Radio 4 defending measures announced by the government last night following an emergency Cobra meeting.
Many had criticised the measures for being too relaxed compared to measures introduced in neighbouring countries
He said: "If you suppress something very hard, when you release those measures it bounces back at the wrong time so our aim is to try and reduce the peak, broaden the peak, not to suppress it completely. So because most people get a mild illness, to build up some degree of herd immunity as well, so that more people are immune to this disease and we reduce the transmission, at the same we protect those who are most vulnerable."
Chelsea footballer Callum Hudson-Odoi and Arsenal coach Mikel Arteta have both tested positive for Covid-19.
The Premier League are to meet today to weigh up action following the news.
Italians under lockdown in Siena have taken to singing to lift the mood of fellow residents.
In a clip uploaded by David Allegranti, singers can be heard sernading their neighbours above the empty streets below.
Former health minister, Jeremy Hunt, last night described the government's measures as "surprising and concerning".
Speaking to Jon Snow of Channel 4 news, Hunt questioned the government's decision to not ban mass gatherings.
He said: "You would have thought that every single thing we do in that four weeks would be designed to slow the spread of people catching the virus,
He added that he was "personally surprised that we're still allowing external visits to care homes."
José Luia Martínez-Almeida, the Mayor of Spain's capital, has refused to rule out a lockdown of the city.
He said: "We can't say that it's going to happen immediately, nor can we say we've ruled it out. "
Many British holidaymakers will be concerned about visiting the country which has recorded 3,146 positive cases and 86 deaths. Read the latest on travel advice to the country here.
Professor Jason Leitch, who is responsible for planning in the Scottish NHS, has explained why Scotland and the rest of the UK aren't resorting to "draconian measures".
He said: said: "The best science available says that if you allow the growth at a certain level - and you can't control 60 million people exactly - we will control the rising of the peak and we won't create a second peak. We fear that in other parts of the world that's what they're doing."
Explaining why the Old Firm debry between Rangers and Celtic this Sunday will go ahead, he said: "The shifts are already in place... the plans are already in place... so over the weekend we are comfortable we can manage both in the health service and at the Old Firm game."
Staff at Wetherspoon pubs in Edinburgh are self-isolating while a pub manager at The Playfair within the OMNi centre undergoes testing for coronavirus.
The manager recently returned from Italy and is being tested for COVID-19 with results expected back later today.
Pupils and staff at a Doncaster school have been told to self isolate after a member of staff came into contact with a confirmed coronavirus case.
A school spokesperson at West Road Primary Academy said: "Due to the fact that member of staff has had direct contact with a confirmed case of coronavirus, we have been advised by Public Health to close our Year 1 Unit. "Therefore all Year 1 children and staff must self-isolate.