Coronavirus in Scotland: Scott Brown expresses concerns for elderly Celtic fans
Skipper says he'd be prepared to play Rangers behind closed doors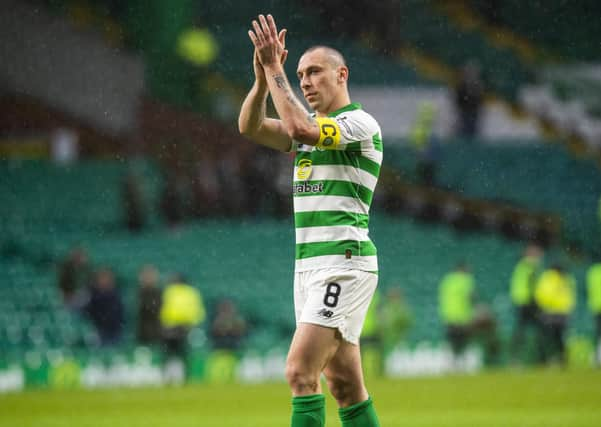 Celtic captain Scott Brown would be prepared to play Rangers behind closed doors at Ibrox on Sunday if it helped to prevent the spread of the coronavirus among supporters and staff at the stadium.
He could also accept the season being abandoned if it could be proved that it was for the greater good. Like most serial winners, Brown is dedicated to his sport but he follows Carlo Ancelotti's dictum that "Football is the most important of the unimportant things" and is aware that people's lives are more valuable than claiming a record-equalling ninth successive title.
First Minister Nicola Sturgeon has spoken about banning gatherings of more than 500 people from next week, although if there is the need for such action then it surely includes Sunday's Glasgow derby, where a crowd of around 50,000 will make it the third-biggest attendance of the domestic campaign.
Brown, though, is prepared to lend his backing to whatever measures Holyrood and Westminster introduce in an attempt to restrict the spread of the virus.
Should Celtic emulate their victory at Ibrox in September this weekend, they would be 16 points clear of their opponents, who would have only eight fixtures left to play, including one at Celtic Park after the split. Talk about the campaign being abandoned has been the hot topic on every training ground and Brown points out that Celtic are hardly the only club with something at stake should that happen.
"I think it's a worry for everyone," said the veteran midfielder. "You have Hearts fighting a relegation battle, you have teams in the lower leagues wanting to get up through the play-offs and I don't know what is going to happen.
"We're just going from day by day but, with every day that passes, it just seems to get more serious."
Contrary to the public perception of him, there is a thoughtful, sensitive side to Brown, albeit one he only reveals under duress.
"I think the first thing we have to do is to make sure everyone is safe," he said. "They [the medical experts] are saying that it will affect elderly people more and there are a lot of older people who come to our games. We have to take any precautions to make sure they stay safe. It would be weird playing any game behind closed doors – it doesn't matter who it's against – Rangers, Livingston or Aberdeen.
"But here's hoping we can get all the games on telly if it comes to that stage so the fans can still watch them. I've played pre-season friendlies behind closed doors but that's pre-season, when you're just playing those games to get your sharpness.
"Every game for us is huge at the moment, though, and we need to make sure we win as many as we possibly can.
"The lads have been speaking about the situation every day and it seems to get bigger and bigger. I think there are now over 40 cases in Scotland [by last night there were, in fact, 60] so everyone is keeping an eye on it.
"We obviously don't want games to go behind closed doors but if the SFA and the government say that's what's to happen, then you've got to do what's best for the country and try to keep as many people safe as possible."
A Glasgow derby in an empty stadium is hard to imagine but Brown had a taste of what it might be like by viewing Paris Saint-Germain's midweek Champions League fixture against Borusssia Dortmund at the Parc des Princes, which was a fan-free zone as a result of the global health scare.
"Someone told me there was a game years ago between Celtic and Atletico Madrid that had no fans [a European Cup-Winners' Cup tie in 1985, when Celtic were forced by Uefa to play behind closed doors as a punishment for alleged misbehaviour by supporters in a match against Rapid Vienna the previous year]," he said.
"It would be weird and it doesn't matter who you play. We love playing at Celtic Park in front of our fans and they're always there when we go to Ibrox or Easter Road or Tynecastle or wherever. That's what makes football football.
"I was flicking between the games on Wednesday. You got Liverpool against Atletico Madrid, which was bouncing, and then the PSG v Dortmund, when you could hear every kick of the ball and everyone shouting for it. It was like two different worlds."
Brown is also unsure as to how effective the guidelines drafted by the sporting authorities have been in preventing participants from being 
contaminated.
"Before the St Mirren game last weekend you weren't allowed to shake hands with anyone but, at the end, you were doing it because it's a natural thing to do," he said.
"Obviously, when you go back in everyone is washing their hands and is then straight into the shower but it's a contact sport: you're pushing against people when you're in the box and throwing yourself about.
"I watched the rugby the other day. They didn't shake hands either but two minutes later they're in a scrum so I'm thinking: 'That's not really working"."