Neil Ferguson told the Lords Science and Technology Committee that: "had we introduced lockdown measures a week earlier, we would have reduced the final death toll by at least a half."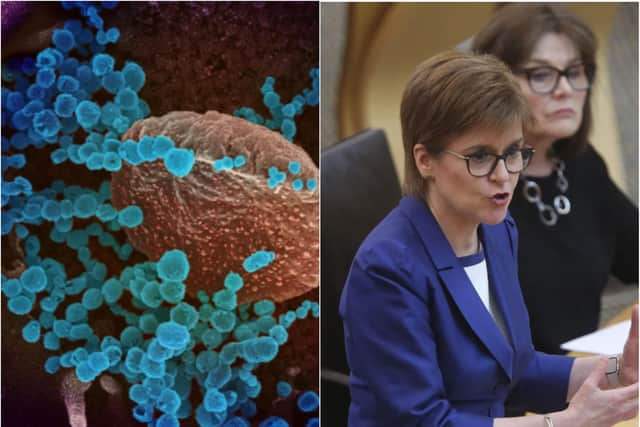 Coronavirus in Scotland LIVE: Latest updates on COVID-19 in Scotland
Show new updates
Lockdown one week earlier 'would have cut death toll by half'
Neil Ferguson, professor of mathematical biology at Imperial College London, told the Lords Science and Technology Committee that scientists advising the government failed to predict the speed of the virus' spread.
Prof Ferguson said: "The epidemic was doubling every three to four days before lockdown interventions were introduced.
"So, had we introduced lockdown measures a week earlier, we would have reduced the final death toll by at least a half."
Working mothers will be hit hardest in aftermath of Covid-19, expert warn
The Covid-19 pandemic risks setting the effort to get more mothers into the workplace back by 20 years, the head of one of the UK's leading women's rights charities has warned.
Women are often forced to choose between flexibility and job security in a bid to meet their caring responsibilities, making them "dispensable", the Fawcett Society's chief executive said.
Speaking to the PA news agency, Sam Smethers said: "If you look back at the last 20 years the big increases in labour market participation have been amongst mothers and single parents in particular.
"What we are seeing now is that that trend is reversed, so unless we correct that, unless we get it back on track, we will literally have a significant step backwards."
Research by PwC published last month found 78% of those who have already lost their jobs as a result of the virus are women.
"Women are over-represented in low-paid work and precarious work," Ms Smethers said.
"They're people who are very 'dispensable' or otherwise easy to get rid of because they are on zero hours or minimum hours contracts."
The Fawcett Society also fears the collapse in childcare infrastructure - with more than 10,000 providers expected to go bust due to Covid-19 - could also force some mothers out of the workforce.
Campaigners are now calling for the Government to ensure experts in gender and health crises are involved in the process of rebooting the economy in the wake of the shutdown.
Dr Sophie Harman, professor of International Politics at Queen Mary's University, said the pandemic could prove "catastrophic" for women in Britain.
"It is sometimes during emergencies that the most egregious discriminatory practices happen because you can't spot them," she said.
"They are justified under 'well, we were just moving quickly' and so that's my concern of the wider ripple effect (of the pandemic)."
Dr Harman, who has worked extensively in the field of healthcare, said assumptions made by the UK Government were not dissimilar to those made by African countries during the HIV and Ebola crises.
"The assumption from the outbreak and the Government's plan was that women would just pick up the load of the care burden," she said.
"The domestic roles are increased, their livelihoods are at risk and they are also involved in measures to protect people against the spread of the outbreak."
The pandemic has underscored how precarious working conditions are for so many frontline and key workers who have been vital in helping the UK get through the crisis
Boris Johnson: Two metre restriction could be cut to help schools and pubs reopen'
Boris Johnson is considering reducing the two-metre social-distancing restriction to allow schools in England to reopen fully by September.
Labour leader Sir Keir Starmer criticised the Government's efforts to get pupils back into class, using an article in The Daily Telegraph to claim "mismanagement" was putting at risk both the welfare and education of children.
The newspaper reported Mr Johnson is looking at following World Health Organisation advice and cutting the distance people should remain apart from two metres to one - guidance already followed by countries including France, Denmark and Singapore.
At Prime Minister's Questions on Wednesday, he promised to "keep that two-metre rule under constant review".
As well as helping to make it easier for schools to open, slashing the social distancing restriction could help pubs and restaurants to start-up again, with Business Secretary Alok Sharma this week accepting that "for economic reasons, businesses will want to take a look at this two-metre rule".
In a sign the Government could be preparing to announce a change, Sir Patrick Vallance, the UK's chief scientific adviser, said at the daily Downing Street press briefing the two-metre advice was "not a rule".
He said: "It is wrong to portray this as a scientific rule that says it is two metres or nothing - that is not what the advice has been and it is not what the advice is now."
Sir Keir called on the PM to act now to not risk missing his new target of all pupils returning to school by September after a U-turn on ambitions for all primary-aged children to have teaching time this term.
Education Secretary Gavin Williamson was forced to admit defeat this week over plans for primary schools to fully reopen after some head teachers complained they could not limit class sizes to 15 pupils while taking in more year groups.
Sir Keir said "creativity" was needed to utilise empty buildings across Britain, including theatres, museums and libraries, so they could be "repurposed" as makeshift classrooms to ensure schools can resume fully after the summer holidays.
The debate over the two-metre guidance and schools reopening comes as further lockdown easing for England was announced by Mr Johnson.
New English school qualifications to help 'rebuild economy after coronavirus'
New qualifications combining classroom and practical learning alongside on-the-job experience will be introduced at a further 88 schools and colleges, the Education Secretary has said.
T-levels, a two-year course equivalent to three A-levels, will "play a key part in rebuilding the economy after the coronavirus outbreak" by providing thousands of pupils with a "high-quality technical education", according to the Department for Education.
The first three T-levels will be taught from September 2020, with a further 22 being introduced gradually between 2021 and 2023, it added.
From 2022, more than 180 schools and colleges will deliver a range of courses across areas including law, engineering, accounting and manufacturing and construction.
Education Secretary Gavin Williamson said: "Now, more than ever, it's vital that young people across the country have access to high-quality technical education to provide them with the skills they need to succeed and employers with the workforce they need for the future.
"This third wave of further education providers will help us supercharge the roll-out of these new and pioneering qualifications and it's fantastic to have them all on board."
Pupils completing a T-level will undergo a 45-day industry placement.
Tim Chapman, a security architect at Fujitsu, said:"There is a huge shortage of talented young people entering technical careers and Fujitsu has felt the effects of this most recently in our cyber security business.
"The introduction of T-levels will help alleviate this problem by enabling more students to enter the industry with the skills needed to succeed."
Scot Gov update: 15,682 positive cases (up 17), 909 patients in hospital (down 78), 21 patients in intensive care (up 3) and tragically, 5 patients have died, bringing the total of deaths to 2,439
FM on construction industry: Workers will be allowed to return to construction sites gradually
FM: Extending the 'help to buy' scheme
FM: Preliminary indicators that test and trace working well
FM: Life shouldn't yet be feeling like it is getting back to normal. When meeting another household, it must be outdoors and everyone must be 2m apart.
FM: "We are considering moving to phase two a week today"