Coronavirus in Scotland: Oxford vaccine to be 'imminently' available
Interim Chief Medical Officer Dr Gregor Smith has welcomed news that the Oxford AstraZeneca Covid-19 vaccine is highly effective in early trials.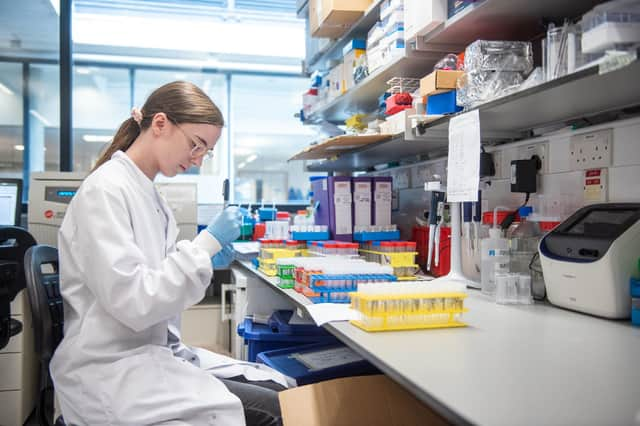 A researcher in a laboratory at the Jenner Institute working on the coronavirus vaccine developed by AstraZeneca and Oxford University. PA Photo.
The vaccine was shown to be 62 per cent effective when two doses were given, and 90 per cent when trial subjects received a half dose followed by a full dose.
Dr Smith hailed the "very positive and very encouraging" news during the Covid-19 update briefing on Monday.
Availability of the vaccine "is likely to be fairly imminent", he added.
Manufacturers of the Oxford AstraZeneca vaccine hope it will be available around the same time as those from Pfizer BioNTech and Moderna. The trial fell behind when it was paused after a participant got sick, but the illness was not caused by the vaccine.
This is good news for Scotland, as the planned vaccination of every Scot over the age of 18 by Spring depends on the availability of the Oxford AstraZeneca vaccine.
The UK has ordered 40 million doses of the Pfizer vaccine and five million doses of the Moderna candidate, enough for 1.8 million Scots if both are approved.
But 4.4 million people in total will be offered a vaccine, meaning a further 5.2 million doses will be needed. It is also unlikely that all doses from Pfizer and Moderna will be delivered to Scotland before the end of Spring.
Scotland will receive around eight million doses of the Oxford vaccine in total.
Vaccines from Novavax and Janssen are also likely to be available before the end of Spring, giving NHS Scotland options in choosing which vaccine to give different groups.
While the Oxford candidate had lower efficacy levels than those from Moderna and Pfizer in some trials, it still exceeded the 50 per cent effectiveness sought by the US Food and Drug Administration.
It also has some advantages over the other options. It can be stored at normal fridge temperature, while the Moderna vaccine needs to be stored at minus 20 degrees Celcius and the Pfizer vaccine at minus 70 degrees.
"This vaccine that we've heard more about today has got some particular advantages as well in terms of its storage and the way that it can be used," said Dr Smith.
"It doesn't need some of the detailed logistics and storage that some of the other vaccines require, which means it has a little bit more utility than the other vaccines."
He added: "It's really important as we're developing our vaccination programmes against Covid-19 that we're making sure that we have supply chain resilience. What we mean by that is that we don't rely overly much on the production of just one vaccine, when so many vaccines can have that utility and different types of environment."
The UK Government announced on Monday that the Medicines and Healthcare products Regulatory Agency has begun reviewing the Pfizer BioNTech vaccine for possible approval, the next step needed for it to be made available to the public.
A message from the Editor:
Thank you for reading this article. We're more reliant on your support than ever as the shift in consumer habits brought about by coronavirus impacts our advertisers.
If you haven't already, please consider supporting our trusted, fact-checked journalism by taking out a digital subscription.