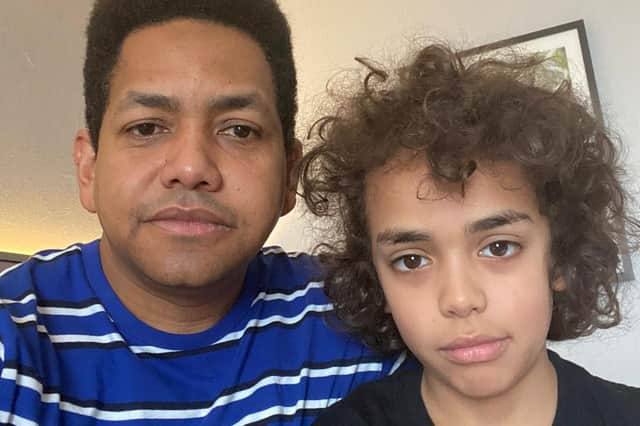 Antonio Caraballo, from Edinburgh, said he had expected his son Sami to be allowed to self-isolate at home after making the journey alone from Finland to Edinburgh to visit his father.
But on arrival in Scotland on Saturday, Sami was told he would have to isolate in a quarantine hotel, leaving Mr Caraballo, who is a key worker in the oil and gas industry with INEOS, no choice but to join him at a cost of £2075.
Children under 11 are exempt from having to be tested for Covid-19 on arrival to Scotland, but not from having to stay in a quarantine hotel.
The rule means Sami will spend ten days of his 14-day trip to Scotland in the hotel, away from his three-year-old sister Amelia who he has also travelled to the country to visit.
The 10-year-old lives with his mother in Finland, and has not seen his father since October. The family have had to cancel the belated Christmas dinner they had planned on Sunday, and Sami's Christmas present has had to be left at home.
The visit was booked in December to coincide with a week-long school holiday in Finland, along with an extra week off Sami was granted to be able to visit his family.
"He's incredibly bored and quite disappointed," said Mr Caraballo of his son.
Things are especially difficult, he said, as he has to continue to work from the hotel room this week and cannot properly spend time with his son, as he had planned to take the second week of Sami's stay off work, while his son spent time with his sister and stepmother during the first.
Mr Caraballo has tried to appeal his situation, but has been "really frustrated" at the process for doing so.
"I have nobody to talk to, nobody to discuss the situation with or to explain the circumstances to, it's so bizarre," he said.
He added that he feels especially annoyed as he tried to do the "right thing" by flying his son into Edinburgh, rather than taking advantage of a loophole created by a difference in approach of the UK and Scottish governments and sending Sami to an airport in England to travel on to Scotland, in which case he would not have had to quarantine in a hotel.
A spokesperson for the Scottish Government said children must self-isolate in a hotel regardless of whether or not they travelled alone, and added that the number of exemptions must be limited in order for the policy to work.
"We understand how difficult this is for families with children," they said.
"But to manage the risk of importing new variants and to give vaccine deployment the best chance of bringing us closer to normality these limits on international travel are necessary.
"The clinical advice is clear that a comprehensive system of managed quarantine is essential to minimise the impact of new Covid-19 variants.
"This means children must enter managed isolation regardless of whether they are accompanied or unaccompanied. We must restrict how many exemptions are in place otherwise the policy will not be effective."
A message from the Editor:
Thank you for reading this article. We're more reliant on your support than ever as the shift in consumer habits brought about by coronavirus impacts our advertisers.
If you haven't already, please consider supporting our trusted, fact-checked journalism by taking out a digital subscription.