Coronavirus emergency meeting: outcome of the Cobra meeting - and why UK is staying in the containment phase
Prime Minister Boris Johnson held an emergency meeting on Monday.
Number 10 revealed that the UK would remain in the containment phase of its response to the coronavirus after chairing a COBRA meeting earlier today (March 9).
As a result measures to reduce social interaction will not yet be introduced, according to ministers.
Number 10 have urged caution, however, and have accepted that the virus will likely "spread in a significant way".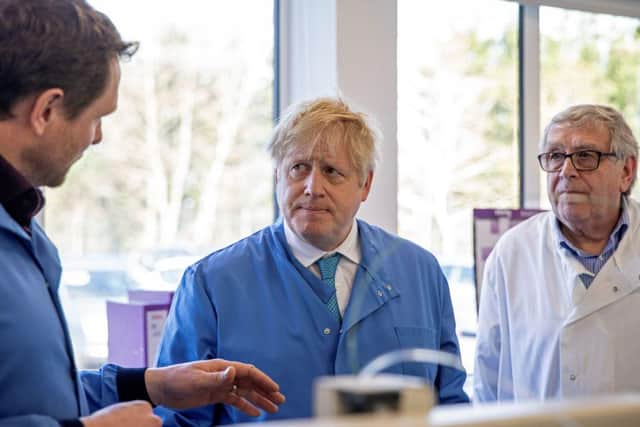 The news came as confirmed cases of Covid-19 rose to 319.
What have Number 10 said?
A spokesperson for Number 10 said that Boris Johnson was being "guided by the best scientific advice", but there wasn't yet a need to cancel mass gatherings, such as sports events.
Ahead of the meeting it was expected that Johnson would tell those in attendance: "The number of coronavirus cases continues to rise in the UK and around the world.
"We are well prepared and will continue to make decisions to protect the public based on the latest scientific advice.
"Tackling coronavirus will require a national and international effort. I am confident the British people are ready to play their part in that.
"The most valuable thing people can do is wash their hands with soap and water for 20 seconds."
Moving from contain to delay phase
Officials are continuing work to accelerate preparations for the delay phase of the Government's plan, including work on the optimum time to introduce further measures, based on scientific evidence.
A formal move to the delay phase would need to be agreed by the chief medical officer Professor Chris Whitty and the chief scientific adviser Sir Patrick Vallance, who will both be attendance later today.
However, Prof Whitty told MPs last week that the UK had mainly moved to the delay stage of tackling the virus.
Mr Johnson was updated on the latest scientific advice and modelling over the weekend.
What is COBRA and when are meetings called?
The name stands for "Cabinet Office Briefing Room A" and refers to the emergency council which is formed when a crisis arises which will call for various different departments to work in tandem.
They meet in the Cabinet Office's briefing rooms (usually room A), hence the name.
The idea is to convene all the relevant parties at once to make rapid, effective action possible. In America, the Situation Room provides roughly the same function.
Having originally been formed in response to the miner's strike in 1972, past COBRA meetings have also been called to deal with issues like the fire-fighters' strike, terrorist attacks across Europe and the US, and the Novichok poisoning case.
COVID-19 is a respiratory illness that can affect lungs and airways. It is caused by a virus called coronavirus.
The outbreak started in Wuhan in China in December 2019 and it is thought that the virus, like others of its kind, has come from animals.
As this is such a new illness, experts still aren't sure how it is spread. But.similar viruses are spread in cough droplets. Therefore covering your nose and mouth when sneezing and coughing, and disposing of used tissues straight away is advised. Viruses like coronavirus cannot live outside the body for very long.
The NHS states that the symptoms are: a dry cough, high temperature and shortness of breath - but these symptoms do not necessarily mean you have the illness. Look out for flu-like symptoms, such as aches and pains, nasal congestion, runny nose and a sore throat. It's important to remember that some people may become infected but won't develop any symptoms or feel unwell.
What precautions can be taken?
Washing your hands with soap and water thoroughly. The NHS also advises to cover your mouth and nose with a tissue or your sleeve (not your hands) when you cough or sneeze; put used tissues in the bin immediately and try to avoid close contact with people who are unwell. Also avoiding touching eyes, nose and mouth unless your hands are clean.
Should I avoid public places?
Most people who feel well can continue to go to work, school and public places and should only stay at home and self isolate if advised by a medical professional or the coronavirus service.
What should I do if I feel unwell?
Don't go to your GP but instead call NHS 111 or look online at the coronavirus service that can tell you if you need medical help and what to do next.
NHS 111 should be used if you feel unwell with coronavirus symptoms, have been in a country with a high risk of coronavirus in the last 14 days or if you have been in close contact with someone with the virus.