Coronavirus: Concert crowds were voting with their feet already – John McLellan
Amid rising concern over the coronavirus outbreak, a Mahler performance by the RSNO that looked almost full on the online booking map seemed half empty on the night, writes John McLellan.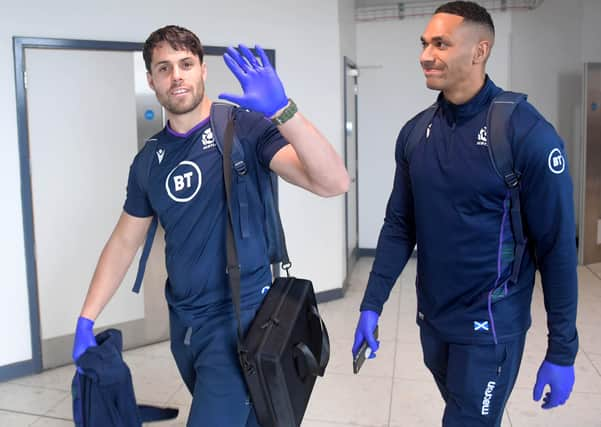 At least Boris Johnson's warning that families will lose loved ones to coronavirus can't leave him open to the accusation of down-playing the pandemic, but that hasn't stopped criticism of the UK government's less drastic approach compared to Italy and Ireland.
Chief scientific adviser Sir Patrick Vallance sounded very calm and measured as he explained the delay strategy yesterday, and defended the decision not to ban large gatherings at this point. With the Cheltenham Festival and today's Wales vs Scotland match in mind, he said there was much more likelihood of catching the virus in the pub than in the stadium.
For this advice fans would have been grateful, because as most of the travelling support would have been in Cardiff by yesterday, the match would have been the only time over the weekend they would not have been in the pub, so playing the game was, by Sir Patrick's logic, a preventative measure in itself. And although I have never been to Cheltenham, friends who are regulars testify that watching the gee-gees is the only time in four days not spent on licenced premises. Now the match is off, supporters are there with return travel booked so avoiding the pub is the least likely result. With all football off and gatherings of more than 500 people set to be cancelled across Scotland this coming week, it must only be days before the rest of the UK follows suit. With just ten weeks or so to "flatten" the expected spike in infections, the closure of schools and hospitals, as in Ireland, must surely only be a matter of time too.
However, Sir Patrick made a very good point that children out of school are highly likely to come into contact with grandparents and as social contact is the most prevalent means of infection that poses obvious dangers, and with the possible exception of the 1970s miners' strikes, only people in their 80s and over will have experienced anything like the war-footing on which the country is now.
So the cancellation of big music events like the Country-to-Country festival and concerts by The Who and Santana in Glasgow, it was surprising that by yesterday Edinburgh's Usher Hall and the Glasgow concert halls were still selling tickets for performances over the coming days.
It's surprising for reasons which are morbidly obvious to anyone who goes to these performances; the average age of attendees for Beethoven's Emperor Concerto by the RSNO or Brahms' Deutches Requiem from the BBC Scottish Symphony Orchestra will be well above 60 and the coronavirus could be a lot more catastrophic wafting its way around the Usher Hall than amongst a relative handful at a windswept Murrayfield.
But older concert-goers might be taking matters into their own hands, judging by last week's Mahler performance by the RSNO where the booking map showed little availability in the stalls but which then appeared to be half empty on the night. Maybe Song of the Earth was a bit too close to home.
Gustav was the original Greta?
Those music-lovers who did make it to the Usher Hall last Friday were treated to a riveting performance of the great Mahler song cycle, beautifully sung by alto Janet Irwin and tenor Simon O'Neill, and an equally exhilarating Also Sprach Zarathustra, of Space Odyssey fame, by Richard Strauss. But as if the pandemic isn't enough to worry about, the audience was treated to a little lecture from conductor Thomas Sondergard about what "we" had done to the planet and how Gustav Mahler would have fought global warming if he were alive today. As if the climate emergency hasn't got enough high-profile activists without roping in long-dead composers.
Sunak's good news for mainstream media
With so much budget coverage focussed on Chancellor Rishi Sunak's £30bn coronavirus war-chest, readers will be forgiven for overlooking two measures which could be vital for ensuring they can continue to read about such matters of public interest in publications such as this.
The independent news industry's twin pillars of copy sales and advertising revenues have been smashed by the digital revolution; tech giants Facebook and Google are gobbling up most of the total UK advertising market, while many readers can avoid news paywalls because information is available free elsewhere.
Mr Sunak addressed both problems on Wednesday, announcing that VAT will no longer be levied on their digital subscriptions, bringing pay-walls into line with VAT-free hard copy sales. This will either reduce the cost of access to websites such as Scotsman.com or give companies badly needed revenue, and while the benefits for major nationals like The Times are clear it will also boost small independents like The Orcadian and the Oban Times which operate pay-walls.
He also revealed a new two per cent tax on UK revenues of search engines and social media services as of April 1, but as a perfect illustration of their power, it only kicks in if global revenues are over £500m and first £25m of UK income is exempt.
How Google and Facebook respond is another thing and their tax experts will be hunting for inevitable loopholes. And having just been accused by American investigators of failing to spot more than 300 cases of child sexual exploitation over six years, it has not been a good few days for Facebook.
Quality journalism matters (and costs)
More good news for journalism came from the Scottish courts, with the dismissal of a £750,000 defamation action against Green MSP Andy Wightman, who had been sued by a company, Wildcat Haven Enterprises, which had been selling tiny "souvenir" plots of land to fund a reserve for the endangered animals.
The company claimed Mr Wightman's blogs inferred it was a tax dodge and had lost a land deal shortly after publication, but the judge Lord Clark ruled the company failed to prove loss. He also found that although Mr Wightman made some "untrue" statements, he tried to act responsibly in the public interest, had legitimate concerns and was covered by fair comment.
The Defamation and Malicious Publications Bill now going through the Scottish Parliament seeks to strengthen the defences of fair comment and the public interest, so the ruling could not be more timely. But Lord Clark's judgment also contained an important distinction, by recognising that even well-informed blogs are not the same as professional journalism. "In applying the standard of responsible journalism in a practical and flexible manner... the blogs do not meet that test," he wrote. Quality journalism still matters, but it costs money.
Comments
 0 comments
Want to join the conversation? Please or to comment on this article.