Concrete risk in Scottish NHS buildings a 'complete unknown' says Labour
Opposition politicians have spoken of fears the extent of dangerous concrete in Scottish NHS buildings remains a "complete unknown" with a full review not set to be completed for eight months.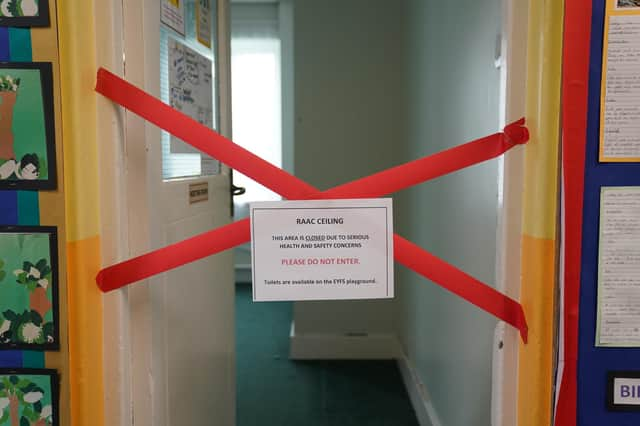 More than 250 NHS Scotland buildings are suspected to contain reinforced autoclaved aerated concrete (Raac), the Scottish Government has confirmed, but a review of the estate is not set to be complete until next year.
Wellbeing Economy Secretary Neil Gray said yesterday investigations were under way to assess the scale of buildings in Scotland containing the material as he insisted there was no "immediate risk to safety" to school pupils or hospital patients.
It was confirmed last week the concrete, which is vulnerable to collapse, is present in 35 schools in Scotland, with local authorities checking which other buildings it was used on, including hospitals and social housing. No schools in Scotland have been closed but "mitigations" have been put in place to ensure safety.
Mr Gray said: "At the moment, there is no immediate risk to people using these buildings and that is why we continue to support our local authority partners, NHS boards and others, that have Raac in their buildings to ensure that remains the case, and if there are issues to be resolved, that mitigations are taken to ensure people's safety."
The issue flared up last week after the UK Government confirmed 104 school buildings in England would close due to the presence of the material, which was linked to the collapse of a primary school roof in Kent in 2018.
The concrete was used from the 1950s until the mid-1990s, with the Institute of Structural Engineers saying it will only need to be replaced if it is considered to be of poor condition and at high-risk of collapse.
Mr Gray said: "There is no reason to believe that the safety concern has changed in the previous weeks. Obviously there are checks ongoing, including intrusive checks, because obviously some of this material is going to be deep into the structure of buildings. Some of that takes time to carry out."
First Minister Humza Yousaf said on Saturday that Scottish ministers have no plans to close affected schools "at this stage".
After it was confirmed the review into the NHS estate would take eight months, Scottish Labour's health spokesperson, Dame Jackie Baillie, said urgent action was needed.
"The extent to which this concrete is in our hospitals is still completely unknown and this is a huge worry," she said.
"Under the SNP our NHS has suffered years of neglect but it appears that little has been done to investigate the scale of the problem and the remedial action required.
"Humza Yousaf was the Cabinet Secretary for Health so he was aware that there was a problem but the question is did he do anything.
"The SNP need to act and make sure that staff and patients are not placed in any danger from this defective concrete in our NHS buildings."
Scottish Conservative MSP Liam Kerr meanwhile accused the Scottish Government of trying to "downplay the alarming situation".
"It's deeply concerning that 35 council-run schools and more than 250 NHS buildings across Scotland are suspected to contain Raac. The sheer complacency the SNP has shown for years about this, including over the weekend, is just as worrying.
"Rather than reassuring the public that they are fully on top of the issue and despite lacking detailed information on the risks due to their hands-off approach, the SNP Government is trying to downplay the alarming situation which has emerged.
"Instead of ensuring they work with all councils and health boards to discovered precisely what the risks are and what the best course of action is, Humza Yousaf and his party continue to pass the buck onto the organisations that they have under resourced for years.
"Ministers need to act urgently and ensure sufficient funds are provided to local authorities and health boards to ensure they can make full assessments of their buildings so material can be removed as soon as possible.
"The SNP cannot brush this issue under the carpet when the safety of pupils, patients, staff and visitors using these buildings is at risk. It's vital these people come first in any decision-making process and I will continue to demand for the Scottish Government to provide open and transparent updates on the overall state of our public buildings."
Scottish Liberal Democrat leader Alex Cole-Hamilton said patients needed a timeline for remedial works to take place.
"Beams which were previously deemed safe have now collapsed so it's important that there is no false confidence about how secure these sites are.
"The Scottish Government must set out how it will help cash-strapped schools, universities, hospitals and more to cope with any remedial works that need to take place."
A Scottish Government spokesperson said: "Building safety is an issue the Scottish Government takes very seriously and we are fully aware of significant issues with some Reinforced Autoclaved Aerated Concrete.
"Reviews of Raac have been conducted by local authorities, NHS Scotland and other public sector organisations for some time so we can all fully understand the scope of Raac including in hospitals.
"In addition we established a cross sector working group on Raac to ensure action is taken where required so that people are safe and feel safe in buildings."
Chancellor Jeremy Hunt has said yesterday that the Government in Westminster would "spend what it takes" to make schools in England safe.
He admitted that along with the potential danger of Raac, there are concerns about the possibility of a "wider" problem with asbestos in schools.
Speaking on the BBC's Sunday With Laura Kuenssberg show, Mr Hunt would not speculate on the potential cost of fixing the problem, but said: "We will spend what it takes to make sure children can go to school safely, yes."
Schools minister Nick Gibb has admitted more classrooms could be forced to shut and Mr Hunt on Sunday confirmed further structural problems could emerge in the coming "weeks or months".
Questions remain over the extent to which the problem has been complicated by the co-existence of asbestos in schools and other public buildings.
Comments
 0 comments
Want to join the conversation? Please or to comment on this article.