Clutha survivor urges firms to help Scottish staff with mental health
A Clutha survivor who hid his struggle with mental health until he had a breakdown has called on bosses to make mental health help a priority.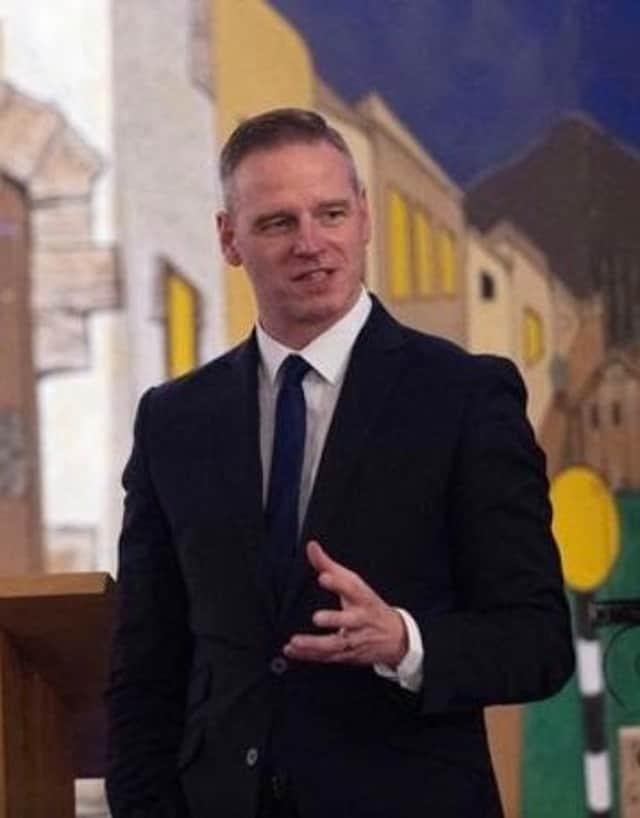 Michael Byrne gives talks to bosses about getting staff help with mental health
Michael Byrne buried post-traumatic stress symptoms for years, after he suffered through the horror crash at the Glasgow pub and the violent death of his father.
It took a mental breakdown three years after the Clutha tragedy before he finally got help for suicidal feelings and recurring nightmares.
On the night of the crash, Mr Byrne and his friend Tom stepped in to help other survivors to safety.
Michael Byrne has become a mental health champion
He said: "There were two of us together, me and a friend sat there having a drink when it happened. Suddenly everything to the left of us didn't exist. It was like an invisible line. We rushed out and got help. We lifted a bit of the bar off two chaps."
Mr Byrne dealt with it by rushing back to work. He managed a Housing Association in Glasgow at the time.
He said: "I went to work on the Monday, after the crash on the Friday. If employers see someone working longer hours, after they've been through something big, that can be a red flag.
"I distanced myself from friends and family and all the people who were involved. I was trying to shut down. I constantly felt like I was about to burst into tears, but I didn't want anyone to see me like that.
"It kept coming back to me long after. I went through a few major things later on. I had a throat tumour and was then involved in a car crash. The bang of the crash took me back to Clutha, being among bodies and the debris. It was like a film constantly playing in my head. I was reliving it all the time. I couldn't sleep. I felt suicidal."
Now Mr Byrne provides first aid training in mental health to businesses through his venture Lived Experience Trauma Support (LETS) and gives inspirational talks.
His message to employers is to look beyond appearances and watch out for signs that people are struggling under the surface.
"I was working 12 and 14 hour-days," he said. "I was terrified to be at home after Clutha, threw myself into work. I did the same after my son was born and I wasn't coping as a Dad."
His call comes as new research has revealed more than half of adults in Scotland are worried about the mental health of someone they know this Christmas.
The survey, published by the Mental Health Foundation Scotland, found 54 per cent are concerned about the mental health of partners, children, friends, relatives, neighbours or others.
More than a quarter said they are personally feeling anxious or stressed about the festive season. And the majority of our readers told us their mental health has been impacted by the pandemic.
Through our There For Each Other campaign, we are talking to people at the frontline – like Mr Byrne – to see what help is out there and what more needs to be done.
Mr Byrne is on a mission to change the culture in workplaces, after it led him to conceal his struggle for fear of being judged or losing his job.
He said: "I had been hiding so much, all these years. I didn't know how to be anything other than a big, strong, confident guy on the outside.
"That's the culture we grow up in. The one thing I clung to, it seems daft, was if I can keep looking OK, maybe I can get by.
"I just tried to get on with it, but firms need to do more to make mental health a priority and to look past appearances. I was smart and wore my shirt and tie every day, but on the inside I was a mess."
Mr Byrne had suffered poor mental health since being abused as a child.
Then his father Timothy was violently killed at his home in Glasgow's Gorbals in 1996.
But it took a complete breakdown before he finally felt he had to ask for help. Shortly after his son was born in July 2016, Mr Byrne was referred to a trauma centre in Glasgow. He finally felt there was a way out of the dark.
"My boy is the apple of my eye," he said.
"But it was really tough after he was born, at first. I distanced myself from my wife. She felt really alone because I was cutting myself off from her. In a way I thought it would be safer if I wasn't there, I think I was afraid I would be a bad father.
"I had feelings of fear constantly, flashbacks. I had made plans to end my life, but the therapy helped me pull back from the edge. It's weird to say, but I was very happy to be diagnosed with PTSD.
"I believed nobody could help me because they wouldn't understand what I had lived through. How do you say to someone 'I feel I am stuck in a nightmare after a helicopter landed on my head?' I didn't know where to start."
"Now I am learning all I can about coping with PTSD. As a 51-year-old, I feel better than I've ever been and I'm looking forward to seeing my son grow up.
"It's so important to have people in every workplace that folk can chat to, like a mentor. For a lot of people counselling is too much of a stretch. They need to feel they are not alone and a bit of help to take that first step."
Want to join the conversation? Please or to comment on this article.