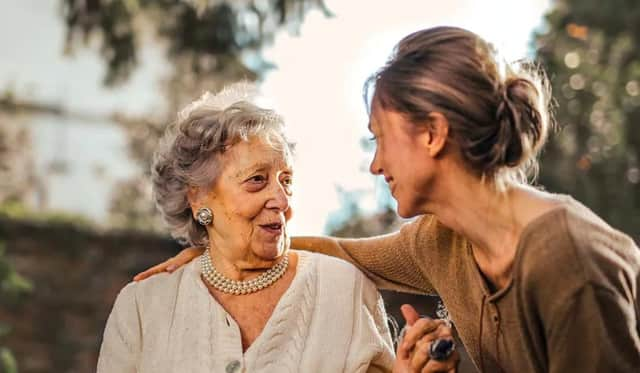 The luxurious 55-bedroom home on Craighall Road has been furnished to the highest standard to offer all-inclusive living that includes the very best in care.
From the carefully balanced and nutritious meals to the hair salon, cinema and piano bar, it reflects the quality that residents deserve.
Trinity House has been designed to put the 'home' into care home, with the caring and considerate team dedicated to ensuring a high-end lifestyle.
Each resident has their own dedicated staff member which, along with the impressive range of facilities, helps to maintain dignity and independence for everyone.
The highly skilled staff deliver high-quality 'key nursing', meaning nursing care is delivered around the clock.
Trinity House's experienced and capable team can offer a range of care to meet residents' needs, from nursing care and residential care to tailored dementia care, respite care and palliative care.
"We are proud to be able to provide the best level of care to each of our residents, and we pride ourselves on going above and beyond in every scenario," says Home Manager Angela Burns.
"Loved ones can trust that our staff are dedicated to making sure our residents have the greatest possible experience throughout their time with us."
Trinity House offers a continuum of care, offering reassurance that if care needs change then the knowledgeable team can use their expertise to adapt the care they provide to continue to meet those needs whilst remaining in familiar surroundings.
"All 55 of our en-suite bedrooms have been carefully and considerately designed to provide a modern yet welcoming atmosphere for every resident," adds Angela, with premium suites available.
From luxurious furnishings and specialised state-of-the-art equipment through to accessible wet rooms, all the bedrooms have been created with the needs of residents in mind. Everyone is also encouraged to bring their favourite belongings when they move in to help give their room their own unique and special style.
Nurse call systems, and temperature controlled central heating and water are all included in the rooms to guarantee a pleasant and luxurious stay.
The facilities at Trinity House offer everything that residents can need, including an in-house hair and beauty salon to help feel pampered with a wash and perm, foot massage or spa bath. Movie buffs will love the chance to make the most of the extensive film library in the cinema, with a wide selection from black-and-white classics to more contemporary chick flicks leaving residents spoiled for choice.
Dedicated Activity Coordinator Callum O'Donnell ensures there is an engaging pastime on offer at all times, with coffee mornings, quizzes, singalongs and fetes as well as trips to the countryside, farms, and shopping malls just a few of the possibilities.
Arts and crafts sessions are always a big hit with residents, as well as their friends and family members; these cover seasonal events like Easter and Christmas, when residents can take pleasure in decorating the home for the holidays.
And for gardening fans, exploring the home's charming private garden and its beautiful flowers and foliage can be the perfect spot to relax and unwind, or even join in gardening activities like planting and tending to the flowerbeds or refilling the bird feeder.
From the moment new residents arrive, the Trinity House team will do everything possible to ensure a welcoming and comfortable stay that makes residents feel safe and at ease. Settling in happily to a new home is vital which is why staff will ensure residents and their loved ones meet their dedicated staff member and discuss a care plan and any particular requirements straight away before exploring their new home and getting to know fellow residents and staff.
If you, or someone you know, are looking to move to a luxurious new home to enjoy an all-inclusive lifestyle with the very best in care on hand if you need it, visit the Trinity House website at https://trinityhousecare.com to find out more. Call 0131 341 3444 or email [email protected]m for more details.