Christmas 2020: Stag dubbed Festive Bob gets his antlers tangled in festive lights after 'headbutting' Scottish Christmas tree
Dubbed 'Bob the Festive Stag' by locals, this stag managed to get himself into quite the festive pickle after 'headbutting' a community hospital's Christmas tree and entangling himself in the lights.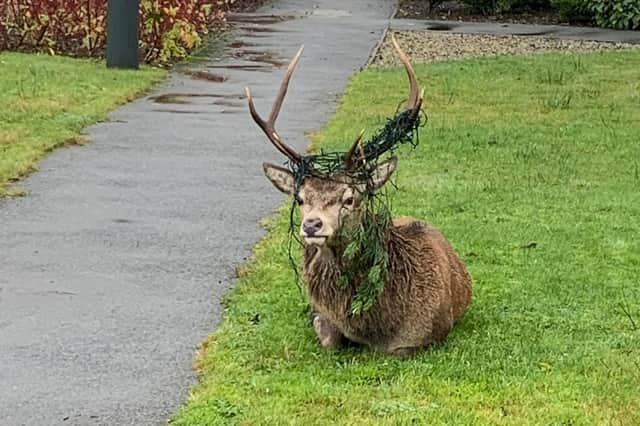 Bob the Festive Stag pictured yesterday morning sitting in the residential Bowman Court at the hospital in Mull.
Bob has become a local celebrity after making himself at home a month or so ago at the Community Hospital in Craignure on the Isle of Mull.
Originally, he came into the ferry port village with an air of noble prestige but, two days ago, he decided to get into the festive spirit after the hospital staff finished decorating a Christmas tree for patients.
Bob soon gave the residents of the hospital's Bowman Court a fright when he appeared with parts of the now felled tree and lights entwined around his antlers.
A picture of Bob looking more noble before the Christmas light incident occurred.
One staff member said: "We put up our lights for the tree but this stag has had a bit of a wrestling match with it, headbutting it, and he ended up with the lights around his antlers.
"We were hoping they were maybe battery lights and they would just go off but sadly they are not."
The situation is currently being monitored by the Scottish SPCA and the local police are also aware.
Scottish SPCA inspector Yvonne Inglis said: "It is impossible to capture and restrain a full-grown red deer stag without causing considerable distress to the animal and putting any humans involved at considerable risk.
"If the lights were preventing him from moving freely or accessing food or water, we would try and intervene.
"As the stag is in good bodily condition and there is no welfare issue, we would advise he is left alone. We will continue to monitor him and hope that he manages to dislodge the lights himself. Failing that, once he sheds his antlers it should solve the problem.
"Although, generally speaking, wild deer do not present a threat to the public, we would discourage people from feeding them.
"We'd ask local people to keep an eye out for the stag and if they do see him caught up in something due to the fairy lights, to call us on 03000 999 999 and we will attend to resolve it."
Locals have described Bob as 'marmite' - you either love him or you hate him - as some have not taken kindly to Bob destroying the tree but many have seen the stag's dalliance with festivities as a means of cheering up the community.
One local said: "He has become a little celebrity at the Mull hospital and the local estate called Java. I know there are a few people that aren't that keen on him but the majority love him.
"He's cheered up quite a few people!
"We are actually doing a hashtag called #blingitonmull - it's like he is joining in - it's all about wearing something sparkly and doing something kind on the 4th December."
Some members of the community are trying to raise money to buy new lights for the hospital to resolve any wounds Bob may have created.
A message from the Editor:Thank you for reading this article. We're more reliant on your support than ever as the shift in consumer habits brought about by Coronavirus impacts our advertisers.
If you haven't already, please consider supporting our trusted, fact-checked journalism by taking out a digital subscription.
Want to join the conversation? Please or to comment on this article.