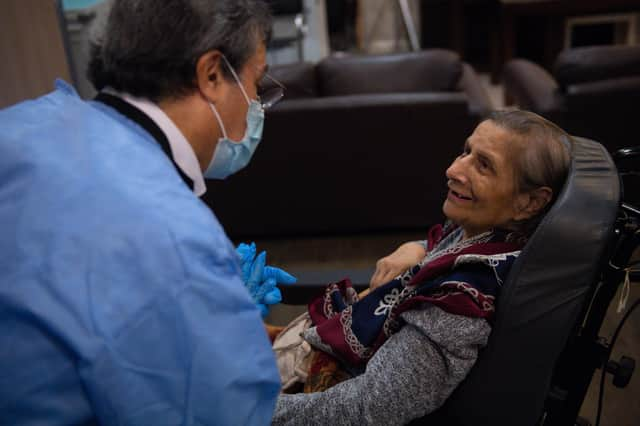 It comes as the Chief Medical Officer and National Clinical Director are set to issue a letter to all care home staff in a bid to combat a recent "targeted" anti-vaccine misinformation campaign.
Pete Calveley, Chair of Barchester, told BBC Scotland this week that the company "won't employ someone who isn't prepared to have the vaccine."
"We are going to take a view over the next month or two about current employees," he added.
Concerns have been raised UK-wide about sluggish vaccine takeup among care home workers, with warnings from unions and health chiefs that the group faced "targeted misinformation" from anti-vaccine campaigners.
First Minister said on Monday she had heard reports of "anti-vaxx forces" trying to discourage staff from taking the vaccine.
A spokesperson for Barchester said on Tuesday that the company is "reviewing the situation" around existing staff members, but that all new employees should have the vaccine "as a matter of course".
"We are very supportive of the vaccination programme and working hard to ensure all our staff and residents take up this opportunity as quickly as possible enabling in time, to win the battle against Covid-19," they said.
"The severe impact of the virus, particularly on the resident/patient population for which Barchester cares, makes it necessary to take extraordinary steps to protect them, as well as colleagues and visitors. Our approach is based on protecting the lives of our residents and patients, and we want all new employees who look after residents to have the vaccine as a matter of course and are doing all we can to reassure them about the safety of it in line with Public Health guidance.
"We are reviewing the situation for existing staff members and are developing a policy."
Dr Donald Macaskill, CEO of Scottish Care, said the focus of care homes should be on supporting staff and persuading them to "do the right thing".
"I think we're in a hearts and minds game at the moment," he said.
"There are undoubtedly instances where people don't have the information, or they've been influenced by misinformation."
He added: "We are really short of staff in the care home in the care home sector, so we need to make sure that we don't disproportionately discriminate against those who might want to come.
"We have to be aware that there are particular reasons that an individual may with justification not have a vaccine, and that could be because they are pregnant, it could be because they have an underlying health condition and have been advised not to get it.
"I think anybody who putting restriction on employment has to be very careful, that first of all it's legal, and that it's proportionate and reasonable, and that becomes even more significant when you're talking about existing staff terms and conditions.
"I don't think personally making restrictions should be the first step."
A message from the Editor:
Thank you for reading this article. We're more reliant on your support than ever as the shift in consumer habits brought about by coronavirus impacts our advertisers.
If you haven't already, please consider supporting our trusted, fact-checked journalism by taking out a digital subscription.