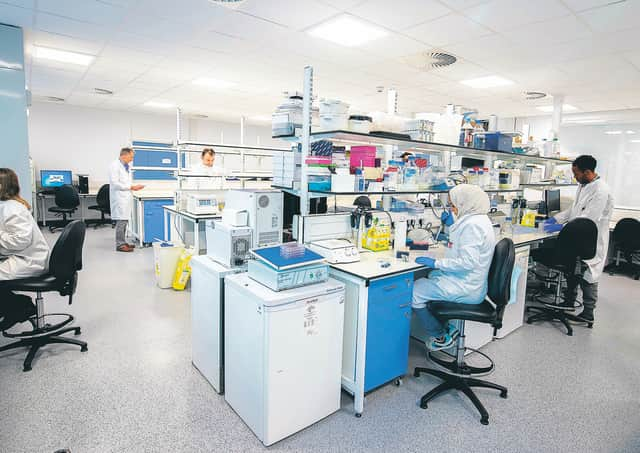 Researchers at the Cancer Research UK Edinburgh Centre
Professor Charlie Gourley, clinical director at Cancer Research UK Edinburgh, was speaking after being given the green light to resume the seven clinical trials he's been working on.
Gourley, a leading light in ovarian cancer research, saw all but one of the trials put on hold during lockdown but restrictions are now starting to lift and he's hopeful they will all resume next month.
He was speaking to back Cancer Research UK as they launch their new funding appeal after Covid-19 put their work on hold and led to the cancellation of fundraising events like Race for Life.
The charity is expecting a £160 million drop in income in the year ahead and has already been forced to make the difficult decision to cut £44m in research funding, but this is likely to be just the beginning.
The UK government has provided £750m in support for charities in response to the pandemic.
However, Cancer Research UK, like other medical research charities, is not eligible for this funding.
Gourley, who is funded by CRUK, said: "Clinical trials are such an important part 
of our armoury. For some of our patients with ovarian cancer, it's the last option for them.
"So many trials are successful now that the pause has taken away hope for some patients when they know that they would be offered a trial under normal circumstances but, because of coronavirus, trials have been closed to new patients.
"This has been incredibly hard for patients.
"We are getting clinical trials back up and running now, which is great.
"It gives another option for some people with cancer who are desperate. But the restart is only being ramped up slowly so we're still way below our usual research activity."
He added: "Not all ovarian cancer is the same, so you get some types that respond well to standard treatment and you get others that don't, and it's those ones that really need trials and that's the main focus of what we do.
"We're hoping that in the next month all these trials will be back open."
The issue is powerfully brought to life in a new TV appeal film. It shows a cancer patient on the verge of finding out whether her treatment has been successful, when the video pauses at the critical moment.
A recent report to the Scottish Parliament's Cross Party Group on Cancer also highlighted a 95 per cent drop in new patients entering clinical trials because of the pandemic, which has left people with cancer with fewer options for treatment. Coronavirus has also delayed research into drugs that could potentially be effective in the future.
Cancer Research UK's work into the prevention, diagnosis and treatment of cancer has been at the heart of progress that has seen survival in the UK double in the last 40 years.
Michelle Mitchell, Cancer Research UK's chief executive, said: "Medical research charities like Cancer Research UK are a vital pillar of the UK's life sciences ecosystem.
"We support thousands of scientists and world-leading research initiatives in all parts of the UK, all with the aim to improve the lives of people with cancer.
"With around 32,200 people diagnosed with cancer every year in Scotland, we will never stop striving to create new and better treatments. But we can't do it alone.
"We have been massively hit by Covid-19 as our fundraising efforts have been hugely restricted.
"We have been doing everything possible to limit the impact. But without a way to bridge this funding gap, we will have to make radical decisions about cutting lifesaving research which will severely impact our vision of seeing three in four people survive their cancer within the next 20 years.
"Ultimately, it will be patients who will suffer the consequences, which is heartbreaking.
"It is imperative that the UK government urgently works with medical research charities to come to a solution, so that decades of investment in UK research is not lost in a matter of months."