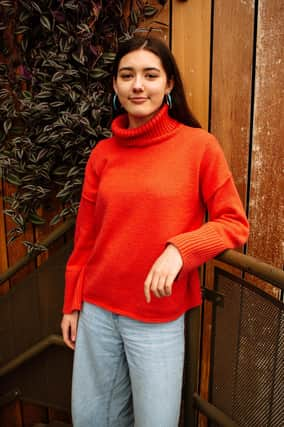 Edinburgh University students launched the anti-harassment 'Back Off Chalmer's' campaign last week after women were targeted by groups when they were going for treatment at the Chalmers Sexual Health Centre.
The volunteer-led campaign said since services resumed after lockdown closures, visitors to the Centre have been intimidated by groups praying outside, giving out leaflets and approaching women as they go in the front door.
Previously, pro-life campaigners have demonstrated outside a number of clinics and centres across Scotland, sparking widespread fears that they are denying women a right to privacy.
The campaign lodged a petition with Edinburgh City Council and secured just shy of 4,500 signatures in a week. Now the group have launched 'Back Off Scotland' with another sister campaign in Glasgow, and have issued a call to the Scottish Government to introduce 150 metre 'buffer zones' across Scotland that will move protests away from the gates of all hospitals and clinics that provide abortion services.
Since the beginning of 2017, seven hospitals and clinics in Scotland that have been targeted – Aberdeen Maternity Hospital, Edinburgh's Chalmers Centre, Dundee's Ninewells Hospital, Glasgow Royal Infirmary, Larbert's Forth Valley Royal Hospital, Queen Elizabeth University Hospital Glasgow, and the Royal Infirmary of Edinburgh.
Most gatherings are organised by the Texas-founded group 40 Days for Life, which holds two sets of 40-day protests a year – one during Lent, and one in the autumn, in which they stand with placards and leaflets, and pray outside hospitals every day usually from 7am to 7pm. Other protests tend to be organised by local anti-choice groups and by the international group Helpers of God's Precious Infants, campaigners have said.
Founder and Head of Back Off Scotland, Ella Cheney, said: "Following the massive levels of support for our Back Off Chalmers campaign, we think that it's time that the Scottish Government legitimise buffer zones around clinics providing abortion services Scotland-wide.
"We want clinics throughout Scotland that provide abortion services to be free of harassment and accessible to all.
"Anti-choice activity outside clinics is incoherent with our right to confidentially access essential medical services - with our right to choose.
"This is particularly an issue in Scotland as the majority of protests are outside hospitals and therefore vulnerable people including pregnant people attending maternity units for miscarriages are forced to pass these protests."
"I have accessed sexual health services and witnessed these groups outside praying. It's intimidating and made me feel uncomfortable. People have a right to their views but shouldn't be talking to women about them at the point they are trying to access services. I have heard from other women who were scared to go in because individuals stood in front of the entrance blocking them."
Head of Policy at Back Off Scotland, third year student Lucy Grieve, said:
"Our ultimate goal is for all clinics throughout Scotland that provide abortion services to be free of harassment and accessible to all. The Back Off Scotland campaign believes that this should be formally written into law.
"In addition to our collaboration with the British Pregnancy Advisory Service (BPAS) and the Humanist Society Scotland, we are running local campaigns in Edinburgh and Glasgow.
"We are now looking to expand into different regions of Scotland and start a number of local petitions with the hope that our campaign will put enough pressure on the government to act.
"As it stands, the Scottish Government believes that the police already have powers to address the issues of disorder that are potentially raised by clinic protests. Concerns highlighted in accounts gathered by BPAS, however, show that public disorder is not the only negative effect, and that more robust measures need to be considered."
Rachael Clarke from the British Pregnancy Advisory Service said: "BPAS receives reports from across Scotland about the anti-choice presence outside clinics and hospitals. Abortion clients are approached, large signs are used, distressing and inaccurate leaflets are distribution, and in the worst instances women are accosted and intimidated.
"The current law in Scotland just isn't sufficient. These groups aren't violent, but they target individual women and cause them immense distress. They try to proclaim that their freedom of speech should trump a woman's right to access legal, essential healthcare free from harassment. Anti-abortion groups and individuals have every right to hold their opinion. They have every right to campaign, to contact their MSPs, and to share their beliefs. They don't have a right to infringe women's privacy and impact their emotional and mental wellbeing at the hospital gate.
"We need new legislation in Scotland to move these people away from hospital entrances and protect women's ability to access legal healthcare. No woman should fear attending her local clinic or hospital because of what will happen to her at the gate."
A message from the Editor:
Thank you for reading this article. We're more reliant on your support than ever as the shift in consumer habits brought about by coronavirus impacts our advertisers.
If you haven't already, please consider supporting our trusted, fact-checked journalism by taking out a digital subscription.