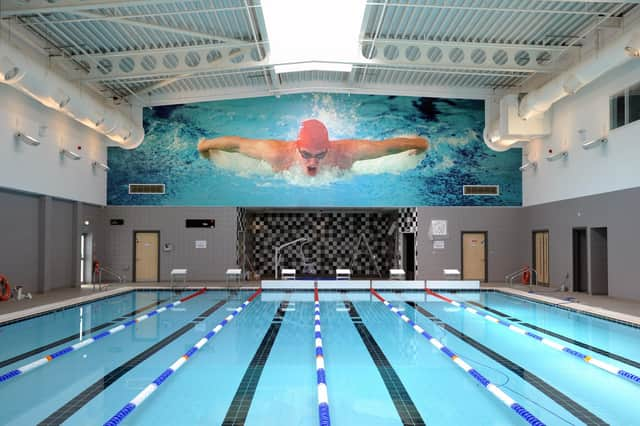 Robin Strang, chair of Community Leisure Scotland said the lockdown had given under-threat Leisure Trusts a chance to re-assess the work they do - and said that the county now had "an open door" to make changes for the future.
And he urged the next Scottish Government to back the campaign by the Scotsman and the Observatory for Sport in Scotland (OSS) to support a National Conversation on Sport to look at more sustainable ways of funding services which have such a vital part to play in so many people's lives.
"The pandemic has been dreadful and we all agree that we wish it never happened, but can something positive come out of it? Definitely," said Mr Strang.
"The break provides a great opportunity for community sport and leisure to have a rethink and to be taken more seriously as part of the health solutions in Scotland. We need community activity where people can access it, that is affordable, and that is inclusive to all."
Community Leisure Scotland represents 26 member trusts, who between them are responsible for over 1200 facilities, over 18,000 staff and over 12,000 volunteers.
Over the last year they have repeatedly highlighted the bleak financial landscape facing members.
A report in April last year revealed that, on average, trusts managing sport and cultural venues were incurring costs of around £900,000 a month, while reporting lost revenue of around £1m per month. The long-term viability of around 70% of venues was said to be in jeopardy - and this was before the second lockdown over winter.
The problems faced by Scotland's leisure trusts are, sadly, not new - and while the pandemic may have made the financial situation worse, many trusts were already warning of looming cuts in the years and months before most people had even heard of Wuhan.
In January 2020 Edinburgh Council proposed cutting its support for Edinburgh Leisure by £500,000 per year, as it looked to find £40m of savings to its budget. This was less than a year after the Evening News campaigned to stop cuts to grassroots sport in the city - and this in one of Scotland's most prosperous cities..
So the problem was already stark. Add in almost 12 months where all sports centres have been closed - meaning none of the revenues so vital to their model - and it's hardly surprising that many fear hundreds of closures across Scotland.
For Mr Strang however the pandemic lockdowns are being seen as a blessing - a break on the neverending "treadmill" of revenue demand, and time that has allowed them to reassess what their purpose is, and how they can better serve their communities.
"There has been a shift in thinking across the charitable leisure and culture trust landscape over the past year," he said. "The pandemic has caused Chief Executives and staff to pause and think about the services we're delivering, and rethink our purpose as community focused organisations.
"Over the last 10-15 years, many local authorities have tasked outsourced providers to simply generate much-needed income through leisure facilities, while at the same time cutting the investment to them through management fees.
"This has challenged leisure trusts to become more commercially minded, and try to attract more, higher paying members, people who can pay £40 plus gym memberships for example, or to raise prices across the board, or cut opening hours or other costs. And that is the treadmill we've been on in Scotland."
That drive to create income has meant that facilities which were created to be used by everyone were increasingly excluding those without the funds to pay for access - something which caused concern among those in charge of the trusts.
"I know because I was a trust chief executive for that time and it did not sit comfortably with me or my colleagues - it was completely alien to those of us from public sector backgrounds," said Mr Strang. "But neither did my company going bust and staff being made redundant sit comfortably. So, essentially you do what is required to remain viable; do whatever you can to keep money coming in to keep the swimming pool or gym open, or a vital community service going."
Strang believes that Scotland as a nation, from national to local government, and the wider health, education and community sectors, have been handed a fresh opportunity by the pandemic to get off the treadmill, stop the rot of community facility closures and participation drop-out, and strengthen its approach to improving health.
He explained: "What the pandemic has done has forced us all to stop and pause, rethink and ask ourselves what we are here for. What is the purpose of the public sport and leisure sector? And that is improving the physical and mental health and wellbeing of the communities we serve, and supporting those most in need to access our facilities and services.
"We have trusts, along with fantastic people in local authorities, sport organisations, community groups and charities, doing amazing work.
"There are wonderful stories of lives being changed, families and communities being brought together, serious health problems being improved, by hugely dedicated people, and much of that goes on behind the scenes without much attention. As a result many people don't realise how hard it is to keep that going against a backdrop of reducing investment.
"For some reason, as a nation, we don't value highly enough what simple sport activity in local facilities can do to improve our quality of life, as individuals, as families and as a country."
Quite how the model changes is what the National Conversation is all about, but there are good examples already of how shifting away from a trust model and putting facilities back in the hands of the community could be the way forward.
In Glasgow, FARE Scotland have worked with the Glasgow Life trust to take on community ownership of the Stepford Football Centre, allowing it to remain in use for the local community.
Just this week Street Soccer Scotland took over the Lynch Centre, one of Dundee's oldest sport venues, saving it from an uncertain future.
As well as a base for sport, the charity plans to open the premises to partners working to support people facing disadvantage, including providing a base to expert advisors to support those struggling with money-issues, welfare or housing.
The lessons learned there could, in future, be rolled out to similar centres in other cities, and they are working with the OSS to gather data on the impact of the venture on the lives of the community.
For Mr Strang, that work in showing just how important sport can be the general well-being of a community is essential in building a long-term, sustainable model.
"We need sport and physical activity to be recognised as an integral part of Scotland's public health system, and we also need the sport and physical activity sector to be clear about how it can, and can't, contribute to local and national health outcomes, which is where the OSS and its research and evidence is crucial," he said.
"The government's emergency Covid funding together with valuable council support has kept all trusts in business into the new financial year, but does it matter to the government and councils what is happening with that money, what the outcomes are? Do they want us to go back to that commercialisation of public sport and leisure services, and more people to be lost to activity?
"I would urge them to take up our invitation of a 'national conversation' and actually demand change. Work with us now to reimagine the models of delivery going forward, to create a sustainable system that gets back to actually delivering activity to those who need it most in our communities."
And he urged those in charge after the coming election not to push the issue aside.
"We currently have an open door to change with more effective partnership at a national and local level, but it won't be open for long because people will fall back into old ways," warned Mr Strang.
"We know that funding is a challenge, and that's why we have to change to broaden the funding model - not with more money, but with more security in funding. That's where the brighter future lies.
"With some funding security, we would develop programmes and activities that would have an impact over a period of time. Cancer rehabilitation, for example, is something many trusts are involved in with Macmillan and other partners, but how can you commit to that with just year-to-year local government funding?
"It is also difficult to demonstrate in a 12-month period that you have made a significant difference to people's lives. We know it does, but there isn't the data inside 9-12 months to prove it, whereas if we could run that programme over several years, we would be able to report the benefits of that.
"All public sport and leisure facilities face uncertain futures, and trusts are hugely grateful for government and council support, because we know they all want the best for our communities - nobody wants to see community facilities fail.
"But the key is that we cannot maintain them and achieve a healthier future on our own.
"We need all parts of the sector to come together and be part of this 'National Conversation'. I am delighted that the OSS has made this a key focus of their manifesto, which we support, because we need the new Scottish Government to provide leadership and empower all parts of society to be part of this, if we are to create a brighter, healthier future."