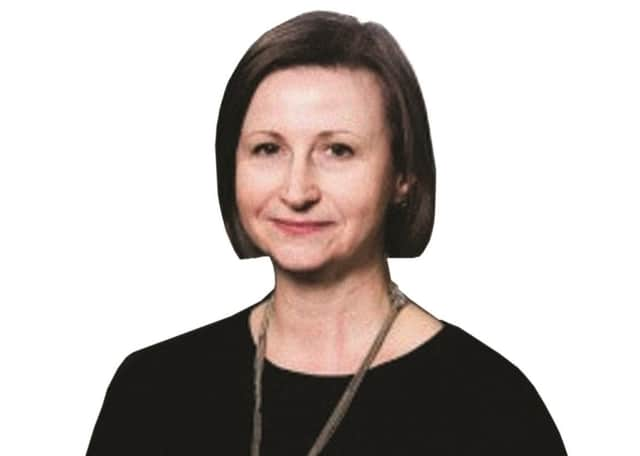 The CGT Catapult was established to advance the growth of cell and gene therapies in the UK by bridging the gap between scientific research and full-scale commercialisation. As it prepares to open a new facility in the Edinburgh BioQuarter next summer, we put questions to its chief clinical officer Dr Jacqueline Barry.
How effective a bridge between academia and industry has CGT Catapult been?
When we were set up in 2012, there wasn't really a strong cell and gene therapy (CGT) industry. The UK is now the largest cluster for cell and gene therapies outside the United States. About 30 per cent of all CGT companies in Europe are in the UK, and the UK has representation in 12 per cent of global clinical trials. So we're now becoming quite a mature industry, and the UK is known and respected globally for advanced therapies.
Our role is to create powerful collaborations which overcome challenges to the advancement of the sector. I'd say we've done pretty well in bridging the gap between industry and academia, including creating new collaborations, supporting the creation of spin-out from universities and facilitating progress of companies towards commercialisation.
We continue to focus on this as a core activity for Cell and Gene Therapy Catapult.
What areas of academic need was CGT Catapult able to address?
It depends who the academics are. Some have already spun-out successful companies like Autolus Therapeutics, which announced a $250 million investment by Blackstone this month.
Another is Resolution Therapeutics, founded from a collaboration between Edinburgh's Centre for Regenerative Medicine, the Scottish National Blood Transfusion Service, and Syncona Investment Management.
The company is based in the Centre for Regenerative Medicine on the Edinburgh Royal Infirmary campus. A further example would be Purespring Therapeutics, a spin-out from the University of Bristol, which secured one of the largest single investments to date for a new UK university biotech company.
While others are still relatively early in their product development path, we can use our facilities and expertise to accelerate them through the translation pathway.
We provide support through collaborative grants, for example, support of the design of a non-clinical testing programme, and provide commercialisation of research support for really promising technology or therapies to help them secure investment for their research.
How was CGT Catapult able to help industry to bring therapies closer to the market?
We try to anticipate barriers and then act to break them down. For example, a number of years ago we identified there wasn't enough cleanroom manufacturing space for late-stage clinical trials and early market release. In response to this barrier, we established our Manufacturing Innovation Centre in Stevenage, 30 miles north of London. This is a unique collaborative model, where we provide the support in the form of facility licensure, quality and warehouse management systems, environmental monitoring etc, while our collaborators can develop their processes and expertise within their own manufacturing module using their staff and processes.
Our collaborators having such space to build expertise and in-house knowledge is really valuable for them, and it cements their ability to manufacture and supply here in the UK.
In addition, we help with projects – 100+ a year – of different sizes and complexity, providing technology and process innovation solutions, or helping groups navigate the regulatory and reimbursement challenges and barriers.
How has CGT Catapult helped to foster a culture of innovation?
Innovation can mean so many different things. Technology and process innovation is important, and we help groups with process and analytical solutions. For example, we've taken processes with say 1,000 manual steps and automated the manufacture, increasing the security of the product.
Another could be in the clinical space. The Industrial Strategy Challenge Fund made funds available for the Advanced Therapy Treatment Centre network. This is truly innovative. We're working with 65 industry partners alongside the NHS to come up with solutions for these innovative but disruptive products for patients. Working hand-in-hand with industry and the NHS, we are innovating together, producing practical solutions for both parties.
What are the challenges for the NHS with these kinds of products?
These are "living therapies", it's disruptive and difficult to deliver these products. In addition, there is an avalanche of products coming with different product types for different indications and different patient groups.
Specialists might not be familiar with these new products. There are often complex referral pathways, so they're only delivered from particular hospitals. There are specific regulatory and reimbursement conditions placed on the manufacturers. All these things together add complexity and require innovative solutions to not increase the burden for the NHS.
The CGT Catapult aims to help cell and gene therapies to be "safer, more effective, scalable and affordable". How do you maintain research integrity and best practice in the face of that constant demand to do things better, faster, cheaper?
We're all scientists and we know this is a young field which has great promise. I think it's just in everybody's DNA to ensure that your data integrity is as solid as it possibly can be.
These are quite unusual products which are designed to treat patients who are either at the end of their treatment regimen – for example, treatment of a blood cancer – or for the treatment of rare genetic disorders, and you want to catch their symptoms before they start impacting on their day-to-day life. So you have to act quickly, but be really confident that your data supports the use of these products.
Why is CGT Catapult coming to Edinburgh [in summer 2022]? What's it adding?
A lot of cell and gene therapy work is currently focused in southern England, where we have also seen the third-largest cell and gene therapy cluster developing around Stevenage. There are, however, opportunities for growth and further cluster development across the UK, creating jobs and offering equity of access for patients through the UK.
The CGT Catapult will have offices and labs based in the Institute for Regeneration and Repair in the Bioquarter, Edinburgh. The University of Edinburgh and Scottish Blood Transfusion Service have considerable expertise in the development of cell and gene therapy products. Between the Scottish Centre for Regenerative Medicine and the Institute for Regeneration and Repair [currently under construction in the BioQuarter], the University of Edinburgh will have 500 stem cell scientists. That's the biggest accumulation of stem cell scientists in Europe, and possibly the world.
Pluripotent stem cells [cells with the capacity to develop into all cell types] offer new possibilities for off-the-shelf products. The Cell and Gene Therapy Catapult will work with these scientists to develop their products and accelerate them through clinical trials and become investable propositions, whether through spin-out companies or investment by big pharma.
In addition, we want to work with the NHS, academics, industry and the whole life sciences community to make the best potential of the wealth of experience in the Central Belt of Scotland and use it for the advantage for all of the UK.
What's the future vision for CGT Catapult?
Our vision is a thriving industry delivering life changing advanced therapies to the world. For the UK to remain one of the most important players globally for these advanced cell and gene therapies.
We want the UK to be at the forefront of manufacture and supply of these living therapies. We want our NHS to be able to adopt them quickly and ensure they get to the right patients as quickly as possible. The UK, thanks to its favourable ecosystem including CGT Catapult's activities and continued impact on it, and the continuous support by government for innovation, can stay at the forefront of that.