Bill Jamieson: Markets can't self-quarantine amid this contagious panic
We may be a thousand miles from the source of coronavirus outbreak, but it seems we have all already caught it. From tumbling stock markets to travel restrictions, falling export sales to supply chain disruption, emergency hospital staffing to a drop in tourist bookings, there is barely an aspect of daily life that is not now being affected.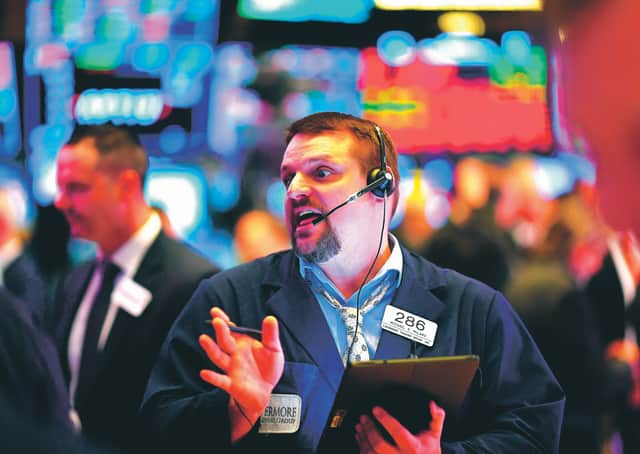 A trader at the opening bell of the New York Stock Exchange. Picture: Johannes Eisele/Getty
There is nothing more contagious than panic – as true in the financial world as in the realm of human health. The panic is to some extent being magnified by reports of the very measures being undertaken to contain the coronavirus. Restrictions fuel our apprehension.
But there are grounds to believe this epidemic will neither be as deadly or as long-lasting as the more extreme forecasts. Looking into the next three months it is likely that measures to contain the virus will have helped to slow the contagion, while areas currently quarantined will see a relaxation of restrictions.
But the world economy will suffer a severe shock: business prospects have taken a hit. Whatever hopes the UK government may have had of painting a rosy scenario of more buoyant growth in the budget on 11 March have been dealt a blow.
Recovery will be fitful and uneven. But economies and markets will regain some equilibrium as quarantine periods expire and we progress through the summer.
For the moment, Scotland is far from immune. And the next few weeks will prove a test of nerves for government, business and households. Already the tourist and visitor sector has taken a hit, with holiday bookings from China and Asia Pacific suffering.
According to the European Tour Operators Association (ETOA), the coronavirus outbreak has already blighted UK tourism to the tune of 20,000 cancellations and £35 million. Tom Jenkins, the association's CEO, said "Fear, especially combined with government travel bans, is a powerful deterrent to tourism." It reckons that 60 per cent of the expected Chinese New Year tours to Europe will be cancelled.
Sales of Scotch whisky have been dealt a blow. Drinks giant Diageo warned last week that the spread of coronavirus in greater China and the Asia Pacific region – its fastest growing markets – could knock up to €240 million (£205.5 million) off its 2020 profit as bars and restaurants stay shut. The group, whose brands include Guinness, Johnnie Walker whisky and Smirnoff vodka, estimated the negative impact of the virus on its net sales and operating profit at between £225m-£325m and £140m-£200m respectively.
Hundreds of Scottish businesses will be affected by the disruption of key supplies and components from China and Asia Pacific, while a fall in consumer confidence will damage an already beleaguered retail industry. And the financial services sector, fund management and retail investment services in particular, is already suffering from the most severe share price falls since the global financial crisis.
For markets notoriously prone to the emotion of fear, further bouts of volatility can be expected until the spread of the virus is contained and its effects upon economic growth prospects properly assessed.
It was barely a month ago that the Scottish Fiscal Commission unveiled its already subdued forecasts for this year and next – GDP growth of just one per cent, rising (if that is not too strong a word) to 1.1 per cent in 2021 and 1.2 per cent in 2022. Now comes such a disruption to world trade that we cannot be sure that even these modest predictions can be met.
The EY Scottish ITEM Club is more sanguine, predicting last week that the economy here measured by Gross Value Added will grow by 0.8 per cent this year, picking up to 1.4 per cent in 2021. The private services sector will continue to drive growth across Scotland, contributing more than two thirds of GVA growth in 2020.
While Scotland is expected to trail UK economic growth – 1.4 per cent GVA in 2019 and 1.2 per cent this year – the growth gap between the two will decrease year-on-year from 0.5 per cent GVA in 2019 through to 0.2 per cent GVA in 2022. Consumer spending in Scotland is expected to grow by just 0.4 per cent in real terms this year.
Mark Gregory, EY's UK chief economist, said: "This will be a pivotal year for the Scottish and UK economies… global economic growth is slowing, further complicated by coronavirus, and trade negotiations are ongoing, but uncertainty is beginning to show signs of easing and there has been an uptick of sentiment. It is unclear whether this will transform into sustainable growth activity across Scotland and the UK."
As for forecasts ventured in the Westminster budget in less than two weeks, expect these to be severely hedged with caution. No-one can predict with any certainty how severe or long-lasting the impact of the coronavirus will be.
From John Haynes, head of research at financial management group Investec, has come a more measured assessment than some that have dominated broadcast media. "Our judgment," he wrote at the end of last week, "is that from a public health perspective, the issue will be capably and successfully addressed over the coming quarter and that the negative impacts on global growth stemming both from inevitable (and possibly extensive) 'quarantining' will be temporary and quickly recovered."
How so? The virus, while serious, "appears to be materially less mortal than initially feared – probably under one per cent in Developed World healthcare settings compared with around 0.2 per cent for seasonal flu. For reference, SARs (Severe Acute Respiratory Syndrome in 2003) and MERs (Middle Eastern Respiratory Syndrome in 2012) had 10 per cent and 30 per cent mortality rates respectively".
The summary is not complacent. Whatever the pathology of the coronavirus, "the institutional, political and personal imperative will be to take actions that err on the side of caution at the expense of growth until the risks subside. The impact on the global economy and corporate earnings could be material, even if short-lived."
So, further disruption and setback there will certainly be in the weeks ahead as governments tighten contagion measures, but "the likelihood of a sharp rebound once the worst is past is also high". These are reasoned grounds for hope.
Want to join the conversation? Please or to comment on this article.