Avian Flu: Health officials 'keeping eye on' transmission of bird flu in mammals
The head of the UK Health Security Agency (UKHSA) has said it is keeping a close eye on the threat posed by bird flu following signs of transmission to mammals.​
Dame Jenny Harries, who helped lead the country's response to the Covid-19 pandemic, said there is no new risk to humans from avian influenza but added it is being assessed by the agency.
Dame Jenny added that monkeypox also remains an ongoing concern.
On Wednesday, the UKHSA released figures stating that avian flu had been found in 23 of 219 wild mammals collected since October 2021, representing a further nine cases since an update earlier this year.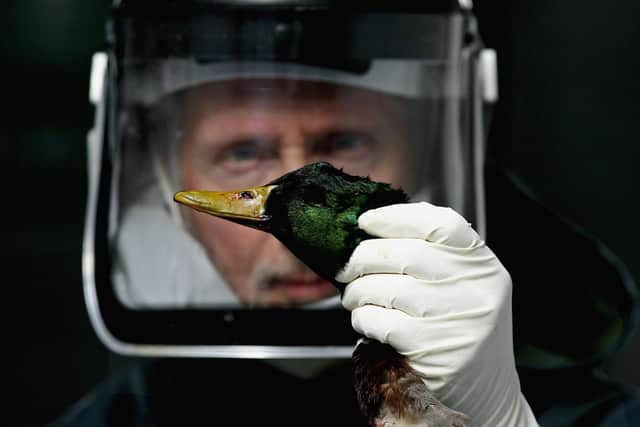 In addition, bird flu had also been retrospectively detected in a group of 10 captive bush dogs kept in a zoo, from November last year.
In a new briefing, the UKHSA said: "There are plausible routes of direct exposure to infected wild birds but investigations into the possibility of mammal-to-mammal transmission are ongoing."
The UKHSA stressed that, so far, indications are that any passing of flu between mammals is limited.
The UK risk is assessed as level three, which stands for "limited mammalian transmission".
The animals include six foxes, six grey seals, five otters, three harbour seals, two dolphins and one harbour porpoise.
Speaking on Sky's Sophy Ridge On Sunday, Dame Jenny said avian influenza is "not a new risk but one where we are starting to see some changes potentially in mammalian transmission not yet in humans".
She added: "The risk to humans at the moment has not changed but what we are starting to look at the changes, small changes in mammalian transmission for example we have had Spanish mink farms and a few seals.
"The general message to people is, for human risk it hasn't changed at all but something we are definitely keeping an eye on."
She added that the UKHSA is also focusing on monkeypox, and said: "Monkeypox is not a new virus but the way it has spread recently with much wider transmission remains an ongoing concern."