Are banks, takeaways and post offices open? Full list of essential businesses that won't close during new Scotland lockdown
Non-essential shops, hairdressers and gyms must close – but which businesses can stay open during the latest lockdown?
The latest restrictions came into effect in all Level 4 areas of the Scottish Government's five-tier system and will continue throughout the month.
Here is everything you need to know.
Which businesses must close?
Restaurants, cafes, pubs and bars are closed. Takeaways can still operate as normal, providing food is sold for consumption off premises.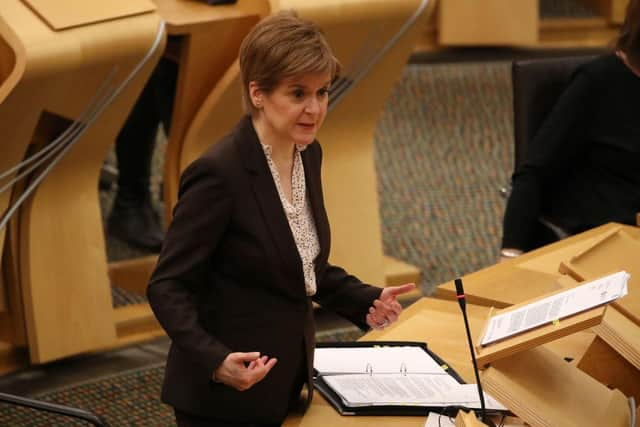 All holiday accommodation is closed to tourism, though hotels, B&Bs and self-catering can remain open for "essential customers", and accommodation providers can still serve food to qualifying guests, such as key workers.
Close contact services and mobile close contact service providers must not operate, this includes hairdressers and barbers (a full list of these services can be found on the Government's website).
Indoor sports facilities and all leisure and entertainment premises must be closed, including indoor visitor attractions such as museums, galleries, heritage attractions, indoor areas of zoos, and aquariums.
From Friday 8 January, ski centres, showrooms of larger retailers and clinics offering cosmetic and aesthetic procedures must also close.
Which businesses can stay open?
The full list of businesses that can remain open is as follows:
- food retailers, including food markets, supermarkets, convenience stores and corner shops
- off-licences and licensed shops selling alcohol (including breweries)
- pharmacies (including non-dispensing pharmacies) and chemists
- building merchants and suppliers of products and tools used in building work and repairs
- car repair and MOT services
- taxi or vehicle hire businesses
- banks, building societies, credit unions, short-term loan providers, savings clubs, cash points and undertakings which by way of business operate a currency exchange office, transmit money (or any representation of money) by any means or cash cheques which are made payable to customers
- laundrettes and dry cleaners
- dental services, opticians, audiology services, chiropody services, chiropractors, osteopaths and other medical or health services, including services relating to mental health
- veterinary surgeons and pet shops
- agricultural supplies shops and agricultural markets
-storage and distribution facilities, including delivery drop off or collection points, where the facilities are in the premises of a business included in this sub-paragraph
- livestock markets or auctions
- outdoor markets, and outdoor car lots
She said: "Lockdown is about trying to slow down the virus and push rates of it back down.
"Now, if we manage to do that, then hopefully we will be able to start lifting some of these restrictions while the vaccination programme is ongoing, even in that first phase of it."
In her address to the Scottish Parliament, the First Minister said: "Just as the last places we ever want to close are schools and nurseries - so it is the case that schools and nurseries will be the first places we want to reopen as we re-emerge from this latest lockdown.
The restrictions will be reviewed on a fortnightly basis, and the Government "will always seek to maximise the number of pupils we can safely get back to classrooms and nurseries.."
She said the health service hopes to vaccinate everyone on the priority list – some 2.7 million people – by early May, but added it is difficult to be definitive about when the restrictions will be lifted.
"I can't be certain about that yet, because it's dependent on us managing to get the levels of infection down," she told Good Morning Scotland.