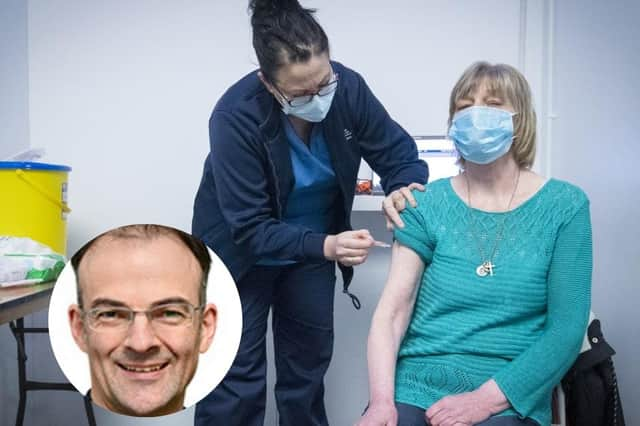 Countries including Germany, France, Italy and Ireland have halted jags as a precaution in order to investigate after a small number of people developed blood clots in the days and weeks after receiving a dose.
But how much of a concern is there around safety of the vaccine?
The European Medicines Agency (EMA) said there have been around 30 reports of blood clots, in just under five million people given the vaccine across Europe.
The regulator said one person in Austria was diagnosed with blood clots and died ten days after vaccination, but that there is "currently no indication that vaccination has caused these conditions".
The World Health Organisation (WHO) added that while it is good practice to investigate potential negative effects, there is no evidence that the incidents are caused by the vaccine.
Professor Neil Mabbott, Personal Chair of Immunopathology at Edinburgh University's Roslin Institute, said members of the public "should not be concerned" about the AstraZeneca vaccine.
He added that the tiny number of blood clotting incidents compared to the millions of vaccines which had been administered was too be expected, as blood clotting occurs normally by chance in the population.
"It's perfectly understandable that people might have concerns about this," he said.
"But I would say not to be concerned. These vaccines appear to be remarkably safe, and will provide good protection against Covid-19. The incidence of blood clotting is the kind of level we'd expect in the population."
Prof Mabbott said the European countries are understandably "being cautious", but that "if they look to the UK they'll see that these vaccines have been remarkably safe."
"It's not too surprising that we might, just by chance, observe a few unfortunate individuals that have happened to have a clotting incident soon after vaccination," he said.
"But there's nothing to suggest, at least for the present, that this is anything to do with the vaccine itself.
"This is most likely coincidence due to the background level of clotting in the population.
"The numbers we're talking about are so small in comparison to the amount of vaccine doses that have been given out. Of course it will be monitored as the pandemic rolls on, but I don't think there's been any suggestion that there's an increased incidence of this in recipients of the vaccine."
Prof Mabbott added that both the Pfizer and AstraZeneca vaccines are known to produce mild side effects for a few days, including headaches and soreness in the arm which had the injection.
"They're both very different vaccines in their formulation," he said.
"The Pfizer one is the messenger RNA vaccine, and the AstraZeneca one is the safe virus, with bits of the Covid-19 virus in it to trick the immune system into reacting to it.
"The side effects that have been reported for these are almost exclusively general side effects of immunisation, soreness, maybe a headache in some people, general flu like symptoms we get for a day or two after vaccination that tend to clear.
A message from the Editor:
Thank you for reading this article. We're more reliant on your support than ever as the shift in consumer habits brought about by coronavirus impacts our advertisers.
If you haven't already, please consider supporting our trusted, fact-checked journalism by taking out a digital subscription.